Simply the Best Place to go for Online Fly Fishing and Fly Tying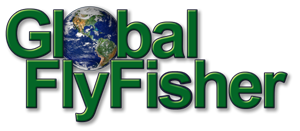 Published Sep 2. 2005 - 12 years ago
Updated or edited Nov 17. 2015
Death and the flybox
I broke my Aquafly flybox yesterday!
While fishing the coast for a few hour yesterday, I caught a nice sea trout. My intention was to release it, but things developed a little differently.
While fighting it, I wanted a picture of the fish in the water before I would slip out the hook and let it go. Unfortunately the fish was so deeply hooked that it bled from the gills, which is a bad sign. So I decided to take the fish anyway.
While handling it on the beach and snapping pics, I managed to drop the my beloved Aquafly flybox on the ground and in the water several times. I even managed to let my camera fall into the sand...No harm done, but still.
When finally the session was drawing to an end I wanted to rinse off sand from the box and shake off water. While shaking the box vividly, it slipped my fingers and hit a rock in shallow water.
The result was a shattered lid, bits of green plastic and loose flies all over the place!
That was the end of that box. Bad luck all around for both me and the fish.