Published Feb 6. 2010 - 12 years ago
Updated or edited Oct 8. 2020
Another one!
Innocent fly anglers can also be lured into spending money on odd and probably worthless causes and products.
If you thought that online scams only were executed by Nigerians and always included millions of dollars and a widowed queen from an almost unknown African nation, think again. Innocent fly anglers can also be lured into spending money on odd and probably worthless causes and products.
Loyal longtime readers of GFF will remember this blog entry from early 2006 where I found a site touting a book titled "Some Guys Catch All the Fish: What Other Angling Experts Won't Tell You!". I managed to get my hands on the book, which was a far cry from the nice, hardbound book depicted on the website, but looked more like one of my early school projects, photo copied and spiral bound, with very few B/W photos in lousy quality. I will not get more into the quality of the text, but let the fact that I never reviewed it suffice as a measure.
I just stumbled over another web site like the one mentioned back then. The traps laid out to lead me here were really intricate, and sure tells me that the people behind are not doing this for the sake of my blue eyes, nor to make my fishing better.
I was browsing YouTube for videos for our new video channel, and noticed this odd video.
The video is called Fly Fishing Book, but it's not a book (duh!). It's not even a video. The "video" consists of 6-8 slides of text telling the viewer how to get a fish that runs towards you under control. "Stand on your toes and raise your rod over your head as high as you can", "Quickly strip the line to pull up any slack", "Be ready to palm the reel of the rod when the slack is entirely gone". OK there you have some secrets revealed in this stirring video! Pick up line!? Whoa! I had never thought of that! Palm the reel? Brillant! Except my reel has a brake and no palming options...
Well, never mind this bland and obvious advice. It's not there to educate you. It's there to lure you.
It's pure bait put out to get people like me and you to go to a web page called Fly Fishing Book Review. I won't link, because linking will just aide these guys in spreading the message and raise their positions in the search engines, and they don't deserve that.
You can copy and paste the URL (flyfishingbookreview.com) into your browser to see the page. It's almost totally empty, doesn't have a single book review in spite of the title. It is text only, has about 10 pages, all have titles like


Easy Fly Fishing Instructions


How To Fly Fish


Fly Fishing How To


Fly Fishing Report


Fly Fishing For Beginners
and so on. I sometimes work with search engine optimization and can recognize a bait page when I see one, and this is as good (or as bad) as they come.
The page disappeared quite soon after this was written, but I saved a screen dump, which shows you what it was.
This page has absolutely no valuable content, but has one purpose: to appear in search engines and link and lead on to another site called Fly Fishing Secrets located on an address called fly-fishing-skills.com (no link again, copy and paste). The individual pages contain no specific advice on any of the very common and broad subjects, but contain lots of text, which is there for the sake of Google - not you. Each page has one link leading on to the target page. The one, which sells the book.
That page starts like this:
"How I Accidentally Stumbled Onto The 'Deadly Tactic' That Consistently Sends Trout, Bass or Salmon Lunging For My Line Every Time I Go Fly Fishing!"
So there! The tone is set. Using this secret tactic you can win every time.
It goes on:
"The story will shock and delight you! It's an amazingly simple "fly fishing" revelation that consistently triggers the most shocking and powerful strikes you'll ever experience...and if you're like most people the results will leave you stunned, breathless and smiling so hard your cheeks will hurt the very next time you go fly fishing! Impossible? Not if you believe the rave reviews from top fly fishermen and hot new comers..."
Smiling so hard your cheeks will hurt! Mighty tempting indeed!
But go on down the page, and you will find some of the hallmarks of pages selling the ordinary as a miracle cure:


Testimonials


Check lists (many!)


Lots of bold and underlined text


Precise numbers (27 most deadly fly patterns, not 20, not 30, but 27!)


Promise of secrets revealed


Words like free, 100%, risk free and guaranteed mentioned numerous times


Stamps and seals (100% guaranteed)


A signature (In blue ink... online? A signature? It's like Readers Digest marketing material)


Credit card logos and PayPal link, but no price (buy now and no price!?)
In the very bottom it says: "You must hurry, there are only a limit number "insiders" allowed (Jeff can pull this offer at anytime without warning) and I'm taking all the risk here."
Since the copyright notice on the page reads 2008, it has been on there for at least two years, so the rush seems to be limited.
There is no price of course, but I can tell you that it's £25.00GBP.
Well, apart from all these telltale signs, how can I be sure that this is some kind of moneymaking scam?
I did a little searching, and lo and behold! The company and name behind these hitherto untold secrets of fly fishing is Stonetree Ltd. personified by Andrew Barker, located in Reading in the UK. And Andrew and Stonetreee can also supply similar secrets within areas such as job interviews, selling, golf swings, kung fu and probably much else. Andrew Barker has at least 70 domains registered with fantastic names such as:


power-of-my-mind.com,


the-corporate-escalator.com,


mma-training-secrets.com,


powerofthedragon.com,


golf-secret-skills.com,


killersalestips.com,


ninja-training-secrets.com
and perhaps the best one


buildasellingmoneymachine.com
Build a selling money machine!
So right! My guess is that if you order this top secret book of fly fishing, you will most likely get a cheap, spiral bound photocopied pamphlet containing very ordinary tips presented in the usual manner of "tell them what you are going to tell them, tell them and then tell them what you told them". These days I guess you might not even get a physical copy, but the right to download a PDF. Why bother mailing atoms to folks, when you can let them download bits?
More from Stonetree Ltd. Golf? Sales training? Job seeking tips? Trouble with the landlord? Wanna be a Ninja? We can help! Notice how the same guy has a testimony in several of the setups. Why bother getting new stock images? He looks trustworthy, doesn't he?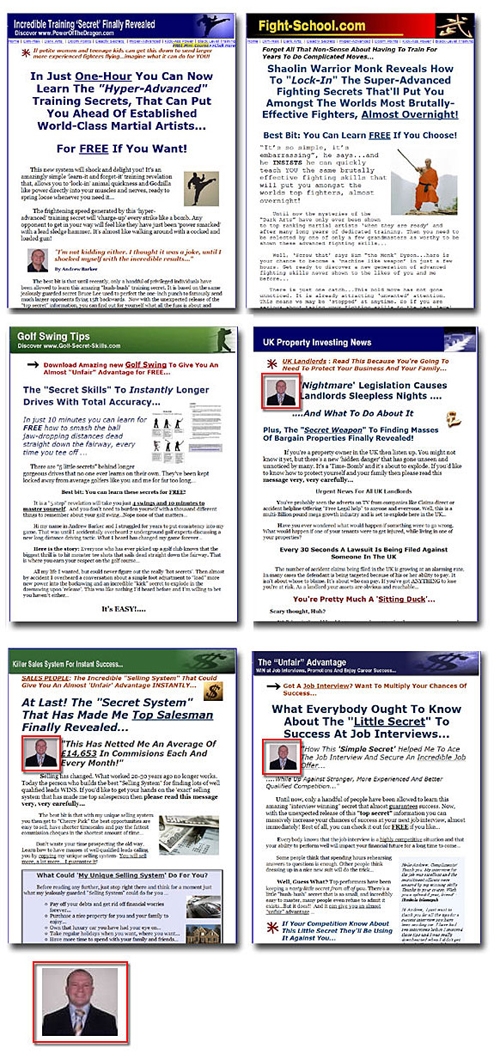 The whole idea of this type of scam is form over substance. Since there is very little substance in any of the material you try to sell, you are forced to package it in the most glorious promises. Wind your audience up so much, that no one dare say bah!
The emperor's new clothes.
Simple as that.
He has nothing on!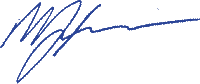 More content from the front page