Published Sep 24. 2003 - 19 years ago
Updated or edited Oct 8. 2020
Blackout Kluting
A blackout in most of Denmark and Southern Sweden made me tie flies
Yesterday at 12:36 the power went with a pop in all the house. I'm located in front of three monitors, and the incident left me with three little disappearing, white dots.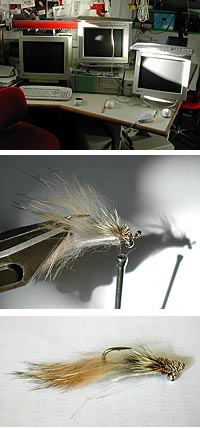 And then silence!
Well, the first thought was a fuse, the second a relay and the third a major breakdown somewhere in the neighborhood.
This was neither. A power plant in Sweden broke down and a few minutes later a mast fell due to a hard wind. These things combined cut power in Southern Sweden, and as we export power eastward from Denmark, we got the whole load. The system was on its knees within seconds and the whole Eastern Danish grid shut down.
As I said: silence!
My news source - a radio in my cell phone - said "at least two hours", and the horizon kept growing within the first few minutes as reporters got more information. "At least a few hours...", "Until 9 tonight..."
Well, I have a gas stove in my kitchen so I brewed some coffee. Then I had coffee and read some fly fishing magazines that GFF partner Steve sent over.
The prognoses weren't getting better, so I decided to tie some flies. I moved my vice into a sunny spot in the living room, and got out some materials. I had long played with the idea of making a small Sculpin imitation along the lines of my Kluting pattern, which has proven itself a good fly on many occasions.
So I got out smaller hook (size 6), small bead chain eyes, short haired rabbit strips, deer hair and light dubbing and commenced tying. I was very pleased with the first fly, and tied on with no variations except adding a rib to the last few ones.
Such was the birth of the Blackout Kluting. I now have a bunch of very good sculpin imitations in my fly box. These small fish are numerous right now where my favorite coastal waters are buzzing with life. I hope to test them this very weekend where I'll be fishing with some friends in a part of the country where I never fished before.
Depending on the result I will no doubt publish the pattern on the Pattern pages.
PS: power returned to most of us before dinner time.
More content from the front page