Published Dec 12. 2006 - 15 years ago
Updated or edited Oct 8. 2020
Cheated!
I was cheated when I bought this book by Valentine Atkinson
I have always been a great admirer of R. Valentine Atkinson, who is one of the world's best fishing photographers, and who have taken soooo many breathtaking images through the years.
He has obviously run out of breath (or images) because the latest book of his called "The World of Fly-fishing", which I just bought used, is essentially just a recap of his two previous books "Distant Waters" and "Trout & Salmon", which earned him a fine review here on this site.
I just got it in the door less than an hour ago, and could immediately see that I had read every chapter before. Even the foreword by Nick Lyons is an exact replica of the foreword to Trout & Salmon.
I feel cheated! I haven't paid the full 25£ for this book, but even so it set me back a good 14£ or about 27US$. And all I got was a bit-for-bit exact photographic replica of what I had already paid for once -- or twice rather, because it's in two volumes.
This video, which I just recorded, shows it.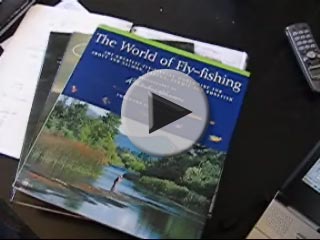 More content from the front page