Published Mar 28. 2011 - 11 years ago
Updated or edited Oct 8. 2020
Danish Fly Festival
This past weekend was the time for the Danish Fly Festival, which takes place every second year.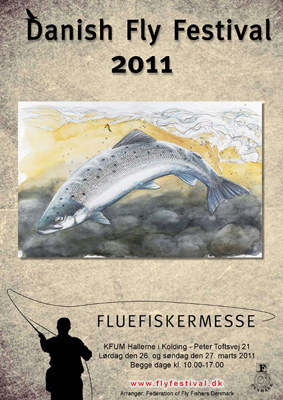 This past weekend was the time for the Danish Fly Festival, which takes place every second year, alternating with the Fly Fair in The Netherlands. The Festival is celebrating its 10th show, and I have been at most of them, so this year was not to be different. I was going!
Since I live in Copenhagen, I'm in the opposite end of the country, and have a couple of hours in car to get to Kolding where the show takes place. Some years we have been on our annual weeklong fishing trip during the show weekend and have been able to attend both days and a couple of years I have been tying or been engaged in other activities on the show, and have spent Friday, Saturday and Sunday at the venue.
But this year we did a hit and run.
We filled up a car with four guys, drove across the country, spent a day at the show, and returned home at night.
The show was as always a great success with a large attendance and lots of activities on the floor and on the outdoors casting ranges, which are always very popular especially when the weather is good as it was this year. The lawns are full of people trying out rods and lines, and crossing the many casting ranges is a daunting task since the air is thick with fly lines, many of which are controlled by casters whose skills aren't exactly perfect judging from the constant whiplash cracks that you hear.
But people are having a lot of fun, and the chance of trying out almost any rod you can fancy, alone makes the Festival worth visiting.
But indoors there are even more attractions with lots of fly tyers, casting demos, presentations and not least shops displaying - and selling - all kinds of absolutely necessary gear. This year you could also witness the Danish fly tying championships, which were held in rooms adjacent to the exposition halls with free access for the Festival audience.
Add to that the constant taps on the shoulder from people you know, and you can easily spend a day walking around. People come from all over the country as well as northern Germany. The featured tyers are people from most of Europe and walking around the tyers tables in the center of the first hall you will be treated to all kinds of more or less exotic fly tying.
More content from the front page