Published Dec 18. 2006 - 16 years ago
Updated or edited Oct 8. 2020
Goosewing Coachman?
Hey - why not?
There are few flies more attractive than a Royal Coachman. The thing is, I don't think the quill slip wings are worth the bother, because all the fuss that goes into making them look perfect at the vise is quickly shot to Hell after a couple casts.
The Royal Wulff is far more popular than the Royal Coachman these days, with its heavy hackle and calftail wings. I like it, too, but calftail can be cranky to work with, creates quite a bit of bulk at the tie-in point, and is sorta heavy.
Enter the goose. A few years ago - several in fact - a friend of mine gave me the frozen corpse of a Canadian Goose that he shot during hunting season. I plucked a ton of feathers, including quite a few of the white breast and belly feathers. I dug them out today and the Goosewing Coachman was born.
The intent is to retain the messy appearance of the calf hair, but with the neat tie-in of the quill. The goose allows a sparser, more delicate tie, which might not be great for some pounding white water, but should be ok on a little mountain brook.
It ain't perfect, but I like it.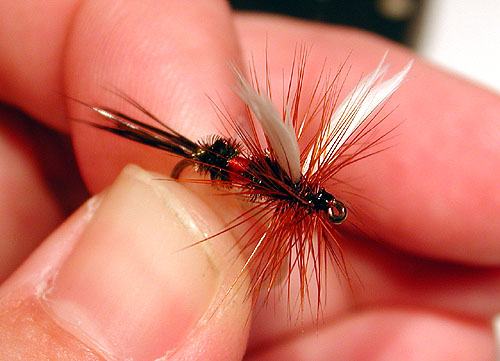 More content from the front page