Published Sep 13. 2007 - 14 years ago
Updated or edited Oct 8. 2020
New magazine
It's not often that new fly tying magazines see the light of day. Hatches is such a new magazine.
Dedicated fly tying magazines are few and far apart. I can actually only think of "Fly Tyer" right now plus a few privately published newsletters . Most other fly fishing magazines are just that: mostly about fishing, and a whole lot of the magazines available don't even focus on fly fishing, but have a much wider general angling scope.
Because of this I was pleasantly surprised when I opened a mail from GFF contributor Chris de Plato, namedropping a new magazine called "Hatches".
Judging from its web site and the magazine's subtitle "Practical & Artistic Fly Tying", Hatches seems to be a hardcore fly tuing magazine. It features a bunch of articles by a large number of fly tyers - amongst those a couple of GFF contribtors, including Chris himself. The magazine is published by Gretchen and Al Beatty in cooperation with Will Mullis and Nick Pujic.
The web site hatchesmagazine.com has been online for more than a year, but turining the online magazine into a print ditto is a novelty. The magazine is 7 US$ on the cover and can be ordered online. I have no idea about postage or subscription rates - not to mention the frequence of the magazine.
But I will be looking forward to seeing the first issue and hope that this new initiative will be a success for the publishers.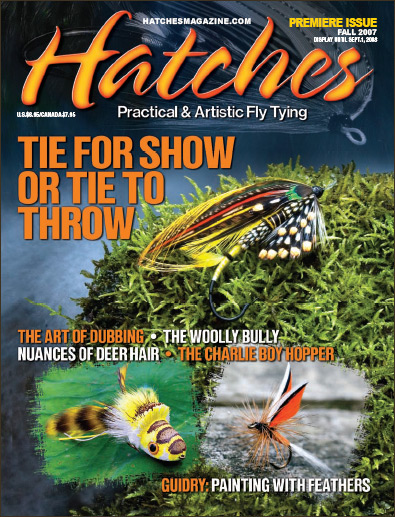 More content from the front page