Published Nov 10. 2011 - 10 years ago
Updated or edited Oct 8. 2020
New (old) books
Another bunch of books snuck their way into my life
OK, it happened again: my trigger finger slipped and several Amazon vendors as well as my all time favorite bookshop, Coch-y-Bonddu in Wales, were allowed to stick their trunks into my wallet and suck up a bit of money in exchange for some books.
As so many times before I was prowling around on assorted book pages, going through my Amazon wish list and just getting up to date on what's happening on the fly tying and fly fishing book market - which doesn't seem to be much. The crises is not good for book publishing, especially not in a niche market.
But I managed to find a few interesting titles anyway, and spent i very nice November hour on my terrace with a cup of latte, a cookie and a bunch of new books today.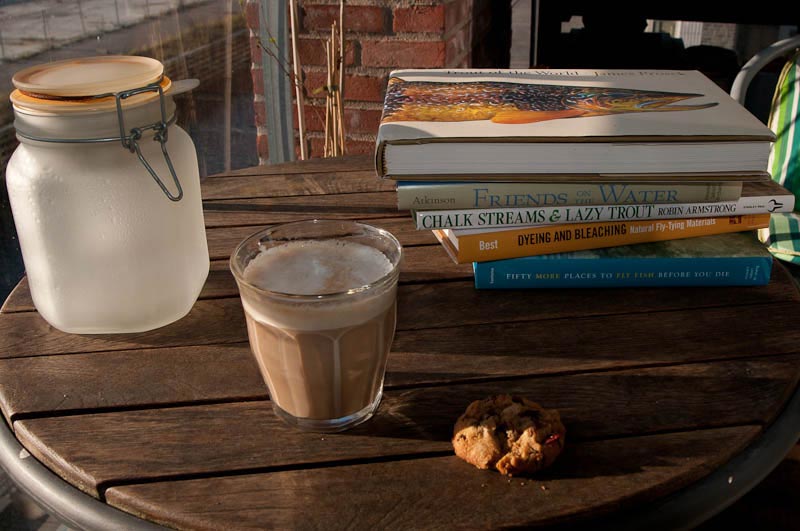 ---
Got this one for 13 UK£ - about 20 US$. It's not really worth it, but I wanted to do a joint review with the previous title in the series, not surprisingly called "Fifty places to Fly Fish Before You Die".
---
I have been on the lookout for this one for long, but the standard price is about 50 US$, which is a bit steep. But I got this very nice, used copy for 16 UK£ including postage, and that is more than reasonable.
---
At less than 13 US$ there isn't much to think about. This is a great book for the money - very nice pictures and great little stories.
---
A very beautiful book back from 1991, but still well worth its price, which is now as low as 6 UK£ or less than 10 US$.
---
---
In my fever I managed to buy two of these! So it goes when that index finger is hovering above the Buy Now button. At about 20 US$ it's no big deal, but I sure wish I had bought two copies of a better book!
---
Nice book, much better than Kreh's mentioned above, and available used from less than 8 UK£ or about 12-13 US$.
---
Reviews will most likely appear during the winter.
More content from the front page