Published May 4. 2012 - 10 years ago
Updated or edited Oct 8. 2020
Old fly lines come alive
Flyvines turn old and worn out fly lines into something different: bracelets, lanyards and sunglass retainers

I have worn out a bunch of fly lines in my time. They crack, they break, the coating becomes so worn and dirty that the line can't shoot.
I have actually saved a lot of them. Mostly because they are so darned expensive that I am reluctant to part with them, and secondly because I have thought that there had to be some way of reusing them – in some intricate fly line setup, in flies or simply as colorful string for any practical use. I did make a strap for a small camera once, and I have also used a broken fly line as a makeshift piece of string once to attach a clipper to a wading jacket. But I never really go a break through on reusing fly lines.
The US company Flyvines have gone all the way, and made reused fly lines into their primary product. They turn the lines into colorful bracelets, lanyards and sunglass straps by bracing them in nice patterns and finishing them for these different items.
Colors vary as they write, and I guess life is like a box of chocolates when it comes to ordering from Flyvines. You never know what you get, because the variation in fly line colors is almost endless.
You can take your chance on their web page.
Prices range from 7 to 12 US$ and the products can be ordered online and paid with PayPal.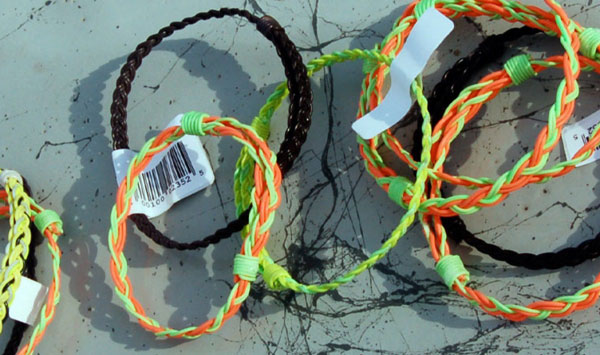 More content from the front page