Published Sep 6. 1998 - 23 years ago
Updated or edited Oct 8. 2020
September 6th 1998
A favorite season
Usually September is considered the last summer month in regards to fishing. This year is different. The summer has been cold with little sun and lots of NW wind which has kept the ocean from warming as it usually would.
This time of year would usually have seen summer highs of 30-35 deg. C and water temperatures into the 20's - far beyond the optimum temperature for shoredwelling fish. But the water temperatures have not been above 17-18 deg. C at any point and the water is already cooling off. Altogether this means that the autumn has started bringing migrating seatrout and daylight fishing a month earlier than usual.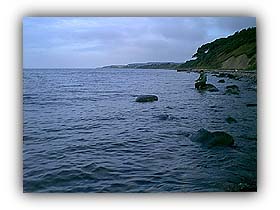 Fishing mullet... sitting down!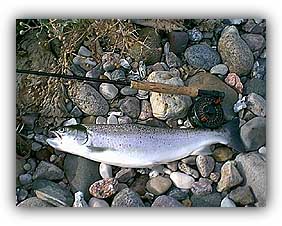 Typical 1½-2 kilos (3-4 lbs.) sea trout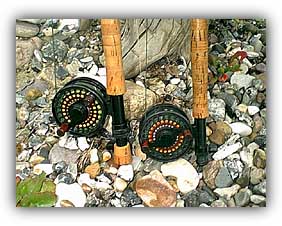 A rare sight: two LAW reels in one picture
Somewhere over the rainbow
This season promises some very good fishing. Sea trout already seem abundant and og good size. Fish of 2½-5 kilos (5-10 lbs.) are already caught regularly and the occasional 5-1 kilos (10-20 lbs.) fish are reported.
The fall is also a typical rainbow-time-of-year. Many fish escape from cages at sea farms - especially during hard winds as we have seen them all too much during the last couple of months. These rainbow trout will swim towards shore and the rich food stores found here and feed on small crustaceans and fish. They are not shy, very hungry and mildly stupid. They also forage in bright daylight over shallow water and are an easy target for fly fishers. The fish average 1 kilo (2 lbs.), but are extremely strong per pound. If you take into account that 2-4 kilos (4-8 lbs.) fish often hide in the very large schools seen everywhere, it's easily understood why these fish are so popular.
The summer will also bring mullet to Denmark. Even this lousy summer has done justice to that, and there are many of these strange and strong fish on our coasts right now. They are extremely difficult to fool with a fly, but also very exciting to fish for as they are abundant and easily visible in very low water close to the shore. Recently I fished for them with my friend Ken. We were both sitting on stones on land casting as short as 2-3 meters. I had two hookups on small size 10-12 flies, but both fish escaped in seconds.
Usually we recommend very small flies this time of year. I go into the 8's, 10's and 12's to get contact with some very picky fish. But occasional failing succes with these small flies has had me reaching for the larger flies that I never really got to use in the summer nights that never came. These flies include large Black Frede's and a new development called Moyerfokker - the ugliest fly you can imagine, but highly productive.
Apart from that the good old Frede and even older Red Tag are both good choices for fall fishing.
More content from the front page