Published Jun 18. 2012 - 10 years ago
Updated or edited Oct 8. 2020
Xtra Global Class!
Inflation has hit our review scale, which has been needing an adjustment for a while. Say welcome to Xtra Global Class.
Many years ago when we started reviewing books, videos and other products we created a scale ranging from 0 to 6 to score the products on. Zero was unacceptably bad and six was as good as it gets. This is our description of the different scores: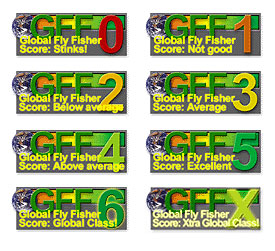 0: Stinks - don't touch it!
Products which are absolutely useless and which we cannot recommend. This is not a grade we use very often.
1: Not good - can be ignored
A product which basically is lousy, but might be found useful by a few people - the rest of us can just ignore it.
2: Below average - only for die hard fans
Products which are not particularly good, but will have some fans, while the rest of us can pick it up on sale at the end of the season.
3: Average - No harm done
Average product which you can safely buy, and no one will ever blame you.
4: Above average - good and useful
A good product worth spending money on. It's well made and will serve its purpose well.
5: Excellent - Highly recommended
Get a fiver and you're on top! This is an excellent product which everybody would be happy to own. It might be on the expensive side, but it's worth the price.
6: Global class - Brilliant!
This is an outstanding product which will be the envy of your fly fishing and fly tying friends. Often expensive, but not necessarily so.
That scale has lived for a long time, and worked fine, but the last few years we have been seeing books and DVDs in particular, that deserved a better rating than the Global Class products from the previous years. I see more and more books and DVDs, which by far surpasses what we have given a highest score just years ago, and I think the quality is rising to such an extent that it makes sense to add a step to the ladder. The photo and print quality of books is getting still better, and with HD, Blu-ray, superior cameras and really excellent production technology, many videos are by far better than what we saw just a few years ago.
We're giving out lots of 5's and 6's, so it's time to raise the bar. So I have had to break our review scale... I've added a 7th score, above the Global Class, which has been the max until now, so there's now a seventh step towards Nirvana:

7: Xtra Global Class! - Simply the best!
This an unsurpassed product which will be hard to improve. It's the best that money can buy - and it can cost a lot of money, even though it doesn't have to.
I have upgraded a few of my previous reviews from 6 to 7, but will keep the new score reserved for really stellar products.
You can see all books and DVDs here and see the best scoring ones at the top of the list.
So there's a new goal for products. Not just becoming Global Class on GFF, but earning an Xtra Global Class!
More content from the front page