Published Sep 13. 2005 - 18 years ago
Updated or edited Nov 20. 2015
Fireplace bonefishing
Global FlyFisher partner Martin Joergensen has gone through his shelves and dug out the best books and DVD's on bonefishing he could find.
So you want to go bonefishing and want to study the subject first? Then dive in with these books and DVD's and have some crackin' fireplace fishing with some of the best material on the subject.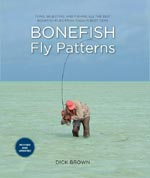 Book: Bonefish Fly Patterns, Dick Brown
A thoroughly updated new edition of Dick Brown's classic title with new patterns added, excellent photos, in-depth descriptions and flies tied by the originators.
Read our review of Bonefishing! here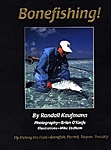 Book: Bonefishing! Randall Kaufmann
This book is the bible on bonefishing if you ask me. I know that some people might have older and more classical titles as number one on their list, and I have read and seen quite a few of these. But none of the older titles are as beautiful or informative as Randall Kaufmann's fantastic epos on this fish.
I lived in this book for weeks when it arrived, enticed by its fantastic photos and great stories. Then I started learning. The book is stuffed with fatcs. When I was leaving for the tropics, I browsed through the chapters on the destinations I was going to. And I learned a lot from it.
It's not a cheap book by any means, but worth every penny. If you are serious about bonefishing you must invest in this book.
Read our review of Bonefishing! here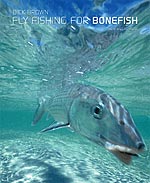 Book: Fly fishing for bonefish. Dick Brown
Dick Brown's bonefishing book is a true classic, and one of the first ones that was recommended to me when I was taking on bonefish for the first time. surely my second favorite bonefishing book, only surpassed by Randal Kaufmann's stunning work from 2000.
At 40 US$ list price and available down to 25 US$ it's a steal. And I know directly from the author that it's on its way in a new edition with even more tiers and patterns in it.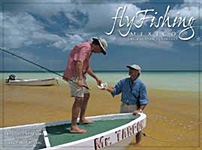 Book: Fly Fishing Mexico - the Yucatan Peninsula. Juan Pablo Reynal and Daniel Beilinson
Another extraordinarily beautiful book with some really stunning photography.
I fell in love with it even before I owned it. I happened to pass by a Danish web site, which had a review of the book, and immediately started a hunt for the publisher in order to get a copy to review. Now, this book is published in Argentina, and Argentine publishers don't really do a great job of making it easy to contact them. At the same time this book is not exactly widely distributed or marketed. Too bad, because it really deserves a large audience.
Read our review of Fly Fishing Mexico here.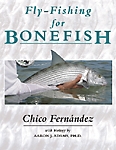 Book: Fly-Fishing for Bonefish. Chico Fernández
When I started researching for my first bonefishing trip, one of the first names I bumped into was Chico Fernandez.
Fernández is definitely one of the grand old men in bonefishing, and although his name is all over the bonefishing community, this is as far as I know his first book as an author. This is somewhat a surprise since his name pops up everywhere in connection with bonefishing.
Even though this book is touted as the main work on bonefishing and the bible on the subject, I already revealed that I don't agree fully with this view. But still this is an excellent book.
Read our review of Fly-Fishing for Bonefish here.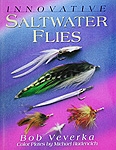 Book: Innovative Saltwater Flies. Bob Veverka
Even though this book covers a very wide variety of saltwater flies, including a majority not suited for bonefish, it does have a selection of all the most important patterns for bonefish—almost all by the originators. Add to this the great photography and the stories told by each contributor, and you have a very useful and attractive book. Spend some time tying some additional flies meant for permit, tarpon, barracuda and other species, and you will be fully armed for any siyuation during a bonefish endeavour.
Read our review of Innovative Saltwater Flies here.
Great bonefishing DVD's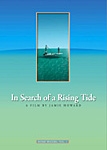 In Search of a Rising Tide. Jamie Howard
This 20 minutes and 30 seconds film is certainly the best appetizer to bonefishing I have seen. Get the sensation of bonefishing through some of the best Bahamian guides.
It may be short, but it's very good
Read our complete review here.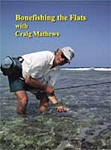 DVD: Bonefishing the Flats with Craig Mathews
This is definitely the best how-to DVD I have seen on bonefishing.
With its detailed coverage of bonefish gear, tactics and habitats plus some stunning underwater footage, this DVD has all the good advice that a new or seasoned bonefish angler will want .
Go to the GFF review.
More content from the front page