Published Jan 1. 2002 - 21 years ago
Updated or edited Dec 1. 2016
Distant Waters
You'll be enchanted and tempted by R.Valentine Atkinson's book with pictures of fly fishing destinations all over the world and thrilled and entertained by the accompanying texts written by the greatest contemporary writers. Read the full review here.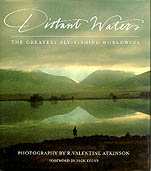 R.Valentine Atkinson (ed. and photos)
Distant Waters - The Greatest Fly-fishing Worldwide
Published by Mitchell Beazley, Great Britain, 1997
ISBN 1-84000-010-4
Price UK£ 25.- (I've seen it on sale for $24.50 at Amazon.com)
Example pages from the book


As blue as nothing else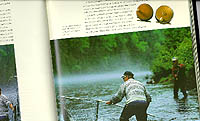 Green and lush
This is an astonishingly beautiful book. A book I felt I just had to own when I saw it in a book store in London. Its pictures are immediately attractive, and just running your fingers through its large pages will reveal green and blue hues that will make you you stop and hold your breath immediately.
The book consists of Atkinson's photos accompanied by short essays written by some of the great names in flyfishing. No doubt: Atkinson's photos are the scaffold. Without the we'd stille have a good book, but with them we have a real treat.
The pictures are taken through Atkinson's many years as a staff photographer with Frontiers International Travel - a company that specializes in sporting travels which includes fishing trips. His assignments have brought hime places that most of us can only dream about: Christmas Islands, Kola, Bahamas, Argentina, New Zealand, Iceland and more. Other places are more accessible like the Rockies, Montana, Norway, Florida and Canada.
Each place has its quarry: Salmon in Kola, Bonefish on the Christmas Islands and sea trout and rainbow in Argentina. And each place has its story teller: John Gierarch on the Rockies, Art Lee on Iceland, Niel Patterson on the Enlish chalk streams. The list also encompasses Ernest Schweibert, Nick Lyons and many more whose names will ring bells with any magazine and book reader. All are very able writers and the stories are well worth reading - if you can get your eyes off the pictures.
If I should mention a couple of small things that annoys me, it's the the treatment of many small pictures which are inserted as spicing on most pages and some of the facts in the factfile that follows each chapter.
And yes, the small pictures do add a lot of ambience to the book and strikes a tone which is perfect for the the layout. But... those small pictures don't stand the distance compared to the extremely beautiful 'real' photos. Especially because there's a lot of reuse of the pictures which are both used as single illustrations scattered on the pages and as collages. Also some of the 'real' pictures seem to have been once too many under the hammer of a photoediting program which has left som clearly digital marks on the print. That's too bad.
The factfiles seem like a good idea, but I have two problems with them: They're not needed. This is an aestethic experience, not a 'how to' book. And I'm not sure about the value of the facts. They seem somwhat superficial, and one example stroke me. The very limited access to the extremely expensive Laxa in Iceland is not mentioned, and neither is the fact that you have to have your equipment disinfected through a controlled process before entry. It's not just packing your four piece and going there.
But in spite of these small critical points, I can't recommend this book enough. The best pictures possible combined with some of the best writers. You'll be enchanted and tempted by the pictures and thrilled and entertained by the texts. And £25.- can't be said to be expensive for the quality found here - and $24.50 is a bargain.
More content from the front page