Published Sep 10. 2001 - 19 years ago
Updated or edited Aug 4. 2020
Modern Atlantic Salmon Flies
Modern Atlantic Salmon Flies by Paul Marriner should not be viewed as simply a book.
Paul Marriner
Modern Atlantic Salmon Flies
Frank Amato Publications
ISBN: 1571881522
Price: approx. US$35.-
GFF Rating: 5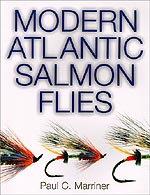 Modern Atlantic Salmon Flies should not be viewed as simply a book.
Before one can appreciate the writings of an author, the reader should know where they came from to have attained the knowledge they are presenting to you in text. Paul Marriner and his wife call Mahone Bay, a small town in Nova Scotia, home. A region surrounded with famed salmon angling rivers. Over 25 years ago Paul traveled to the renowned Miramichi River in New Brunswick and has been seen on the banks throwing line ever since. His love for the sport and his persistent pursuit of the mighty Atlantic's has brought him back to the river year after year. It is with these years of experience that Marriner is welcomed and respected as one of Canada's premiere angling authors.
More than a book
Marriner's latest offering to the Atlantic salmon angling community, Modern Atlantic Salmon Flies, should not be viewed as simply a book, text, or collection. It should, and undoubtedly will be, revered as a historical transcript of Atlantic Canada's most treasured works of art, the salmon fly. Within the covers of this "book" lie over 200 patterns of salmon flies in 8 different categories. Some used daily by guides and anglers throughout the world (Ally's Shrimp), others entombed in the creator's mind and fly box since their birth. A number of these flies were discovered successful on river's whose salmon runs have all but deteriorated. They are presented by Marriner so as to keep them from extinction.
A message
This work is not only a presentation of patterns, but also a message from the creator as to how, when, and which river this fly has proved most successful. Marriner, when possible, has even summoned the originator of each pattern to tie the fly. He cautiously warns the reader in his introduction that the flies presented are not all tyed by "professionals or talented amateurs". He continues, "Instead, as often as possible, the pattern is from the originator or an angler/tier with close connections to same." Looking over the names of the tyers that created some of these patterns would dictate otherwise. Some of Atlantic Canada's most respected tyers (and anglers) are responsible for the contents of this work. Many of these men are names known river to river from one side of the globe to the other. The works of Jerry Doak, Warran Duncan, Bryant Freeman, Marc Madore, and Jerome Malloy would constitute my "starting five" of the most prestigious salmon fly tyers in the region. Some of these men I respect for their fly tying skills, others for their skills on the water and their ability to create flies for differing conditions.
Not duplicated
Marriner presents each pattern by recognizing the originator, when known. He then describes the use of the fly and the conditions for which it was developed. This can be especially useful when putting together your fly boxes for the season and it's ever changing conditions. A saying that is often heard in our beautiful provinces, "If you don't like the weather, wait a minute, it will change" should be taken into consideration when getting your patterns together. For every changing possible condition, Marriner presents a fly. Although he suggests, as do I, that trying to carry all patterns for every condition is impossible, one should consider the best option whether it be "old faithful" or something new that catches the eye. Did I mention that the patterns are also defined for each fly? I have been so drawn to the history and use of the flies that I often am blind to the pattern recipe as I move from fly to fly. This is a quality not often duplicated by other "fly books". It is what has kept me reading this book over and over.
Pretty tyes
I have read a few reviews of this book by others who noted that not all of the flies pictured are "pretty" tyes. I would suggest that these critics read the Introduction to the book. As described above, Marriner states that they are not all "professional" tyers. I think they believe that because their title is "Critic" that they must always find something to criticize. I consider myself, however, a reader who enjoys recommending fine salmon angling books to others. It is because of my love for the sport and it's preservation that I recommend Modern Atlantic Salmon Flies to you, so that you too can help preserve the bit of history that is contained in this book.
More content from the front page