Published Feb 1. 2003 - 20 years ago
Updated or edited Dec 3. 2016
Tying Flies the Paraloop Way
My first thought was probably the same as yours - what is "paraloop"? Paraloop is part technique, part style. Take a piece of a parachute, a bit of a thorax dun, and some thoughts of a comparadun, mix, and you'll arrive at a paraloop.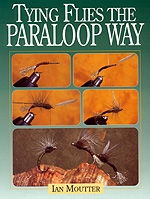 GFF Rating: 6, Global Class
Tying Flies the Paraloop Way
Ian Moutter
The Countryman Press
March 2002
Hardcover, 191 Pages
ISBN: 0881505544
Suggested retail: $35.00US
Dig out your gallows tools, you're gonna need it after you read this book.
My first thought was probably the same as yours - what is "paraloop"?
Paraloop is part technique, part style - mostly for floating (or at least "emerging") flies. Take a piece of a parachute, a bit of a thorax dun, and some thoughts of a comparadun, mix, and you'll arrive at a paraloop. It is really none of these, yet all of them.
So that's what a "paraloop" is. Clear? Probably not. Look at the pictures and it will make sense. Better yet, read the book. Mr. Moutter takes us through a complete course in this style of fly tying,
from the tools required and the materials used through the tying techniques, and finally the application of the techniques to specific patterns.
The first chapter deals with tools, and here is where I had a good chuckle when Mr. Moutter made the following statement: "The development of the Paraloop has resulted in many a gallows tool being wiped down and used after years of collecting dust."
Guilty as charged! I've had a gallows tool for nearly 10 years now that has yet to be used, although I've tied many dozen parachute flies. What surprised me most when I started reading Mr. Moutter's book is that I remember where it is! And off to the garage I went!
In addition to being reintroduced to our long-lost gallows tools, we also are given reason to create yet another tool - a "neck breaker". Tim Allen would be proud of us - two new tools to add to our collection. While most tyers will claim they use only a smattering of the most basic tools - don't believe it. We're all gadget nuts. Mr. Moutter gives us an excuse to surrender to our fetish without need for apology. Heck, that alone is worth the price of the book.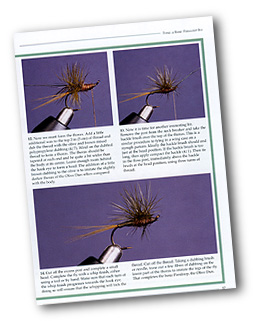 The remainder of the discussion on tools is pretty straightforward. The need for a vise, a pair of scissors, bobbins, hackle pliers, etc., is pretty standard stuff. I'm guessing the audience of this book already has a firm grasp on their favorite tools, and as such Mr. Moutter probably could have saved a few pages and glossed over these "essential but obvious" tools.
I always enjoy a discussion of materials. Put two tyers together in a room and you can be sure that before long the discussion will turn to materials. I admit to being intrigued, indeed surprised, to see a reference to squirrel tail as a dry fly winging material. As a streamer or wet fly wing, yes. A dry fly wing? Ok - we'll have to take his word on that and try it ourselves. The references to siliconized polypropylene yarns, cobblers wax, "buzzer" hooks, etc., makes it clear (if it wasn't already) that Mr. Moutter is a UK based fly tyer. The brand names of materials and hooks may not be familiar, but the descriptions of the materials, threads, and various hooks should make finding substitutes pretty simple.
He is even kind enough to give us a hook comparison chart for his favorites, so we can select a hook from a brand we are comfortable with. Here again, most of the tyers reading this book will already have a stock of their favorite hooks, threads, and hackles, but it helps to learn his reasonings behind his choices when we begin to tie our own flies.
The remainder of the book is split between technique and patterns. He walks us through a detailed step-by-step procedure for tying a "basic" paraloop fly, which I thought was very well done. I took the book to my own tying desk, opened it up, and followed his instructions to the letter, and did not find that I was lacking any instruction. A person who has tied a variety of flies will be able to pick up this book and tie perfect paraloops with no problem. There are no "secret handshakes" left out. He then takes us through some special techniques needed for different types of Paraloop flies. I found these "how-to" sections very well done - much better than most I've seen in print.
The patterns are a mix of adaptations of classic patterns (a Paraloop Wulff, anyone?), some originals, and some "guest" patterns provided by fellow tyers of the paraloop style. The latter sections cemented my opinion of Mr. Moutter as a man of ethics, as he repeatedly acknowledges those other tyers who independently developed similar tying styles and offers them space in his book to share their thoughts in their own words. A rare selfless act in an ego filled world. I was particularly drawn to the patterns of Mr. Brian Cornwall, where he uses a Paraloop style hackle on a Klinkhamer style fly to create a "Paraloop Klinkhamar". You can be sure I will have a selection of these in my box this year.
I will admit when I first picked up this book, I was dubious whether it was possible to create an entire book based on a single tying technique. After reading through a few times, it is clear that not only is it possible to fill a book with solid informaiton, but that more will come. Fly tyers, if nothing else, are inventive blokes who will sieze an idea and modify it in some way to make it their own. I look for many "Paraloop" style flies to pop up in publications for quite some time.
I believe the highest complement one tyer can pay to another is to add the other's patterns to their own working set of flies. In that respect, I will be honoring Mr. Moutter many times this season and for years to come. Thank you, Ian, for adding yet another arrow in my quiver of fly tying tricks.
More content from the front page