Published Apr 1. 2000 - 22 years ago
Updated or edited Jun 22. 2016
Book column April 2000
There are a lot of important books that have been published and some recent additions also. In this installment we're going to look at some of the tyers and books that I think are worthwhile and comment on the patterns, concepts and technical aspects of the world of silk, fur and feathers as Mr. Skues put it.
I know, I know, I'm leaving out some of the important authors and books but I can't cover it all in one page so please indulge me in my highly personal approach. Having delivered my apologies I would now like to start. Four moderns that I really like are Gartside, Martin, Hughes and Proper. Each of these men is very different and I wonder if they would get along like a house on fire or not. Certainly sparks could fly if they had a few cocktails together I'm sure.
Jack Gartside is a tall slender chainsmoker who lives to fish and accomplishes it on a budget in unorthodox ways. How about bonefishing from a canoe. Get the picture? Jack has several specialized books on flytying, ranging from trout to tarpon. He is fearless when it comes to taking known materials and employing them in new ways or using overlooked materials as components of his unique patterns. Some of his patterns are the Firefly, Sparrow and the Soft Hackle Streamer. He has also been in the forefront of the Northeastern US saltwater fly fishing movement. Jack is a constantly searching individual who is always questioning and experimenting. As a result of his intense interest he has put out several books and pieces on saltwater fly patterns and tactics. Jack's pamphlets and self-published books are a treat to read. They come at the reader straight from the heart.
Darrel Martin, a teacher, has always impressed me since his technical book on the properties of flytying materials, he has since published a book on small flies which is interesting in it's own right. In it he gets into the minutiae of the topic of fly patterns in an intense and in-depth manner. Darrel is downright scary but it's guys like Darrel that cut the new paths and lead the way.
What is nice about him is he shares his knowledge in an intimate way with his readers. However my opinion is that the first book is the one that set him apart. A landmark book using microphotographs to show what the materials are all about and explain why they behave in certain ways when used as flytying materials. It was the first that I know of and still is the only analysis of its type. If you want to know why fly tying materials behave the way they do and how to utilize the unique properties of individual fly tying materials this is the book. Martin also deals with the physical aspects of hooks and more esoteric tying techniques such as extended bodies and woven bodies.
Dave Hughes is a guy I've grown to like. I'm sure many have heard of him but for me he just gets better each book he does. Dave is a voice of reason in a world of preoccupation with minutiae and side issues that lead to dead ends. As a fan of wet flies he has done the fishing world a major service by putting out his elegant and pungent book of wet fly tying and it's related history. His writing and analysis hit full stride in this exercise and I don't think he can ever surpass this benchmark but he will never disappoint readers if he maintains this style and approach. His most recent effort at cataloguing every fly that ever existed under the sun or in the galaxy for that matter is a major work of "fly mapping". Pick up a copy and check it out. Anything that isn't in this is for the sidebars of flyfishing, and that has been checked out in the first two discussed.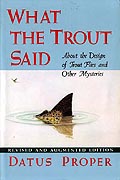 Datus Proper is a conundrum to me, hardly seen or heard of in the world of flyfishing and yet clearly a formidable fisherman and also a hunter. His book and its recent update show all the marks of an original. This guy ties and fishes for himself in my estimation. How else to explain the lack of proselytising for his approach by writing in the popular journals? Something he is clearly qualified to do. Just open the book to his colour plates of flies and you know "something is happening Mr. Jones". This flyfisher has come out of another school and the design of his flies show the mind of a specialist who solves "trout problems" partly through fly design concepts. Each fly if studied closely begins to disclose some of it's purposes, and after reading him it becomes clearer.
So what about Eric Leiser, George Harvey, AK Best, Swisher & Richards, Caucci & Nastasi, Ernest Schwiebert and on and on? Well... they should be read because they all have important things to tell us as flyfishers and if I had room I would get into these guys because they are important. But what about the guys in front of them like Bergman, Ovington, Blades, Flick, Cross, and one of my faves from across the pond William Hastie Lawrie or Commander CF Walker. I just love those British appellations. Don't worry we'll get to them too, it may take a while but it will be done. Why? Because it should be done!
Well, until next time remember, tie a fly and show it to a fish.
Yer pal, The Old Flyfisher
Reading & reference:

Jack Gartside
The Soft Hackle Streamer
Striper Flies
Fly Patterns for the Adventurous Tyer
Flies for the 21st Century
Gartside is privately published, for info write 10 Sachem St. Boston MA 02120

Darrel Martin
Fly-Tying Methods, Nick Lyons Books, 1987
Micropatterns - Tying and Fishing the Small Fly, Lyons & Burford, 1984

Dave Hughes
Wet Flies, Stackpole Books, 1995

Datus Proper
What the Trout Said, Lyons & Burford, 1989

More content from the front page