Published Aug 1. 2000 - 21 years ago
Updated or edited Jun 22. 2016
Book column August 2000
I'd like to discuss the topic of old and antique fishing tackle from two perspectives. First as actual fishing tackle and second as collectibles. The resurgence in interest for old stuff seems to be okay to me because I'm also old and worn.
Old Flyfishing Tackle
"Fly" sez be careful here, you've been warned...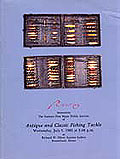 Don't get too mad at me because I'm not going to discuss the current crop of technological "can't do without's and must haves" such as oil impregnated disc drag reels or Trident technology dampened graphite rods.
For a generation that talked about alternatives the alternatives have become the orthodoxy. So lets explore a radical concept of reinventing the wheel. I'd like to discuss the topic of old and antique fishing tackle from two perspectives. First as actual fishing tackle and second as collectibles. The resurgence in interest for old stuff seems to be okay to me because I'm also old and worn.
Where do we start to help the recently intrigued or the seriously hooked get more info on the bewildering array of fishing memorabilia? There is some top notch help from the likes of Allen Liu, Hoagy Carmichael, Martin Keene, Carmine Linsella, and even John Gierach. The list goes on and on so excuse me to all that I haven't listed it's just a matter of space available in this column. Tip to readers, type collectible fishing tackle into a "search engine", hit "go" and watch your screen fill up with more lists than can be viewed in a weekend! Then there are auction houses and their catalogues. Doesn't it ever end?
I sure hope not.
Hoagy Carmichael and Everett Garrison co authored the title "A Master's Guide to Building a Bamboo Rod" this has been the bible for a new generation of rod builders. Garrison's rods were and still are justly renowned. This volume will give the reader lots of information on the rod building process and help them to look at a cane rod's construction critically to determine if it is well built and worth buying. It still has to be cast unless the rod isn't intended for fishing but just for a collection. Still you should fish these rods even if it's once in a while. Moving on to the idea of buying a bevy of bamboo beauties a great guide is Marty Keene's "Classic Rods and Rodmakers". This title lists most of the well known rodbuilders and gives tips on rod model and maker identification. You can get the same from Gierach's book "Fishing Bamboo" although it isn't as in depth but it is a more readily available title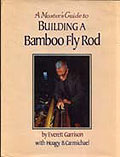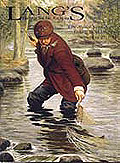 Allen Liu a former contributor to American Angler magazine wrote an interesting text on the world of sporting collectibles such as art, books, knives, guns and first issue sport stamps. Even though he covers more ground than just fishing tackle and fishing related collectibles it's still a great source. He covers rods, reels, flies, creels and other neat stuff like lures and plugs.
Arnold Gingrich the gruff old former publisher of "Esquire" magazine also wrote on the whole enchilada in several of his books which also contain some references to tackle. Check before you buy since his books aren't focused solely on tackle. Several books on the topic of fly reels exist including a magnificent work on Hardy reels put out by Jess Miller full of colour photos, also titles by Stockwell and Orelle are full of details on the topic of old reels
Over the years the world of tackle collecting has grown to such a level that there are now auctions of this stuff. Two auctioneers who published catalogues are Oliver's and Lang's. You may be able to find these catalogues from book dealers, or directly from Lang himself. Oliver's is no longer around last I knew but his catalogues are. These magazine bound catalogues are packed with photos and descriptions as well as prices asked and are great guides and references for the collector.
"Fishing Collectibles Magazine" was a quarterly journal that reported details on all sorts of old tackle on display and for sale at tackle shows and meets around the USA. This quarterly contained information on show dates and meets as well as addresses for other special interest groups who put out newsletters like reel collectors and fishing lure collectors. I have not heard from the publisher Mr. McGrath and I am not certain if he is still putting out his journal. He also had a website but it appears to no longer be running. Interestingly enough he is now noted as the owner of the H.L. Leonard Rod Co. How appropriate. If this is the same man and I believe that it is you can access him and the Fishing Collectibles online version of the magazine through the HL Leonard Rod Co. website.
There are other books that have been written on these topics and more and they can be identified at the website of the International Association of Fishing Tackle Collectors. Their website has a listing of reference material for the serious players, but it is still valuable for the neophyte. It is located at http://www.iaftc.org/books.htm. To the best of my knowledge Carmichael, Liu, and Keene are no longer in print but should be available from book dealers.
Well this is enough information to get you started and sliding down the slippery slope of fishing collectibles. Just don't name me as a correspondent if your wife decides to divorce you over this very expensive habit. Then again live dangerously I do and look what it's done for me. I'm broke but I still get excited by the call of the hunt.
...it's... The Old Flyfisher (again)
Reading & reference:
Carmichael & Garrison
"A Masters Guide to Building a Bamboo Fly Rod" Nick Lyons Books and other publishers
Allen Liu
"The American Sporting Collector's Handbook" Winchester Press
Martin Keene
"Classic Rods and Rodbuilders" Winchester Press
John Gierach
"Fishing Bamboo", Lyons Press, New York.
Arnold Gingrich
"Well Tempered Angler" & "Joys of Trout" Alfred Knopf
Glen Stockwell
"Fly Reels of the House of Hardy", A & C Black
Bob Lang
Lang Auctions, Maine USA phone (+1) 207 655-4265
Brian McGrath
(URL: http://www.fishcollmag.com/ - currently not working)
Ed Corwin
Reel Collectors Assoc., Florida USA 904 692-2037
-
Fishing Lure Collectors Assoc. - Chicago USA 312 463-2126
-
H. L. Leonard Rod Company 2 Oak Street, Box 2797, Kennebunkport, ME 04046 Ph (207) 967-8044
Len Codella
Len Codella's Heritage Sporting Collectibles, 2201 S. Carnegie Drive, Inverness, FL 34450, len@codella.com
Please note phone numbers &amp email addresses change, but were current at time of writing. (i.e. don't shoot me if the numbers &amp URLs are no longer in effect. Thanks from yer pal "Fly")
More content from the front page