Simply the Best Place to go for Online Fly Fishing and Fly Tying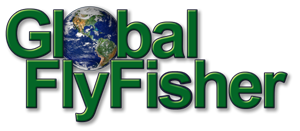 Published May 27. 2008 - 10 years ago
Updated or edited Nov 30. 2015
Jan's Emerger
Another new pattern from Jan Grandal-Johansen, this time a buzzer emerger that fishes well on the reservoirs in the UK. Those hackle tip wings are just killer.
Two or three years ago I was fishing a reservoir on a boat, and a hatch started. We went for our suspender buzzers and we did allright, but I have always been trying to make something a little different, thinking why do emergers, dries always seem to be tied on straight hooks? I love the B100s and tied this fly.

Dead easy to tie but can be deadly. When you have tied one put it in a clear glass of water and see how the fly sits. Trust me its cool. I have been tying all sorts of dries and suspeder buzzers on these hooks now. They just look better try and see.
Materials
| | |
| --- | --- |
| Hook: | Kamasan B100, #10 - #16 |
| Thread: | Black 6/0 |
| Abdomen: | Black Seal's Fur (fine) |
| Rib: | Fine Copper Wire |
| Wing: | White Cock Hackle Tips |
| Thorax: | Black Foam |
| Hackle: | Black Genetic Cock Hackle |
Tying Instructions
Start with the black thread. Tie in copper wire stopping 3/4s down the hook bend. Dub some seals fur on the hook stopping just past where the hook goes straight. Rib the copper wire and stop.
Put together two fine cock hackle tips tie in where the dubbing stops.
Cut a piece of foam to match hook size, starting a the eye working back tying the foam down stopping slightly past the cock hackle tips.
Now tie in the black hackle at the side or the foam going forward towards the eye. Give enough room for the foam to be tied in
Gently pull the foam ever the hackle and tie in just short of the eye. After one or two flies you will soon get to know when to judge the distaces with the hackle and the foam, Tie down foam and tie off.
You're probably thinking now my white wings look awfully flat. Just get your thumb and push both tips towards the eye, this will kink the tips and the fly will start to look the part.