Simply the Best Place to go for Online Fly Fishing and Fly Tying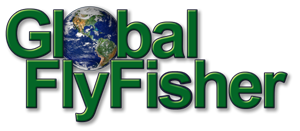 Published Sep 3. 2007 - 10 years ago
Updated or edited Jun 3. 2018
A Mad Epoxy Tier
Bob Kenly is reknowned for his radically different epoxy tube flies. This article recaps his experience with epoxy - and adds advice on coloring epoxy. If you want some truths about epoxy - and want to witness the death of a couple of myths
Things you gotta have or would be nice to have
Epoxy:
I use only one brand of epoxy, Devcon in the 5-minute mixture and 2-Ton mixture. The 5-Minute stuff is good for building stuff but it does start to harden quickly after mixed and gets very hot If you are worried that the material might be damaged by the heat you will have to go to the 2-ton stuff which doesn't heat while drying. Also the 5-minute stuff doesn't have the strength of the 2-Ton stuff so if I build something out of the 5-minute mixture I always cover the 5-minute stuff with 2-ton stuff. Devcon products are very stable and predictable (if I was interest in unpredictability I'd sign up to drive a fuel tanker in Iraq) and don't have that objectionable smell usually associated with epoxy (the data sheet says they have no solvents and are 100% reactive). I buy both types in 25 ml. double tubes which mix a perfect 1:1 ratio. You can buy this stuff in bulk sizes but considering the cost and mixing hassle I just stick with the 25 ml. tubes.
A rotary vise: Life is so much easier with one of these especially when playing with epoxy. (More here, ed.).
Toothpicks: You may read some places that wood contaminates epoxy, BALONEY, toothpicks are cheap, work just fine (I always use the round ones) and you can always chunk them out after mixing and applying epoxy.
Sticky note pads: perfect for mixing small amounts of epoxy. Again, some say the coloring on these pads can get into the epoxy, after 15 years I still haven't had this problem. For larger amounts of epoxy I use a sheet of aluminum foil which I fold several times.
Denatured Alcohol: For cleaning up spills and mixing with epoxy to thin the mixture. Do not use medical alcohol as it has too much water.
Clear nylon sewing thread: neat stuff but somewhat slippery to tie with. The beauty of this thread is it disappears under epoxy. Again, cheap and readily available.
Something to turn your work while drying:
Sometimes called a dryer, I never found one that did what I wanted it to do so I built my own from bits and pieces I salvaged from a rod turning motor. After 15 years it still works albeit it looks a bit klunky but it fits my persona just fine, thank you. On that note another thing that is handy is some sort of rack to cure your flies on, a board with small nails (cut the heads off) works perfectly. (You can also
build your own rotor
, ed.)
A trash can of some sort: That goes without saying anything more.
And finally, old clothes: you're going to dribble some on your clothes, it seems to happen especially when you're wearing some good clothes. Epoxy seems to soak into the fibers and nothing you do will stop it from hardening. Rather then trying to explain how you got your clothes solidly stiff it's easier to have something that won't get ruined.
Drying and curing
There is some confusion regarding these epoxy terms and the data sheets don't seem to clear this up too well. They use a term called "functional cure" which is basically a time that the epoxy is hard enough to touch (about 2 hours will usually cover most epoxies). "Full cure" is when the epoxy reaches its maximum strength (Usually 12 hours).
To get a solid color I first cover what I'm building with 5-Minute epoxy and let dry, then I sand the object with fine sandpaper, clean with a piece of paper towel and alcohol. Then I undercoat the area with acrylic of the same color as the finished product will end up as. After thats dry I then apply a coat of the epoxy/acrylic mixture over the painted area. Sanding has two important effects: first, it allows the paint to adhere without sliding like it would on a slick surface. And second, epoxy has a tendincy to pull away and pool on slick surfaces, sanding seems to eliminate that problem.
Varigated coloring
Now this can be tricky as heck but it does produce some interesting effects. The idea is to take some acrylic coloring on a toothpick and apply it on to wet epoxy. When the fly is on the dryer (turner) the coloring spreads in some interesting patterns, its always a surprise to see what the end result is when dry. It takes a bit of planning to accomplish this sort of finish but well worth the effort. When doing this you want to make sure your base color (epoxy/acrylic mixture) stays wet, mixing the base coat with some denatured alcohol will slow down the curing some, the idea is to have the coloring part of the epoxy not just on it (is any of this making any sense). The best results are achieved putting a darker color into a lighter color, I have done the reverse but the darker colored base seems to swallow up the lighter color.
Seperated coloring
Lets say for argument sake you're making a popper, the head area red and the rest white. You've done your sanding of the first epoxy coating and sanded it. Next establishe where the two colors will seperate and wrap that area with thread to make a sort of dam (nylon sewing thread works best as it disappears under epoxy). Undercoat each section with the desired color using acrylic (in this example where white is most of the color I do the whole fly first but with other colors it may not work as well and best kept seperate). Now, mix an epoxy /acrylic mixture and apply to the largest area up to the thread dam, turn and let dry. After its dry and cured again do the same thing to the other colored area, turn, let dry and cure.
Translucent coloring
A minute amount of acrylic will cover that but mix very well. Artists ink is another option to mix with epoxy, look for something called "Transparent Water Color Ink. Start with a very small amount and mix well, add ink till you get the desired shade.
Color projection: (Don't try looking it up anywhere, I just invented that term). Some years ago I did some flies where the coloring was in the center of the fly and projected to the outside of the fly. I was making small zonker style flies with a lead former in the center of the fly. The body was completely filled with epoxy and was wrapped with a pearl braid then that was covered with long drying epoxy. The only problem with this was the body appeared dull almost the color of the lead. Glueing shinny aluminum foil on both sides of the former before applying the epoxy the end result was a brilliant fly. Since that worked so well I wondered if colored foils would have the same effect, BRILLIANT !!! that worked too. Unfortunately, due to its uneven hydrofoil shape when retrieved fast or in rapid water the fly had a tendency to lay on its side. The fish didn't care and a Swedish friend still uses them for Sea trout.