Published Sep 14. 2005 - 17 years ago
Updated or edited Oct 28. 2021
Bonefish biology
This small treatise will introduce you to the parts of its natural history, which are most interesting to fly anglers. Learn about the bonefish habitats, their diet and what other things might help you get a better picture of the ghost of the flats.
Albula Vulpes is the Latin name for bonefish and can be translated into "the white fox"—a very suitable name for this elusive fish.
This is not going to be a long monograph on the species bonefish, but just a short natural history of the species. An understanding of the biology of your prey will always make you a better hunter, and at the same time biology is an interesting field.
Bonefish roam the warm, tropical waters of the Pacific and the Atlantic sides of the Southern states of USA, Central America and the Northern part of South America. There are bonefish in other parts of the world too, like in Hawaii, Indonesia, along the African coast
The bonefish is a coastal fish—or rather a shallow water fish—which will primarily move in water less than a couple of metres or about six feet in depth. They are known to gather in schools by the hundreds, even though it is commonly acknowledged that larger fish will often swim alone or in pairs or a few fish together.
The behaviour of the fish is very much influenced by the tide, and the schools will mostly move in a regular pattern tightly linked to rising and falling tide.
The fish are dense in build, almost triangular in cross section with a flat ventral side and a small mouth turned downwards.
They are indeed silvery, a perfect camouflage, which will reflect the surroundings and disguise the fish very well.
A good bonefish weighs 2-3 kilos or 4-6 lbs. and a giant has grown to 5-6 kilos or 10-12 lbs. World record fish have to be in the 8-9 kilos range or up and above 16 lbs, but fish in the 10-kilo range and more—that's closing in on 20 lbs. —have been caught in the Hawaiian and African waters.
The fish is strong and fast, which is one reason for its popularity as a game fish. But they are fast for a reason: escape. Speed is their way of evading predators such as sharks and barracuda in the water and birds in the air. And their speed is tightly coupled with their wariness. They are always alert, and spook easily, sometimes making the pursuit a frustrating endeavor.
The bonefish's diet and feeding habits is another of the reasons for its status as a popular prey for fly anglers. The fish typically feed in shallow water. 30-40 centimeters or a foot seems to be a preferred depth for many individuals although larger fish go deeper.
They often feed in bright daylight on almost bare sandy and silty bottom rather than in densely grown or weedy areas.
The orientation of the mouth says something about the feeding habits. The bonefish will find most of their food on or in the bottom, and during feeding the fish' attention will often be oriented downwards, making the fish less alert. Hence feeding bonefish are in more than one sense a lot more interesting to the angler. Feeding will be revealed by mud clouds, fish moving irregularly or tails and dorsal fins protruding above the water. Fast moving fish will often be alert and spook a lot easier than fish moving erratically, slowly or not at all.
Bonefish feed on small crabs, shrimps, smaller fish, clams and other items, which are all easily mimicked with a fly and whose movement patterns can be induced with a fly rod.
The fish will occasionally dig for burrowed food items, leaving obvious mud trails in the water and typical, almost triangular holes in the bottom—a telltale sign of their presence. The state and decay of these holes will tell a good guide whether bonefish have been in the area recently.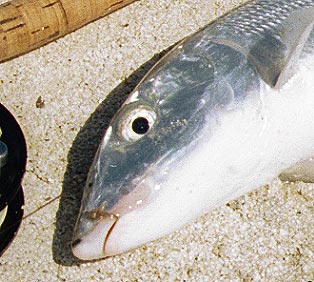 The mouth of as bonefish is fairly small
Feeding fish seem a little less wary and since most bonefish are quite opportunistic in their food choice, a well-presented fly will often trigger a take. Since the mouth of the fish is built for digging, it is quite hard and won't be easily damaged. It is not rare to catch fish, which are all red around the mouth from scraping on coral sand or shells. Because of the hard and cartilaginous mouth, setting the hook requires a little more effort than is usually needed in trout fishing.
Links
For more information about the natural history of the bonefish, please refer to these excellent sites:
More content from the front page