Published Oct 30. 2006 - 17 years ago
Updated or edited Feb 25. 2016
Chuck-n-Duck
Chuck-n-duck fishing isn't for everyone. Morality aside, it is an effective angling technique, one worth learning if you find occasionally find yourself in a situation where drifting a nymph along the bottom of a distant lie is the difference between catching and casting practice.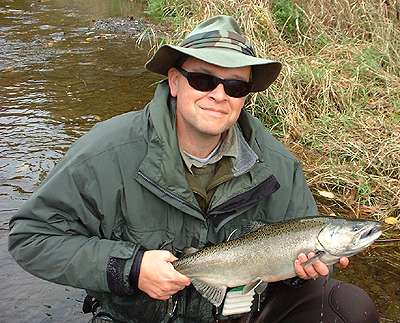 This is what it is all about.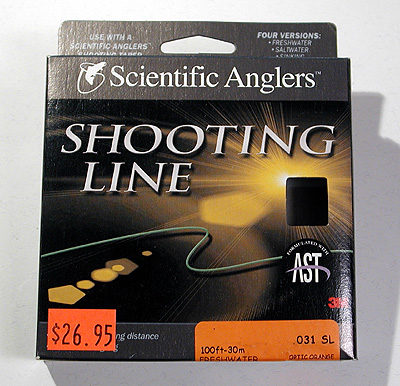 The essence of "Chuck and Duck" is the use of thin running line in place of a traditinal tapered fly line.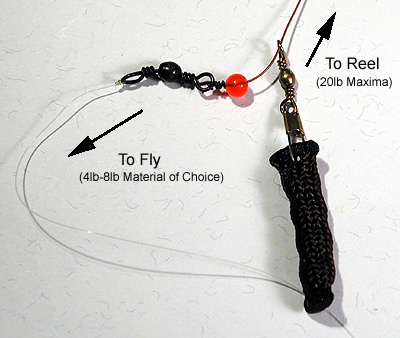 The basic terminal tackle rig for Chuck and Duck fishing.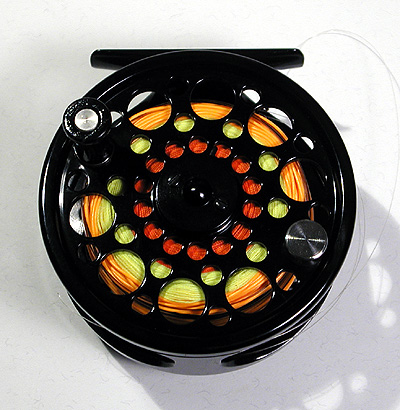 Any reel capable of holding 200yards of backing and your running line will suffice. This is a simple standard arbor disc drag model.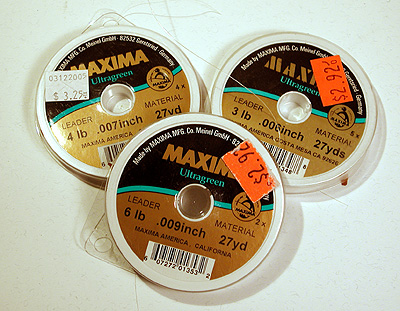 Maxima is a popular brand of tippet material for fighting salmon and steelhead due to its strength and abrasion resistence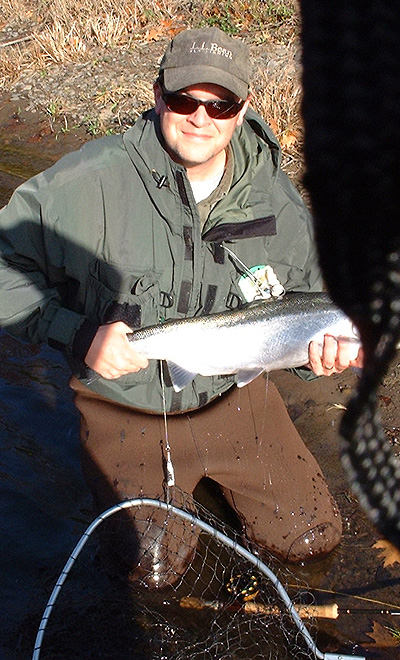 A nice fresh steelhead taken w/ "chuck and ducK" using same reel and line as shown above.
Chuck-n-duck fishing has an interesting history. When pacific salmon and steelhead were introduced to the Great Lakes tributaries, eastern and mid-western fly anglers tried to use traditional angling tactics to take these fish. Techniques such as the classic down-and-across wet fly swing, greased line, or a waking dry fly did not yield the same results as what these anglers experienced on the classic West Coast steelhead rivers, or indeed the famous Atlantic Salmon rivers. This was especially true in cold winter months, when water temps hovered around the freezing point. At the same time, spin and bait anglers were doing quite well. These fly anglers and guides wanted to level the playing field as much as possible, but did not want to give up their traditional fly fishing tackle.
Some observant anglers theorized that part of the problem was with the river structure. Many of these tributary rivers were small, with sheer drop offs into pockets and pools. The pacific salmon, in particular, would hold in these drop off areas when not actively moving upstream. Fishermen noticed a fly fished with classic methods would drift above the fish holding in these areas - and the fish would not rise to meet the fly. If they could get their flies to drop quickly into the pockets and pools, and drift at the same level as the holding fish, they might be at equal odds with their spin angler counterparts. The result was chuck-n-duck fishing.
The whole idea behind chuck-n-duck fishing is to turn fly angling on its head. Whereas in traditional fly fishing, the line is cast and the fly goes along for the ride, in chuck-n-duck fishing, a weight is cast and the fly line and fly are pulled along, similar to spin fishing (except the line does not come off a reel). While it is quite possible to perform this feat with typical fly lines and some big split shot, evolution of chuck-n-duck has left us with some unusual lines and terminal tackle.
The line is the first thing to change. Instead of a normal tapered fly line, chuck-n-duck anglers use a thin running line. This line has enough stiffness to avoid tangles when stripped from the reel for a cast, is thin enough to fly though the guides and allow long casts, light enough not to interfere terribly with a distant drift, and thin enough to cut through the water easily when a big fish is on the run. These running lines are manufactured and designed to be used behind a shooting head, usually for saltwater anglers, and are about a hundred feet long. The ones most often used for chuck-n-duck system have the same PVC coating as a normal fly line. In fact - they are simply thin non tapered fly lines. Most of the major line manufacturers make such a line for about half the price of a regular fly line.
Attached to the running line is a length of stiff leader material. Since we're not casting the line, there is no reason for a tapered leader to assist turn over. A straight section of strong monofilament is needed here. Check your regulations for legal lengths. In New York, the leader can be 15 feet in overall length, with a maximum 4 feet between weight and fly, so that leaves 11 feet for the main leader section. I use 11 feet of 20 pound Maxima chameleon since it straightens well with a pull, is highly abrasion resistant, and holds a knot very well. At the end of the main leader is a barrel swivel. Before tying on the swivel, however, a couple things need to be slid onto the main leader section - a snap swivel and a small plastic bead. The snap swivel is used to attach the weight, and the bead keeps the two swivels from getting tangled. One popular addition to this tackle setup is to add a foot or two of high visibility monofilament at the top of the main leader - between the leader and the running line. Those low memory "amnesia" lines, which glow brightly in all light conditions, are perfect. This gives the angler something to focus on during the drift, acting as a strike indicator.
On the other end of the barrel swivel is tied the leader. Again - no need for a tapered leader. A straight length of monofilament or fluorocarbon will suffice. Vary the strength of this section to the conditions, but it should never be heavier than your main leader. Of course, the fly goes on the end of the leader.
Up to this point, nothing has been unique to this form of angling. While the terminal rig is different from traditional fly fishing, it's not drastically so. Where we make a big turn from tradition is the weight - a slinky. A slinky is nothing but some lead or steel shot trapped inside a short length of parachute cord. The ends of the cord are sealed shut, with a hole punched so that the weight can clipped on the snap swivel. Slinkies are amazingly snag resistant. Whereas naked lead sinkers can stick to rocks and the stream bed, slinkies will bounce along the bottom quite well. Also - by using a heavy main section of leader - if a slinky does get wedged in a rock - chances are good it can be pulled free. Watch out, however. When a snagged slinky breaks free - you understand where the "duck" part of chuck-n-duck came from. With the slinkies attached to the
main leader with a snap swivel, the angler can easily and quickly change weights to adjust to different conditions. Slinkies can either be store bought, or you can make your own at home. I've always made my own, because when I started the ones in the shops were way too heavy for my needs.
That's basically it for chuck-n-duck tackle. While some folks will make a fly rod out of a long "noodle" blank, so that ultra light leaders can be used in the dead of winter, I've found that any rod that can heave the weighted slinkies will work. While a longer rod will allow you to control drifts better, your regular rod will work just fine. In fact, the whole system can be scaled down to any size river or rod. The fishing technique can be summed in with two words: dead drift. The intent of the system is to drift a nymph or egg imitation along the bottom, allowing it to drop into pockets and holes in the riverbed, so that it will drift in front of holding fish. Sure, you can use this tackle to drift a fly across a current, but the intent is to drift a fly as naturally as possible to holding non-aggressive fish. Start by stripping as much line off your reel as you'll need. If you are able - hold it in loose coils in your line hand. With the weight and most of the main leader dangling from the tip top, swing the rod slowly away from the target and then loop it toward the target, as if you were lobbing the weight into a basket. If you hold the line loosely in your hand and can let the loops feed smoothly, you will not encounter many tangles. After the cast, then it is fishing as normal. Drift, feel for the tap-tap of the weight along the bottom, and be on constant alert for a tug or pull or dead weight on end of the line, any of which could signal a take. At the end of the drift, strip line back until the knot of the main leader is inside the tiptop and cast again. A good chuck-n-duck angler can be a fishing machine, with his fly out of the strike zone only for very short amounts of time. A lot of water will be fished with this technique.
Chuck-n-duck fishing isn't for everyone. Plenty of fly anglers will look down their nose at those who practice chuck-n-duck, wondering why they just don't use spinning tackle. However, at least in New York State, chuck-n-duck angling meets the legal description of fly fishing and can be used in fly fishing only waters. Morality aside, chuck-n-duck fishing is an effective angling technique, one worth learning if you find occasionally find yourself in a situation where drifting a nymph along the bottom of a distant lie is the difference between catching and casting practice.
More content from the front page