Published Jan 1. 1998 - 24 years ago
Updated or edited Nov 26. 2016
Cod on a flyrod
How to get cod on a flyrod - the once so common Gadus morhua - Danish inshore species.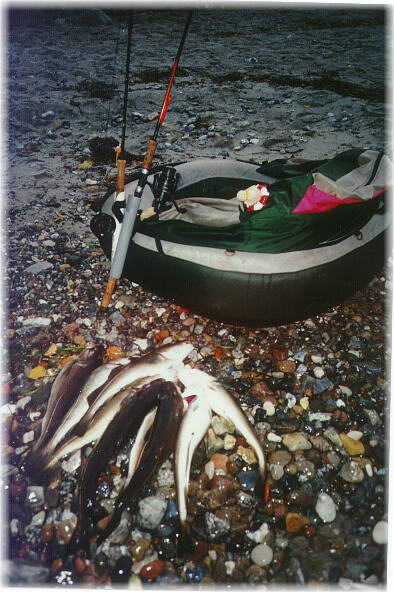 Cod caught on both fly- and spinning rod. Cod is a delicious eating fish - in many ways better than trout
Cod are always around
Cod (Latin: Gadus morhua, Danish: Torsk) is generally looked upon as second to trout. It is true that a trout will give much more fishing pleasure per pound, but if you don't catch any, it's not really so big an advantage. The cod are almost always around and generally very easy to catch.
I Denmark the normal way to catch cod is from a boat using heavy equipment. The fish can weigh up to 25 kilos (50 lb.) but fish this size are rarely caught in shallow water. The near shore fish average a couple of kilos (3-4 lb.) but cod up to 5 kilos (10 lb.) are often taken from the shore or a float tube.
Spinning rod
Most Danes will use the spinning rod if they go exclusively for cod, but actually the fly rod can be just as efficient - and much more fun. The reason for choosing the spinning rod is the wish to fish close to the bottom. The cod is not exclusively a bottom feeder, but it is true that cod will stay near the bottom, especially during the day.
But who says you can't fish a fly on the bottom? Not me! The sinking line has been invented, you know, and using a fast sinking line of the type that's normally used in fast water, will bring any fly to the bottom, even where it's deep. As mentioned before, most Danes fish with a floating line, and that might be the reason for this habit of switching to the spinning rod. But rig up a sinking line (or a sink tip in shallower water) and you will get down there.
At night
If you insist on fishing the floater, fish at dusk or night in stead. When it's dark, the cod will work in the surface with loud plopping sounds, and willingly 'rise' to any fly fished in top water. I use muddlers for most of my night fishing, and I generally catch more cod than sea trout with them.
Flies
The muddlers were mentioned as particularly good for night fishing, but actually the cod will take almost any fly. Most of the sea trout patterns will catch a cod now and then. Heavy flies can be good for day time fishing, again in order to reach the bottom. I have made a particularly effective crab fly for my float tube fishing for cod. It's a pain to cast it: heavy fly on a sinking line, but short casts are sufficient when you are over 4 meters (12') of water, and the fly sinks like a rock.
Other effective patterns will typically be large, colorful worm-like patterns. Cod are very fond of polycheates. But be warned. Most flies won't last long. Simple is good, when cod will tear up the fly. They have a lot of sharp teeth, and won't take the fly with anything that resembles elegance.
More content from the front page