Published Dec 8. 2020 - 2 years ago
Updated or edited Oct 28. 2021
Fish Scaled Up
Danish fly angler and professional photographer Søren Skarby got an idea: to photograph fish like they'd never been photographed before
Søren, who's a good fishing friend, called me on the phone a couple of years ago.
"Do you know anything about stacking photos?"
Well, I did know a bit about stacking macro photos, and had been playing around with some software I was involved in. Using an autofocus camera I could create pictures with an extreme depth of field.
"I have this idea", he said, and then he commenced to describe an ambitious photo project, sketching some ideas, speculating about gear and software and talking about funding and making it into a year-long project.
We talked a little back and forth, and discussed various ways of approaching such a project, chatted a little about flies and fishing, and finally hung up.
Funded and running
I didn't think much about Søren's project the coming time, but Søren returned now and then and kept me updated, and one day he announced that the project was funded and actually running.
The next thing I heard about the project was during spring and summer 2019 when I started seeing articles and posts online and in print, all dealing with this crazy Danish photographer who was producing the most amazing images of ordinary, Danish fish.
And judging from the stories and pictures Søren had really hit on something quite special.
In late 2019 I finally got to see the photos up close. I was on vacation on the Danish island Fyn, and Søren had promised to give a guided tour of the exhibition in the town Kerteminde. He met me and my wife, Birgitte, at the museum, and showed us the photos as well as some of the things going on behind the scenes.
And the images truly were awesome. Literally larger than life, with fish photographed in stunning details and printed in about 2 by 3 meters or some 6 by 9 feet and more.
Web site and video
Søren has now produced a video about the project and launched a website where you can play with these extremely high resolution images and zoom into the most minute detail. It's like a reverse space travel where you can zoom into unbelievable detail, and feel like you can keep on zooming almost endlessly.
The process
The fish are given an overdose of benzocaine, a drug that's normally used for keeping fish calm in a tank when electrofishing. This will kill the fish. When they are dead, the taxidermist gets them ready for the photo session. The fins are stretched either with fine wire or on small pieces of glass. Most importantly the body is kept wet to keep the oxygen in the air from affecting the colors. Some species like Cod turn darker in less than five minutes, even when wet, and therefore have to be covered with a protective layer of baby oil.
Instead of moving the camera the fish is moved on a table custom designed for the project. You can see the process in the video. To save money one of Søren's good friends built the special light fixture, which is critical for getting enough and even light without frying the fish.
All the gear is a strange combination consisting of very modern digital equipment, homemade stuff, an old mirror from Søren's parents' attic and a more than 50 years old camera stand.
Stacking and stitching
The extremely high resolution and detail is achieved by combining two photographic techniques: stacking and stitching.
If you look at a macro shot of a beetle the eyes will be in focus and everything else will be a blur. That's physics. At close range the depth of field is extremely shallow, and you have to bend physics to make everything sharp. That's done by shooting a lot of images where focus is changed a tiny bit for every frame. That's called stacking.
In the computer the stack is collapsed to one image where only the details in focus are included. Now the depth of field is immense, and far beyond what can be achieved in a single image.
To get the high resolution Søren shoots several stacks along the body of the fish, each of them overlapping a bit with the one before. All stacks are collapsed as describe above and then become "tiles", which are combined into one big image. That's the stitching part.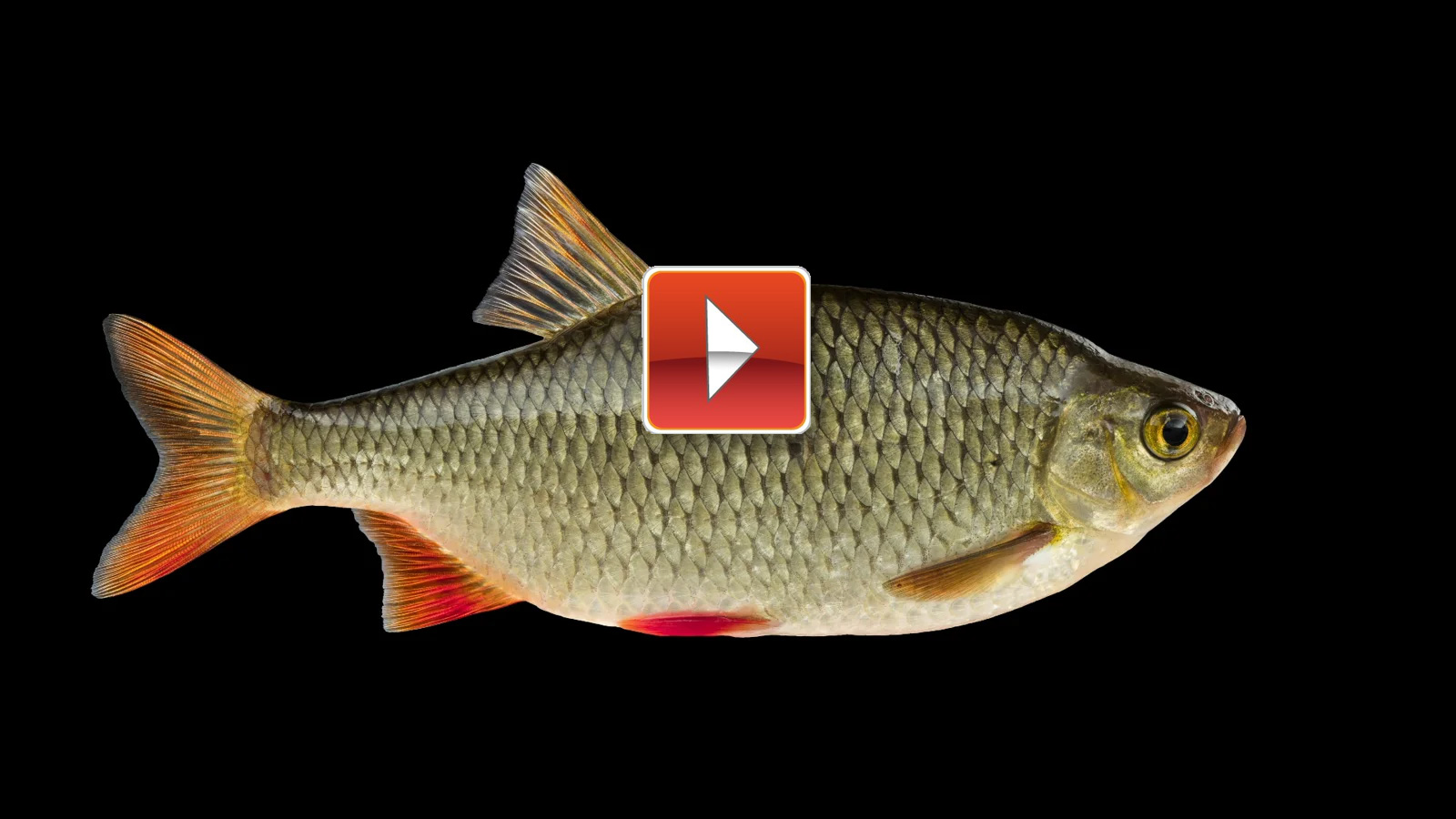 In this video Søren tells about the project.
An automated process... kind of...
In principle both of these are automated processes, which can be done by computer software. But that's only in theory, because in the real world Søren has been through a lot of workarounds and many fruitless hours in front of the computer to get things to run.
Even more hours have been spent adjusting, cleaning and editing the pictures. Small fish like minnows have transparent fins, and it's unbelievable how much dust and dirt can stick to such a small fin. And you can't dust off a fish!
All the spots have to be edited away with the precision of a surgeon, because in the extreme magnification, even a small speck or hair will become a huge and very disturbing blob.
Morten the taxidermist
The project couldn't have been done without taxidermist Morten Boensen. He is a former commercial fisherman who shares Søren's passion for fish. Morten was the one who staid calm when things weren't working the way he and Søren planned.
Søren had a hard time calling Morten and telling him that they had to do the female three-spined stickleback for the fifth time. Small fish can be a lot of trouble, and this small, common and surprisingly beautiful fish had to go under the lights five times before the result was satisfying.
The same can be said about other species of fish. Our beloved brown trout is one of the worst, Søren tells. A beautiful and bright trout from the ocean right outside the studio would turn pretty ugly after living a few days in a large tank, and Søren's ambition is to redo the pictures of the sea trout. He is after all a fly angler who appreciates the beauty of a bright, sea run fish.
Colorful and amazing
The whole idea of the project has been to show that even as far north as the Baltic Sea fish are colorful and amazing.
It's Søren's hope that people will understand that aquatic life is just as precious as terrestrial life. That's why he really wants the exhibition to travel and get around, and urges anybody to contact him through the website regarding the exhibit. If you know a museum or gallery that would be interested, please let him know.
If you want him to shoot more pictures of fish in any part of the World he would love to do it, and he's looking for both opportunities and funding.
There are still a lot of fish in the sea that Søren wants to shoot, and he is now working on getting funding for expanding the project in Europe.
This time the story will be about how fish and all other aquatic life is interacting. The general public knows that bees have to pollinate apple flowers to get apples, and most know how predators and prey interact in the African savanna, but when you dive beneath the surface similar knowledge is close to non-existing.
Søren hopes to help change that.
Contact and links
See the site scaledup.life here, and zoom almost endlessly into the extremely detailed fish images.
Søren has been covered in our fishy photos series.
Søren's website is http://skarby.cc
Mail: skarby@scaledup.life
Phone: +45 21 25 30 45
Skype: sskarby
Some technical facts for the nerds
It's difficult to move around a camera pointing straight down. That's why the fish is moved around instead on and with a table designed for it. A good friend came up with the idea while Søren helped him build his new kitchen. The original drawing of the table on the wall of said kitchen has long since been covered with paint.
The camera stand is more than 50 years old and bought from an 82-year-old photographer. It weighs 32 kilos.
The camera is a Fuji GFX 50S mounted with a Fujinon GF 120mm F/4.0 OIS WR Macro and sometimes, when shooting pictures of the small fish, an extension ring or even two.
Every final image is a composite of between 120 and 440 pictures. Small fish require more pictures because of the shallow depth of field at close range.
The longest shutter speed was 15 seconds while shooting pictures of the male three-spined stickleback. Multiply by 120 and the total exposure time of the image was 30 minutes.
Every image is at least 15,000 pixels long. The picture of the garfish is 52,500 pixels long. This means that the garfish potentially could be printed 9 meters or 18 feet wide!
Editing the picture of the garfish took close to 80 hours to complete.
More content from the front page