Published Nov 13. 2002 - 20 years ago
Updated or edited Oct 27. 2021
Quick-Seine
"Where have I been? Why didn't I use this before?!". The Quick-Seine is not a new product on the market as it won the Top Ten new product award at the 1996 International Fly-Tackle Dealer show,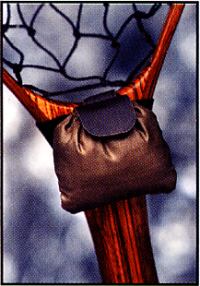 The Quick-Seine stores easily on the yoke of any landing net.
This is not a new product on the market as it won the Top Ten new product award at the 1996 International Fly-Tackle Dealer show. Steve Schwartz of Angling Designs, the manufacturer, was kind enough to send me a demo Quick-Seine for me to try out. And I'm glad he did!
I normally am a minimalist when it comes to flyfishing. I bring the flies I need, no more. I bring the rod and line I need, no more. I have hiking/wader boots and lightweight waist-high breathable waders. I carry a tiny lunch, some water and a chocolate bar. I rarely go outside of this line when it comes to flyfishing gadgets. However, as my thirst for flyfishing knowledge increases, so does my need to understand what the fish eat when they aren't taking my fly! Enter the Quick-Seine.

PROS
Minimalist design
Micro netting material catches insects too small to imitate by hook(!)
Unconditional Money-back guarantee
Using it will teach you so much more about bug life as it comes iwth a 25-page guide to seining insects
CONS
The small design tested, didn't easily fit an ovaled-rectangle net; it is clearly designed for an oval or teardrop net shape
Since the netting material is micro-fiber, ripping, snags and seam tearing is a concern.
As with any elsastic, it deteriorates over time. Longevity of the elastic is a concern.


The regular size fits nets up to 9"x13" (MSRP $19.95 USD) and the large size fits all nets up to 10.5" x 18.5" (MSRP $22.95 USD). It wieghs only a 1/2 ounce and comes with a 25-page booklet entitled "Introductory Guide to Seining Trout Stream Insects". It easily mounts on the yoke of your net, making it easy to deploy and retract as you require. I used it on the South Platte River, Cheesman Canyon, Deckers Colorado, where fishing size 18 means HUGE, size 20 and 22 is considered norm and 24's to 26's are an everyday occurance. And with good reason. The bugs (tricos, midges and callibaetis) hatch all year long on this tailwater. And don't expect to see dry fly action in the winter on anything larger than a 20. So just exactly how big are the common-place nymphs in the river?

I pulled out my Quick-Seine and sampled several areas. As suspected, the insect life that was most prevalant I could not replicate with a hook small enough... but the Quick-Seine had no problem in capturing them. However, since the netting density is so tight, submersing the whole net took all my strength to hold taught while a sample was taken. But this depends on stream-flow, of which was a tad high the day I was fishing. It's all in learning how to use the seine. Also, if not stored away while walking streamside, it is a convenient target for a branch or bush. This means for sure it will be torn or ripped, but ensuring it is stowed when not in use will protect the seine within its' durable rip-stop nylon pouch.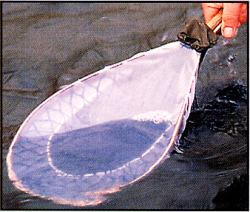 Using the Quick-Seine is easy...and if you worry about catching bugs to #32 and beyond...this seine is your best bet.
The edges of the seine net are elastisized and snugly hold the seine material over the net frame with no problems. It also can act as a simple bug net to snag airborne flies nearby. Overall, it is one gadget I am glad I got to test...for I probably wouldn't have purchased it otherwise. I use it on every trip now and have learned so much more about what bugs are under the water's surface. If you nymph (of which you should since 95% of a trout's eating habit is under the surface), you should own the Quick-Seine. Convenience, attractive price-point, quality materials and innovative design make this a must-have for the curious and under-educated flyfisherman such as me! At the very minimum, using the Quick-Seine will give you a better knowledge and appreciation of a trout's diet in your favorite fishing hole.

Since we at GFF strive to educate through informative articles, it is fitting that products which provide the user a better education sit well with us too. The Quick-Seine receives a highly-recommended 5 out of 6 on the GFF scale. A "6" might have been given if the seine was more fitting to my net shape and if the concern about longevity and durability was put aside. All-in-all, I plan on using this for all my trips and I don't see the seine wearing out anytime soon.

Website: www.anglingdesigns.com
Phone: 1-800-896-8998
820 South Monaco, #264
Denver, Colorado, USA 80224


More content from the front page