Published Jan 9. 2010 - 13 years ago
Updated or edited Jan 22. 2016
Favorite Streamer Swap
There's nothing like a good fly swap to get the fly tying knuckles cracked, the creative juices flowing again. The reasons for joining a swap are many - but for me it's fun to tie flies for something other than my fly boxes, and I truly enjoy the friendship and comraderie that comes with participating in a swap. It's not about who ties the best flies or who has the best feathers.
Last fishing season was a weird one for me. After a great opening, it turned into one series of washouts after another, as we experienced one of the rainiest springs and summers in decades. It seemed like every time I wanted to go trout fishing, every local stream and river was raging. There was a time when I'd brave the white water in hopes of finding a fish or two, but not so much any more. I spent the prime months of the trout season chasing smallmouth bass in a nearby reservoir - which I must say was plenty of fun in its own right.
As I entered the '09-'10 tying season, I didn't have any burning need that sent me running to my vise. My boxes were still very much as they were when the season began. My list of things to tie is still pretty long - but they were mostly in the "fun and experimental" category, not the more important "gotta have these or I'm stuck this year" category. So I was sitting down to tie and just kinda sat there wondering - what am I gonna tie? I needed some motivation.
There's nothing like a good fly swap to get the fly tying knuckles cracked, the creative juices flowing again. I've been in many fly swaps (I wish I had kept better track - and better care of the swap flies - but that's another story), and I've never been disappointed. The reasons for joining a swap are many - but for me it's fun to tie flies for something other than my fly boxes, and I truly enjoy the friendship and camaraderie that comes with participating in a swap. It's not about who ties the best flies or who has the best feathers. It's about sharing a bit of yourself - and not being afraid or intimidated. It forces me to do a good job - although I'm not in it for perfection. I want to tie good flies - but more then anything I want them to represent who I am at this time as a fly tyer.
Some friends and I have a backlog of interesting topics for swaps and streamer features, but at the moment I proposed this one, none of them jumped out at me. Lacking any clear direction, I finally just said to the guys "tie your favorite streamer", and by favorite it could be one that has a singular connection to a fishing experience, one that is most enjoyable to tie but may not be fished as much, or simply one that uses materials the swapper most enjoys using. I should say that the signup response was so strong that the swap was split into two halves, with Andrew Marshall from Dallas, TX hosting the second half. In addition to sharing flies, I asked each swapper to share their stories as well - why were these flies chosen? What makes them a "favorite"?
Kind of like the final dinner on Top Chef, there are no ingredient restrictions.
Cook your best meal.
Pull up a chair and enjoy.
January 2010.
---
Bird Fur Streamer
Tied by Bob Petti, Kerhonkson, NY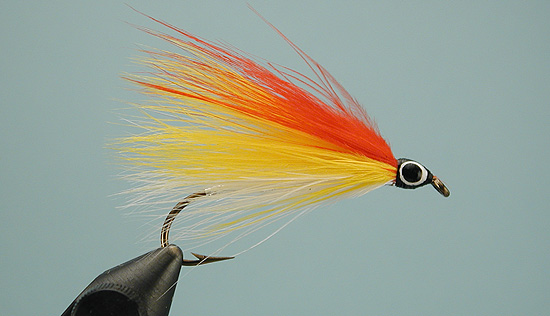 Thread: Black
Body: Flat Silver Tinsel
Rib: Oval Silver Tinsel
Wing: White, under Yellow, under sparse Red Whiting Bird Fur
Head: Black, with painted eyes
I've had a love/hate relationship with marabou since I started tying. I've wasted some money on baggies of marabou that were not what I was looking for - either too fluffy or too emaciated or something. When I saw Whiting's Bird Fur, it seemed like an answer to a prayer. Each feather was like a perfect little marabou plume. This was the first fly I tied with my stash of Bird Fur, and it has been a consistent fly in my box ever since. When I feel the need to toss a bright colored fly with some action - this is the one I reach for. It has resulted in some explosive strikes. I picked this as a favorite because I like this best when I want a bright fly, and because I enjoy working with that Bird Fur so much. It's a great material.
---
The Maple-Andra
Tied by Benjamin Rioux, Fort Kent, ME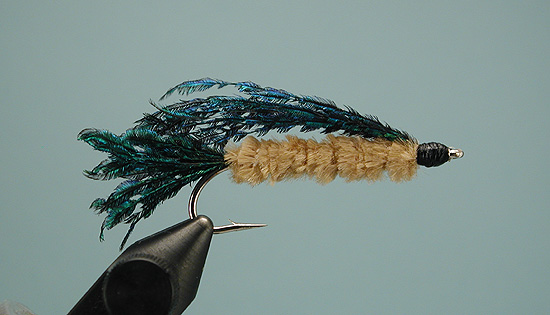 Thread: Black
Hook: Straight eye streamer hook
Body: Beige chenille
Wing: Peacock Sword
Tail: Peacock Sword
Head: Black
The Maple-Andra is a cross between an old time favorite, the Maple Syrup, and an English trout class the Alexandra. Simple yet elegant, this nifty little streamer is simply a combination of the most desirable features of each fly.
Trout in northern Maine go crazy for the beige chenille body of the Maple Syrup. It is traditionally tied with size 2 beige chenille (wrapped head to tail and back again for a fat body), no wing, and a short yellow
tail. This simple fly works well in all conditions, tied without weight and fished in small streams or tied weighted and fished along the bottom. What was originally meant to be a large nymph I tend to fish more like
a small streamer. In the spring, the Maple Syrup is also deadly trolling behind a boat for landlocked salmon.
The peacock sword wing and tail taken from the Alexandra are also extremely effective traits for streamers in my neck of the woods. Their flashy attributes and wavy action drive the native brookies wild, and trigger frequent landlocked salmon strikes as well.
Tied together, you get the Maple-Andra. The name needs work, but this pattern is DYNOMITE. Don't let it's simplicity fool you, it WILL catch fish. My girlfriend's grandfather, a local fly fishing legend, originally came up with the idea and fished a similar wet fly tied with beige dubbing and small peacock strands. I simply upgraded the concept and the Maple-Andra was born.
---
BV Meunier
Tied by Bernard Vallieres, Montreal, Quebec, Canada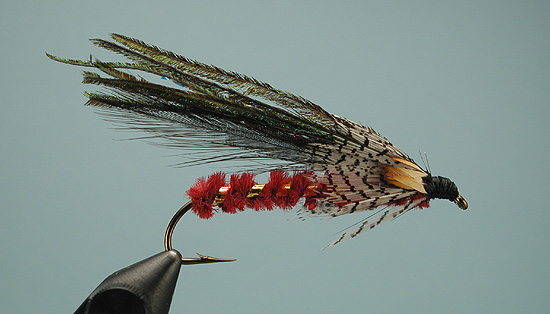 Thread: Black
Hook: Mustad 9575 or 3665A, #2 - #10
Body: Chenille, Red Wine
Rib: Medium Flat Gold Tinsel
Wing: Two Black Hackles and Rainbow Krystal Flash
Topping: Peacock Herl
Shoulders: Silver Pheasant
Eyes: Jungle Cock (optional)
Head: Black
Many years ago, when I was beginning to tie flies, I was thinking of some imitation of the minnow like Catostomus commersoni and Catogstomus catostomus. Those are very common in my area, and I remark in stomach of fish I catch they have that minnow, so I made it with the color I presume will be the most productive to imitate these minnows. The next weekend, I went out to fish to my lake, I was casting off the shore when suddenly a really large brown trout took my new fly, perhaps the largest trout I ever had on my line, 9.5 pounds. Since that day, I catch so many fish with that fly, I stop counting how many species of fish I catch with it (Musky, Bass, Pike, Walleye, Trout, and certainly Salmon), I am sure of one thing is how much they like that streamer fly.
Since the moment the original fly I have developed hasn't changed much. I just put some krystal flash in it for flash, it has given me good strikes, it maintains the same characteristics of the original one.
This fly works great when fished near the shore or trolling in a boat. It is a common bait minnow, very effective. I have caught many fish with it.
They have proven the efficiency of the fly.
---
Golden and Silver Darters
Tied by Chris Del Plato, Long Valley, NJ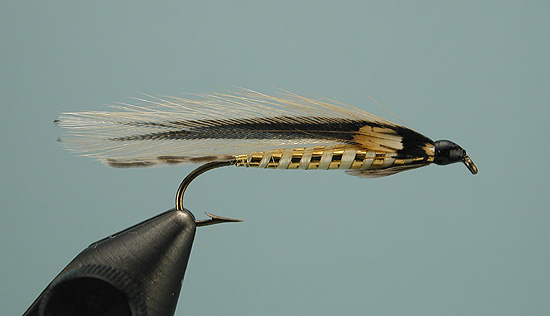 Golden Darter
Hook: 4xl-6xl, Sizes 10-6
Head: Black
Tail: Small section of mottled turkey wing quill
Body: Pale yellow floss, slightly tapered
Rib: Medium flat gold tinsel
Throat: Tip of a Jungle Cock body feather, about the length of the hook gape, pointing slighty downward
Wing: Two Golden Badger saddle hackles, reaching slightly past end of the tail. May use 4 hackles on largest sizes.
Cheeks: Jungle Cock, small and short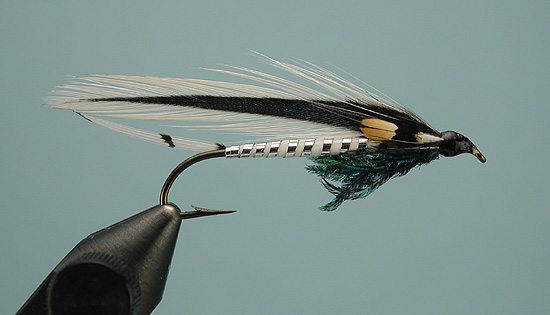 Silver Darter
Hook: 4xl-6xl, Sizes 12-4
Head: Black
Body: White floss, slightly tapers
Rib: Medium Flat Silver Tinsel
Throat: A few fibers of peacock sword, reaching halfway to hook point and curving toward it.
Wing: Two silver badger saddle hackles, reaching slightly past end of tail
Cheeks: Jungle Cock, small and short
Besides an obvious love of Lew Oatman's patterns directing my choice for this swap, these are two of the more productive of his flies in my fly box. According to Lew, the two patterns are 'running mates'. He favored the Golden Darter in off-colored water as a Dace imitation and the Silver Darter in clearer, more heavily fished waters, often as a Cayuga Minnow imitation. I have done particularly well with the latter in various waters and, true to form, more often in clear smaller streams with skittish wild and native trout. In my experience, wild Brown Trout seem to show a definite preference for it. The Silver Darter was Lew's favorite pattern to fish, claiming his preference was to fish a size 10. Along with the Brook Trout and Shushan Postmaster, the Golden and Silver Darters are no doubt his most enduring patterns.
---
Nine Three
Tied by Darren MacEachern, Ontario, Canada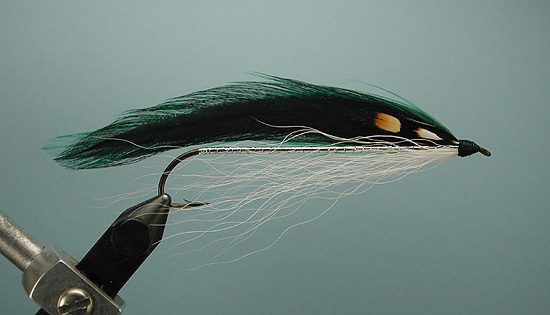 Thread: Black
Hook: Partridge CS15
Body: Silver Tinsel
Belly: White Bucktail
Inner Wing: Highlander Green Hackle
Outer Wing: Black Hackle
Eye: Jungle Cock
Head: Black
I picked to tie up a Nine-Three because it has an intriguing name. Th efly was originated by Dr. J Hurbert Sanborn and intended to imitate smelt. The name comes from the first salmon caught on the fly, which weight nine pounds and three ounces. The original dictates that the wing be tied in three stages. The bucktail should be tied in as the base of the wing. Next, three green hackles are laid flat. Lastly, two black hackles are tied upright. I tied mine in more of a Rangeley Style fly, moving the bucktail out of the wing to the belly, and combining the wing and tying both colours in upright.
---
Thunder Creek, Female Silver Shiner
Tied by Greg Saltzman, Pennsylvania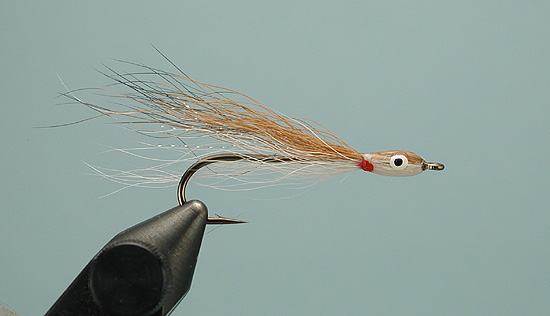 Hook: Thunder Creek hook
Flank: Silver/Pearl Krystal Flash
Back: Brown Bucktail
Belly: White Bucktail
Gills: Red Enamel
Eyes: White w/ Black Pupils
This was the first freshwater streamer I learned to tie and has caught fish for me in all the places that my job has moved me. This is tied with the modernized version in which tinsel wrapped along the entire shank is replaced by krystal flash.
---
Thunder Creek Smelt
Tied by Jim Cargile, Lewiston, ME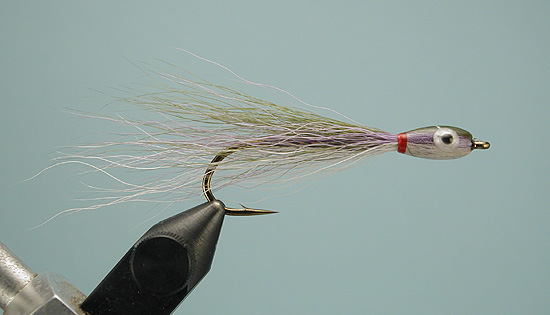 Thread: White Uni 8/0, followed by red Uni 8/0
Hook: DaiRiki 1750, #4
Abdomen: Black holographic tinsel coated with cellire
Read of body: Olive, lavender, and white bucktail
Head: Three coats of epoxy (last coat applied over eyes)
Eyes: Epoxy colored with silver pearlescent powder with gloss black hobby paint
I use these guys at Ice-Out in the local ponds (old New England/Maine term - I've never figured out the difference between a lake and a pond) when the brook trout and landlocked salmon are gorging themselves on smelt. About the most fun you can have in a canoe with your clothes on is to flip the streamer up onto the edge of the ice, twitch it into the water, let it sink a bit, and then retrieve it erratically along the ice shelf.
---
Houghton Lake Special
Tied by Joe Sprys, Novi, MI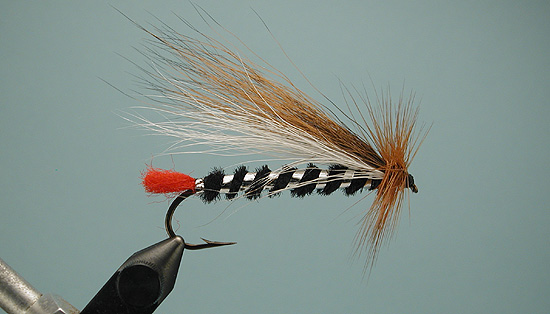 Hook: Streamer Hook, 4xl, #2 - #8
Thread: Black
Tail: Red Wool
Body: Black Chenille
Rib: Medium Silver Tinsel
Wing: Brown (natural) bucktail over white bucktail
Hackle: Brown
The Houghton Lake Special is an old Michigan pattern. Believed to be first tied by an elementary school principal from northern Michigan by the name of Bob Jewel. Bob was a huge fan (as are many of us!) of the giant Michigan hex hatch, and the large stoneflies that we see throughout the Au Sable river system. As you'll see by the ties, it's an ugly fly. It's meant to be a working fly and is not considered a pretty wall-hanger! It's a very successful fly for the night fishing we do throughout the summer months in search of big browns. It serves double duty as it can be fished on a dead drift as it hits the water - when it resembles the large stonefly or a hex nymph. When the dead drift is complete, it's stripped back as a very effective streamer. I've had a great deal of success with the fly in Michigan, but I always carry a few with me when I travel east or west. It's met with success everywhere I've fished.
---
Dick's Killer
Tied by Jim Warner, Melvin Village, NH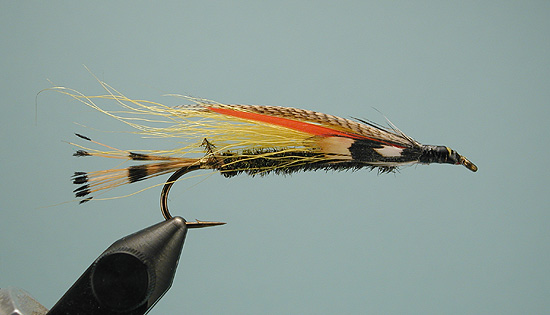 Hook: Streamer Hook, 6xl, Size 6
Thread: Black
Tail: GP Tippet Fibers, rather long
Tag: Narrow Gold Tinsel
Body: Wound fairly heavy with peacock herl
Wing: A bunch of yellow bucktail, short enough so that it will not catch under the hook
Topping: A small bunch of woodduck or mandarin breast
Shoulders: A slim section of dyed red turkey
Cheeks: Jungle Cock
Joe Bates's 1st edition of Streamer Fly Fishing in Fresh and Salt Water (1950) credits the origination of this pattern to Dick Eastmen of Groveton, NH in 1928. Also in tha tsame year, he created a variation, name the Connecticut River Dick. This variation had a yellow chenille butt and a matched pair of married red and yellow sections of turkey, topped with cinnamon turkey. But the most famous is the simpler version, the Dick's Killer.
As Bates wrote, Dick Eastmen was, in 1928, camp manager on Idlewild on the Second Connecticut Lake. Bill Edson and Eastmen fished together and Eastmen gave Edson a few samples of the DIck's Killer. Edson returned
home and made up his 2 famous patterns, the Light and Dark Tigers. The only other reference to this pattern that I can find is in Stewart and Leeman's book Trolling Flies for Trout and Salmon (1982) and Dick Surette's Pattern Bible of 1985.
---
The Apprentice
Tied by Keith Passant, Wiltshire, United Kingdom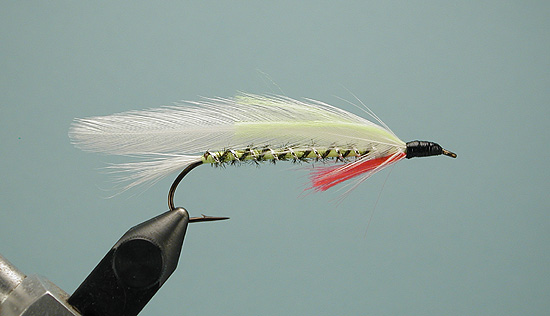 Hook: Rangeley Streamer, #4
Thread: Black
Tail: Soft white hackle fibers
Body: Glow-Brite Floss, #11
Rib 1: Peacock Herl
Rib 2: Oval Silver (counter wound)
Wing: White hackle
Throat: Glo-Brite Floss
Over Wing: Glo-Brite Floss, #11
This fly in its original form has caught hundreds of fish for my fishing buddy and I. We developed it together and it has been a constant for us in our fly boxes for around five years. I decided to "streamerize" it for this swap because I wanted to see what it was like in a different form.
---
Alexandra
Tied by Rene Zillmann, Germany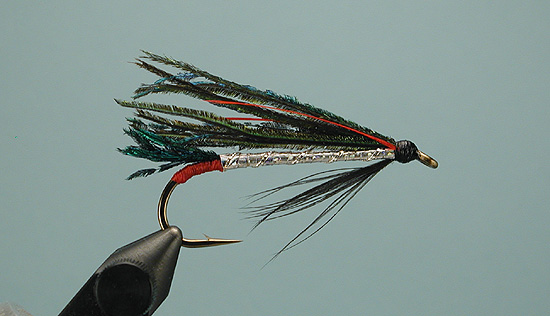 Hook: Mustad R74, #2
Thread: Black
Tag: Red antron wool
Tail: Fibers from a peacock sword
Body: Embossed silver tinsel (Xmas)
Rib: Oval silver tinsel
Throat: Black Hen
Wing: Mix of peacock sword fibers and peacock grass
Sides: Small slip of schlappen, dyed red
Head: Black
The pattern has usually a red feather slip instead of the red tag. Found a picture of the fly in Mary Orvis book showing the tag. Tried to go back to the historical version, but did stay with today's proportions.
---
Grey Ghost
Tied by Tom Adams, Charlotte, NC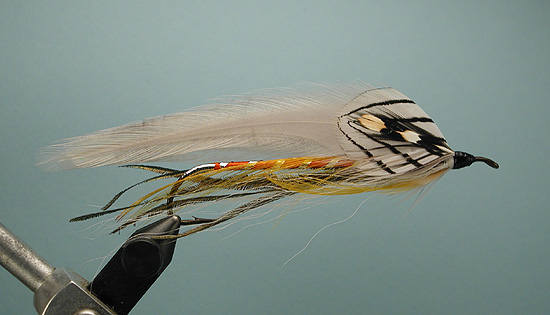 Hook: 8x streamer
Thread: White 6/0 for body, Black 8/0 for head
Tag: Flat silver tinsel
Body: Orange floss
Rib: Flat silver tinsel
Belly: Peacock herl, white bucktail, and Golden Pheasant crest feather
Underwing: Golden Pheasant Crest
Wing: Grey Saddle Hackles
Shoulders: Silver Pheasant body feathers
Cheeks: Jungle Cock
I began using a Grey Ghost on a recommendation from a famous guide in these parts, Don Yeager. He told of steelhead in upstate NY and described a technique for fishing a Grey Ghost. I bought a few from his shop and
caught my first 24 incher. Never really knowing the heritage until visiting The Streamer List.
---
Wood Special
Tied by Wayne Caron, Brunswick, ME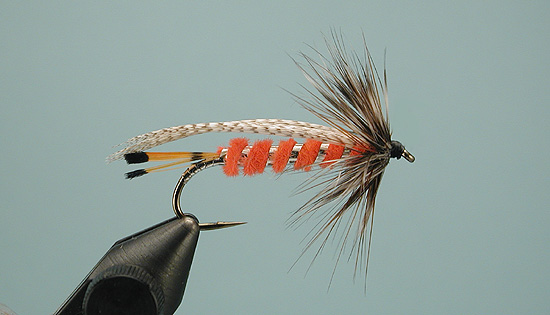 Hook: Down eye streamer, #8, 4xl
Thread: Black 6/0
Tag: Medium lat silver tinsel
Tail: Golden Pheasant Tippet
Body: Ultra fluorescent orange chenille
Rib: Fine flat silver tinsel
Wing: Mallard flank feather barred
Hackle: Grizzly tied back
Cheeks: Jungle Cock (optional)
I lost a dear friend in June and I visited her favorite fishing spot on the Kennebec River a few months later. She had caught a beautiful Rainbow Trout on a Wood Special the season before she passed and I have been using the Wood Special in her honor ever since. It's rare that I tie it on my tippet without hooking up. God bless you Jody.
---
Woodduck Heron
Tied by Darrel Glencross, Bedford, NH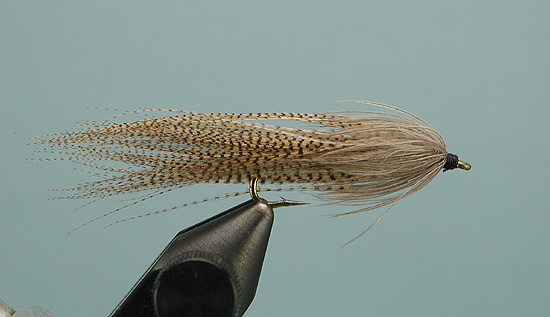 Hook: Mustad 9671 or Tiemco 200R, Sizes 8-12
Thread: 6/0 to match collar
Hackle: Woodduck Lemon Flank Feather
Collar: Dun Hen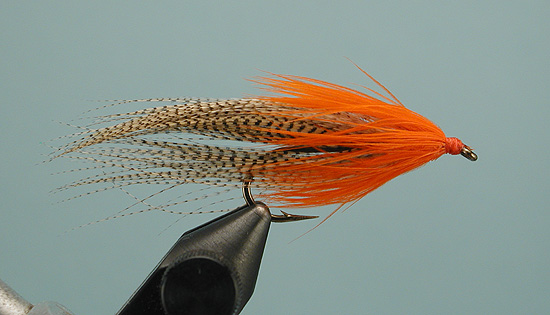 Hook: Mustad 9671 or Tiemco 200R, Sizes 8-12
Thread: 6/0 to match collar
Hackle: Woodduck Lemon Flank Feather
Collar: Orange Hen
The Woodduck Heron is a fly originated by Nick Lambrou, Manchester, NH, who was Fly Rod and Reel's "Angler of the Year" in 1988. The color can be any color you would like it to b e. Nick prefers and only will put on the dun.
1) Tie in thread approximately mid-shank and wind forward 5 or 6 turns.
2) Tie in wood duck flank feather. Prepare flank feather by holding the feather approximately the length of the hook shank down from the tip. Stoke the barbules below this point toward the base so that they stand out from the quill. Tie in the feather exactly where the barbules are separated. Take 2 or 3 wraps of thread toward the bend of the hook, securing the tip of the feather as the tail. Wrap forward about 1/8" from the eye.
3) Moisten fingertips. Stroke the flank feather barbules toward the rear as you wrap the feather around the hook.
4) Trim excess flank feather.
5) Secure the flank feather, leaving room at th efront for the collar and head.
6) Tie in hen hackle by tip.
7) Use the same procedure for wrapping the hackle as you did for the flank feather.
8) Trim excess hackle and whip finish.
9) Apply head cement.
---
Grey Wulf Llama Hair Chapman Smelt
Tied by Rob Galante, Danvers, MA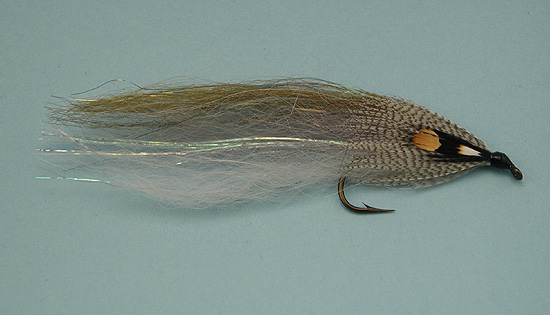 Thread: Black 8/0 Uni
Body: Holographic Silver Tinsel
Wing: White-Gray-Olive Llama hair. Use Rainbow Pearl Polar Flash on top of the white and Gartside Secret Stuff Peacock Blaze over the Olive. Use a mustache comb to blend the flash and hair
Cheeks: Mallard Flank
Eyes: Jungle Cock
---
Little Brown Trout
Tied by Andrew Marshall, Dallas, OR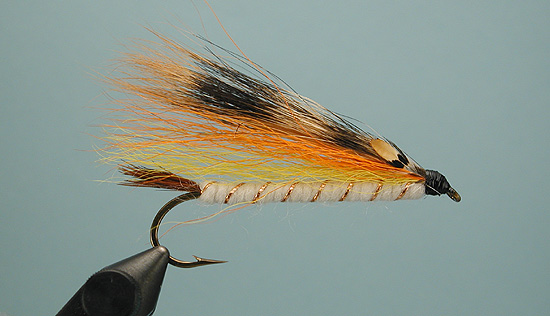 Hook: Streamer, 2-12, 6xl
Head: Black
Tail: A very small breast feather, with the dark center band removed, from a ringneck pheasant. The feather is as long as the gap of the hook and curves upward.
Body: Wound with white spun wool
Ribbing: Copper wire (narrow flat gold tinsel may be substituted) (fly in photo used oval copper tinsel)
Wing: Of four very small separated bunches of hair, extending slightly beyond the tail - yellow bucktail, over which is reddish orange bucktail, slightly blended, over which is medium dark squirrel tail,
topped and slightly blended with dark brown squirrel tail.
Cheeks: Jungle Cock
Why did I choose this pattern? Not only is it a very successful pattern, it is one of the very first streamer patterns I ever tied and caught fish with. I have since decorated streamside shrubbery around the world with this fly and its two siblings the Little Rainbow and Little Brook Trout.
---
Miller's Special
Tied by Joe Spryes, Novi, MI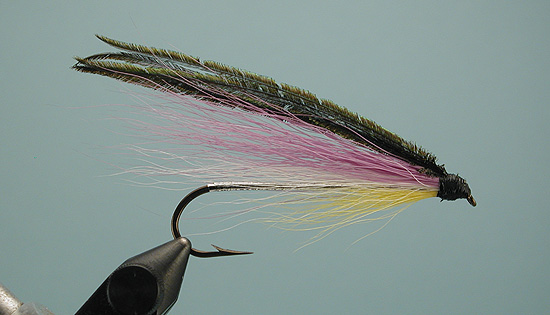 Hook: Streamer Hook, #2 - #8, 4XL
Thread: Black
Body: Flat Silver Tinsel
Throat: Yellow Bucktail (half the length of the wing)
Wing: 4-6 Strands Peacock Herl over Violet Bucktail over White Bucktail
---
Congo Hair Baitfish
Tied by Wayne Blake-Hedges, Port Tobacco, MD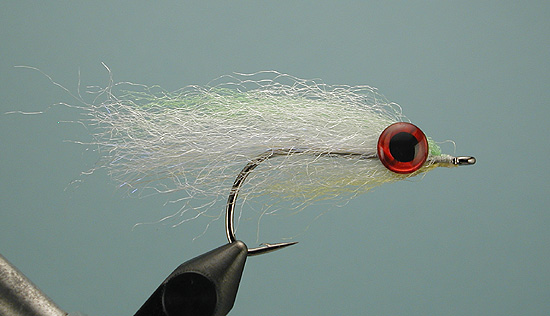 Hook: Size 6 Stinger
Thread: Clear Mono
Center Line: Angel Hair
Wing: Chartreuse and White Congo Hair
Belly: Yellow Congo Hair
Eyes: Large Red 3D Eyes
My favorite, the Puglisi baitfish is the first fly I tied and subsequently caught a largemouth bass with. It also has produced my largest bass to date, around 6 1/2 to 7 lbs. and was my go to pattern for both bass and crappie all summer long. I was quite suprised by all the crappie I caught with this pattern since it's quite large.
---
Flatwing Streamer
Tied by Joe Loboy, Homer, AK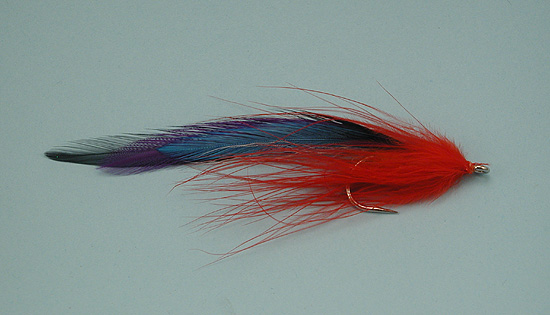 Hook: Gamakatsu 10010 (Siwash open eye hook for spinner baits)
Thread: Uni 3/0 Chartreuse
Body: Yellow Marabou (dubbed)
Platform: White Bucktail
Tail: Kingfisher Blue Hackle topped by Purple Hackle, topped by Black Hackle
Collar: Red Marabou
NOTE:
The photo makes it appear that the tail is oriented "on edge" like a normal casting streamer. In fact, the wing is oriented flat - perpendicular in relation to the hook bend. Blame the photographer.
1) Head cement full hook shank.
2) Lay thread base full hook shank.
3) Twist yellow marabou fibers into thread.
4) Dub full hook shank.
5) Over wrap body with thread.
6) Tie in bucktail platform at half hook shank.
7) Tie in blue hackle at half hook shank.
8) Tie in purple hackle at half hook shank.
9) Tie in black hackle at half hook shank.
10) Apply head cement to hackle stems forward.
11) Twist yellow marabou unto thread.
12) Re-dub front half of body to one eye width behind eye.
13) Tie in red blood marabou by tip.
14) Apply head cement to the tie point and forward.
15) Wrap a full collar stroking fibers to the rear.
16) Whip and cement.
I joined the swap to challenge myself. The actual fly pattern was created on a whim at the vise just after I signed up. I've only been tying and fishing flies for a year. Last tying season I tied a couple hundred
oncelers, no fly being the same. I ended up with a lot of poor quality flies that I've since started to cut apart. This tying season I resolved to stick to some basic designs tying less but higher quality flies.
The flatwing style was a consistent producer for me both in the rivers and along the estuaries where I fish. I learned a lot trying to tie twelve identical flies. I took one of the extra flatwings down to the
harbor and caught a seven inch sculpin so atleast some fish found it attractive.
---
Brooks Blonde
Tied by Kelly, L, Kilgore, TX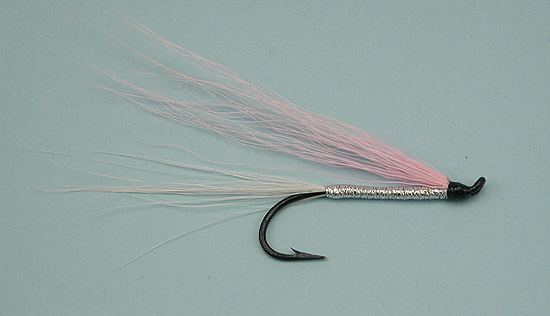 Hook: Salmon TUE
Tail: White Bucktail
Body: Silver Braid
Wing: Pink Bucktail
Head: Black
---
Alaska Mary Anne
Tied by Monte Smith, Halsey, OR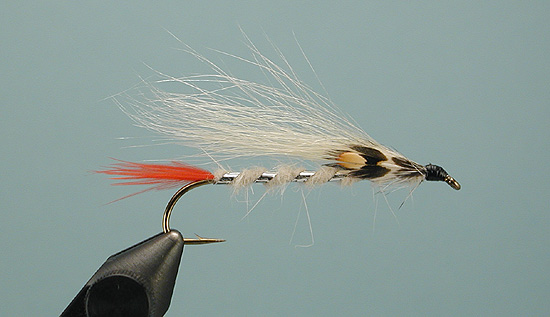 Hook: Streamer
Tail: Red Hackle Fibers
Body: White Dubbing
Rib: Flat Silver Tinsel
Wing: Polar Bear (or sub)
Cheeks: Jungle Cock
Head: Black
---
Dark Edson Tiger
Tied by Don Soar, central MA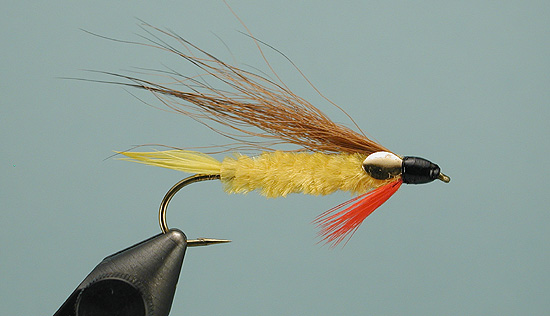 Tag: Flat Gold Tinsel
Tail: Yellow Hackle Fibers
Body: Yellow Chenille
Throat: Red Hackle Fibers
Wing: Brown Bucktail
Cheeks: Edson Metal Cheeks
---
Two Simple Streamers
Tied by Robb Nicewonger, Tyngsboro, MA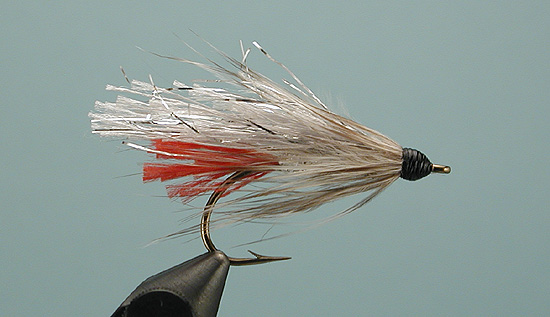 Tail: Red Disco Yarn Fibers
Body: Silver Braid
Wing: Silver Disco Yarn Fibers
Collar: Grizzly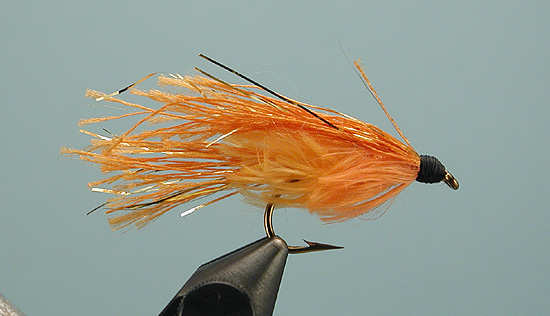 Tail/Wing: Orange Ice Yarn Fibers
Body: Canary BOA Yarn
My tying the last few years has focused on flies with a lot of inherent movement tied with a minimum of materials. I also have been trying to incorporate untraditional materials into my flies. Boa yarn, Disco yarn, and Ice yarn are all eyelash type yarns with "rabbit strip-type action" in the water. I have used both of these flies in local ponds to catcha variety of warm water fish. Pickerel are particularly fond of the orange pattern--as the pond is full of perch. The grizzly pattern has been a killer on early season crappie. The flies are quick to tie, very durable, and have become a staple in my fly boxes.
---
The Tracker
Tied by Bernard Vallieres, Montreal, Quebec, Canada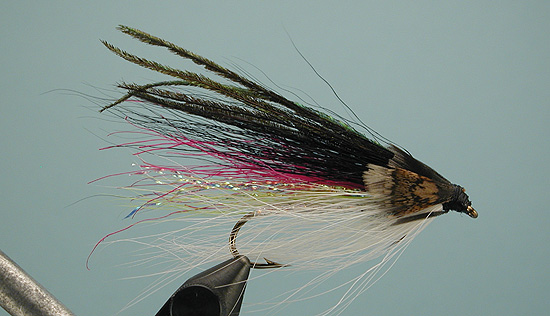 Hook: Mustad 79580, #2=#8
Thread: 6/0 Black
Body: Holographic Silver Tinsel
Belly: White Bucktail
Wings: White Bucktail, under Chartreuse Goat, Crystal Rainbow, Under Fluorescent Pink Bucktail, under 6 Strands Peacock Herl
Shoulder: Feathers of body of partridge natural grouse
Eye: Feathers of the back of the grouse (optional) or Jungle Cock
Head: Black
How many times I have thinking to create the best attractive fly for different type of predator's fish, so many factors! I try to put some color of some effective pattern I used. The result is that Tracker fly, my favorite fly, obviously the one that will catch the fish. This fly can provoke a range of predator's fish. And give the illusion of life, and easy to tie. If there is one fly that matches all of these demands, then it must be this fly. Fish it, at depth, in the top few inches or near the shore or trolling in a boat. It is a bait minnow, very effective. I have caught so many fish with it. They have proven the efficiency of the fly too.
More content from the front page