Published Oct 13. 2002 - 20 years ago
Updated or edited Dec 2. 2016
Jim Warner flies
Guest writers Mike Martinek and Chris DelPlato have teamed up to write, the Jim Warner - A New England Classic which hilights the contribution of this well known New Hampshire angler to streamer anglers.
Long famous as a resort area and scenic vacation destination, the lakes region of New Hampshire is unique, as well as being rich in its own sportfishing lore. That vast, island-studded cold-water jewel, Lake Winnipesaukee, lies in the heart of the aptly named region. "Winni" holds a special place in the hearts of many. The wide open windswept "broads", the trolling lanes of Meredith Bay, Alton Bay, Clark Point and Black Point, the crystalline dropoff of Rattlesnake Island, Diamond Island, Governors, One, Two and Three Mile Islands - they all read like a prayer chant to the well-seasoned open water troller.
One particular individual defined the big lake's place in New Hampshire history, as well as being a separate wellspring of fly innovations and styles. In the 1950s and '60s the Maine monopoly on trolling streamers was adapted to a different area, with far-reaching results, including the introduction of flies that have produced bountiful rewards. All this was accomplished by a man named Jim Warner.
When I was a young fly-tyer and fisherman in the early '60s, the name Jim Warner was already well known and spoken with the utmost respect. I was involved with the United Fly Tyers, Inc. of Boston, the only organized fly-tying club in the country at the time. The club's monthly meetings were held in a union hall, upstairs from Barsanti's Restaurant and Bar in the Post Office Square area of the city. The meetings were crowded, smoky, highly energized, and included much talk about and demonstrations of fly tying before the feature film and guest speaker.


Ten Feather Emerald Shiner (Tied by Mike Martinek)
| | |
| --- | --- |
| BODY | FLAT SILVER TINSEL |
| WING | FROM BOTTOM UP, USING SOFT FEATHERSOR SLIM HACKLES, ALL TIED FLAT: SPARSE WHITE BUCKTAIL, THREEWHITE HACKLES, ONE DARK DUN HACKLE(GRAY), TWO BLUE DUN HACKLES,TWO GIZZLY HACKLES, TWO OLIVE GREEN HACKLES. |
| EYES | PEARL NAIL POLISH WITH BLACK PUPIL |
| COMMENTS | A VERY FINE TROLLING FLY WITH GREATACTION CAUSED BY THE FLAT WING CONSTRUCTION |
One particular winter evening the demo area was packed, but I was able to wedge myself into a small opening. I saw a tall, angular man with a friendly demeanor tying a tandem marabou streamer. He was wearing an all-red Woolrich chamois shirt, which had become the signature of the UFT hard core. He talked landlocked salmon flies and fishing as he tied. The gallery was reverential; we were witnessing an early fly-tying hero in person, and we were most impressed. It was Jim Warner, down for a winter Thursday meeting.
There was a very serious and diverse group of fly-fishermen in the club who tied fine trout flies and fished rivers. They were getting into salt water and bass bugs as well. Most fished somewhere in the lakes of New Hampshire and Maine early in the season, trolling streamer flies. Some of these flies were tied at meetings. Jim Warner, because of his prodigious knowledge of the area, was the unwritten guru. It didn't hurt that he was also the owner of a tackle shop in Wolfboro, in the heart of the lakes region; many a trip hinged on a call to the Lake Region Sports Shop.
The scene at that time was different from what it is now. Fly-tying was not all that common; it was an intimate fraternity, but word traveled fast. Marabou, Mylar sheet material, metallic piping, beaded tandem streamers and Kapras goat hair (now unobtainable) were the rage in tying materials. Salt Water Fly Rodders of America had just formed. Fly-tying was unique and exciting. Flies tied for exhibition were just starting to be experimented with; the vast majority of flies were tied for fishing purposes above all else.
Jim Warner began to fish as a young boy in Pennsylvania. His family summered in Westmoreland, New Hampshire and Jim earned his "Brook Trout 101" in the streams of that area. Later on, he met and tied with Harry Cheney of Dover, New Hampshire. Jim picked up some tying skill under Cheney's tutelage and was off and running.
The year 1950 found him out of college and working in Laconia at Scott and Williams. Jim fished the Winnipesaukee River above Tilton and also stepped up his trolling fly output, tying a big rig called the Treble Troller in different configurations. It was crude, but very fishy. Uncle Sam took Jim to Europe for four years and he spent time in France, Germany and Scandinavia. Part of the time his wife, Betty, joined him and they traveled whenever they could. Fishing and camping was always a part of the travel itinerary.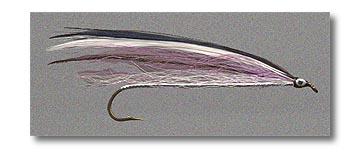 Winnipesaukee Smelt (Tied by Chris DelPlato)
| | |
| --- | --- |
| BODY | FLAT SILVER TINSEL |
| UNDERWING | A FEW STRANDS OF WHITE BUCKTAIL,WITH FOUR PEACOCK HERL OVER THIS AND A BUNCH OF ORCHID PURPLEBUCKTAIL OVER THE HERLS. |
| WING | TWO WISPY MARABOU PLUME TIPS TOPPEDWITH ONE OR TWO SILVER PHEASANT CRESTS AS LONG AS THE WING |
| BELLY (OPTIONAL) | A FEW STRANDS OF WHITE BUCKTAIL |
| EYES | PAINT OR STICK ON |
| COMMENTS | TIED IN 1957 WITHOUT ANY OUTSIDEINFLUENCE; A SLIM, DEADLY BAITFISH FLY USED ALL OVER NEW ENGLAND.THIS FLY HAS SOME SLIGHT VARIATIONS, BUT ITS BASIC COLOR ANDDESIGN ARE CONSISTANT. |
After discharge from the Army, Jim and Bob Mouton went in together on a small shop in Wolfeboro (now the site of a Christian Science Reading Room). Bob had been the owner of the Loon Cove Sport Shop and bought Jim's flies for the shop. After a year together, Bob went back to his gun shop and Jim continued on his own. His shop was tiny, but of great character. It was here that he came up with several fine flies that are still widely used today.
One winter day in 1957, while the shop had several customers looking at small pin smelts in the bait tank (smelt were then dipped from the Smith River), Jim dipped a wispy Marabou Streamer in the tank and showed the wet, slick fly to the watchers-on. Legend has it that he announced that this was a "Winnipesaukee Smelt." In short order, the shop became the mecca for all salmon trolling junkies and fly-fishing people from all over, as well as hardcore bait and hardware trollers. Later on, the enlarged Lake Region Sports Shop would carry fly-tying material and hooks. One could be inspired by a visit and then take home the makings of a new killer.
The Lake Region Sports Shop, which exists today as the Wolfeboro Bay Outfitter, was a classic New England shop right off of a Norman Rockwell cover. Always busy and lively, with fishermen coming and going and Jim's tying, the shop was one-of- a-kind. Being only a short boat ride to good salmon haunts, with the Wolfeboro River and Lake just outside the shop, it was an ideal location. You could buy your fly, go out, tie it on and be in fishy waters in an instant.
As for his fly-tying, Jim tied lots of flies for his shop and for the old "Thoco" label, which was distributed by a jobber all over New England. Jim's streamers, however, increased his visibility as a local authority. His patterns changed to cater to the sometimes-fickle tastes of landlocked salmon. More and more fishermen began to fish the lake region, and the regional cult following grew there, independent from Maine. Although Maine patterns were used in New Hampshire, the Granite State began to become known for its distinctive, homegrown originals, which soon migrated beyond home waters.
Jim used marabou more than anyone because of its action. He was also an early exponent of beads on tandem connectors, as well as long, fine Kapras goat hair. He also experimented with cut sheet Mylar, predating Flashabou. When that material came out, Jim willingly incorporated it into existing flies. He also was one of the first promoters of using woven metal garment piping for fly bodies. This material then became widely used everywhere.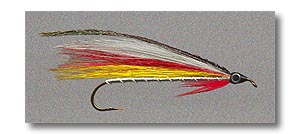 Melvin Bay (Tied by Chris DelPlato)
| | |
| --- | --- |
| BODY | FLAT SILVER TINSEL |
| RIB | OVAL SILVER TINSEL |
| WING | SMALL BUNCH OF YELLOW GOAT HAIR,WITH A BUNCH OF RED GOAT HAIR OVER THIS. OVER THE RED, A BUNCHOF GRAY MARABOU, AND OVER THIS, FOUR OR SIX PEACOCK HERLS. |
| HEAD | BLACK |
| EYES | PAINT OR STICK ON |
| COMMENTS | A VARIATION OF THE WOLFEBORO BAYSPECIAL, THIS WAS A VERY POPULAR PATTERN AND A FAVORITE OF MALHAZELTON, SR. WHO FISHED THIS PATTERN AND DID VERY WELL WITHIT FOR MANY YEARS. |
Jim was a true innovator. Many of the flies that were dressed and fished in New Hampshire were his creations, yet all the while he was modest and soft-spoken. Jim's work spoke for him.
Jim guided for some years on the big lake and knew it well. He often fished alone in a small aluminum boat before opening his shop for the day. He knew all the spots, but considered the local guide and outdoorsman Glenn Morrill to be the "Dean of Winnipesaukee." Morrill favored the Black Point, Moose and Ship Islands, and often used wire line to get the depth of the strike zone exact. Often he would tip Jim off as to how far down he would need to go to fish through the zone.
Another colorful friend of Jim's was Valentine Skiff, a part-time lake resident who made a very effective copper spoon called the "Wardie Wobbler." He also made some smaller sized trolling spoons, and these were deadly. Skiff would of- ten convince Jim to play hooky and go out on the water. A lure similar to the Wardie Wobbler exists today, known as the "Lobo Spoon." The original 'Wardie' is now a collectable treasure, and a link to the great fishing history of Lake Winnipesaukee.
Many people in the Boston area would see Jim in the city for the old New England Sportsman's Show. There he joined a formidable line-up of tyers at the United Fly Tyers booth. Among others present for these occasions were Stan Wood, Al Brewster and Bob Cavanaugh. As a young member I would skip out of school and go to the Hynes Auditorium every time the show was in town. It was here that I got to know Jim and tie alongside him. Sitting beside him, I learned much about fly-tying and salmon fishing. I cherish the memories of those days. Jim was a prince of a guy who treated everyone as his equal in the fly-tying world.
Because of his innovations and choice of materials, Jim Warner's career created a new focus and momentum in modem streamer fly-tying. In his travels, Jim fished Labrador, Costa Rica, Belize and Scandinavia. As time marched on, he got more into real estate and sold his shop. He still ties flies and enjoys an outing now and again. He recently completed a special edition plate of his favorite patterns. All of these flies span a life of tying and plying the water for trout and salmon. The wake of his boat still laps the shore today - the trail of a pathfinder, innovator and a great guy.
More content from the front page