Published Nov 14. 2011 - 12 years ago
Updated or edited Jan 21. 2016
Jim Warner Swap
Jim Warner has been one of the most influential fly tyers in New England, especially for those who spend their time trolling and fishing streamers in the many lakes and ponds of the region. The gang of the streamers@ list recently had a swap of his great fly patterns.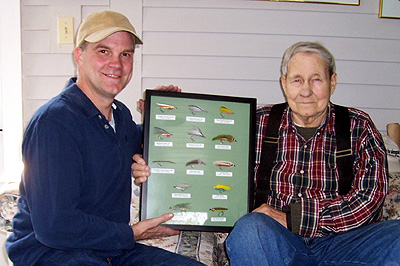 Ken (left) presenting Jim Warner (right) a framed set of flies from the 2010 Jim Warner fly swap.
Jim Warner brought to the Lake's Region, particularly "Winni" the "Big Lake" an original direction to creating streamers with innovative materials like marabou, beads, and mylar before most folks knew it existed. He developed
a style of tying down a single marabou plume that had an action and sleek look that just drove salmon to practically jump on the hook. If mastery at the bench weren't enough, Jim knew the lake, those around it, and the rivers because he fished them. He could tell you where to go, what to use, and you would probably catch fish. Today, Jim doesn't fish the Winnipesaukee, but he can look out on Melvin Bay without too much trouble and recall
decades of fishing at the foot of the White Mountains.
My first fly tying kit came from Jim's shop and I was immediately hooked. Jim would provide encouragement in those early years that would find me passing the craft to my son decades later. I had to wonder in that Fall of 2010 just how many lives Jim has touched with his love of streamer flies. He has taught in schools, summer camps, and as a Master Craftsman for the NH Arts Council. It was easy to come up with the idea of a swap in Jim's honor because of his selfless contributions to our sport. We were privileged to have him join us tying his favorite the "Wolfeboro Bay Special." Thank you Jim!
Ken Craigue, Jr.
November 2011
Photos by Bob Petti, copyright 2011 Global Fly Fisher
---
Babb's Ghost
tied by John Bonasera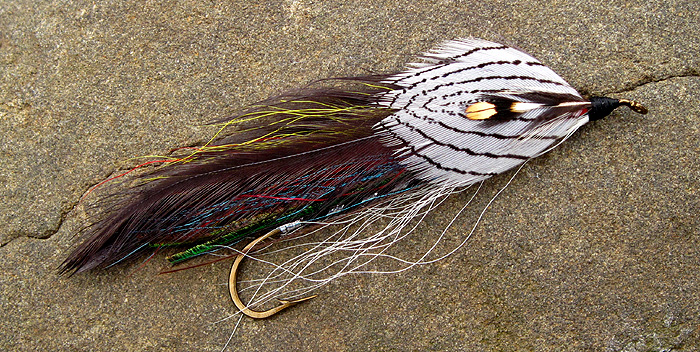 Tag: Flat Silver Tinsel
Body: Black Floss
Rib: Flat Silver Tinsel
Belly: White Bucktail
Inside Wing: Yellow over Red over Blue Bucktail, over Peacock herl
Outside Wing: Gray Saddle
Shoulder: Silver Pheasant
Cheeks: Jungle Cock (optional)
---
Bicentennial Smelt
tied by Alan Grombacher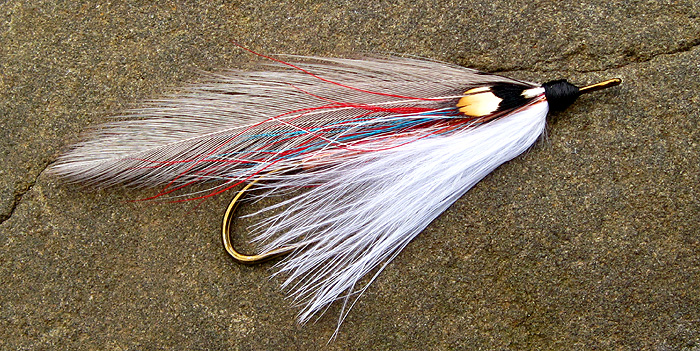 Body: Flat Copper Tinsel
Wing: Mixed red, white, and blue bucktail over which are four blue dun saddle
hackles.
Throat: Long white marabou fibers extending to the bend of the hook
Cheeks: Jungle Cock
---
Gray Winni Smelt
tied by Ray Porzio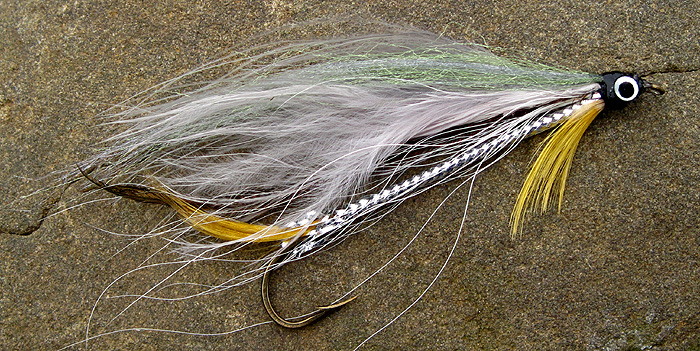 Tail: Golden Pheasant Crest curving upwards
Body: Silver mylar piping, leaving the frayed end and tied with white thread then lacquered.
Throat: A very small bunch of GP fiber
Wing: A very sparse bunch of white bucktail, followed by two peacock herls, then a sparse bunch of light gray marabou, then topped with a scant mix of olive and gray fluorofiber (25-75%) and mixed as well as possible.
Head: BLack w/ small silver stick-on eyes.
---
Guide Special
tied by Dave Wood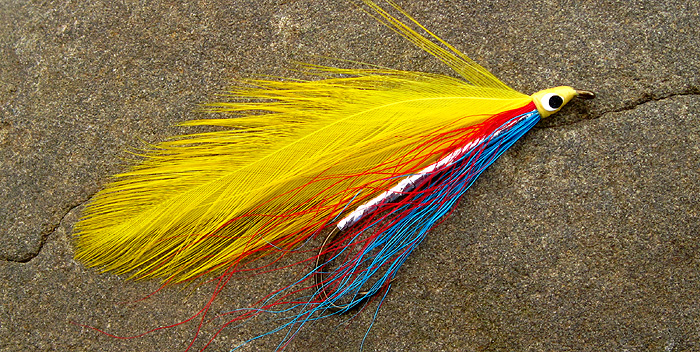 Body: Flat Silver Tinsel
Rib: Oval Silver Tinsel
Belly: Blue Bucktail
Wing: Yellow hackle over sparse red bucktail
Head: Yellow w/ painted eyes
---
Jim Warner Special
tied by Catskill Don Soar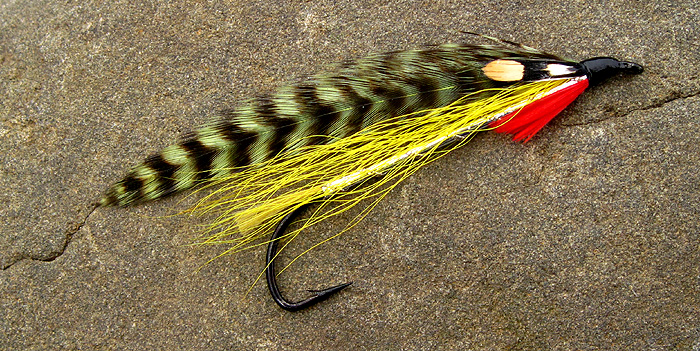 Tail: Yellow Floss
Body: Flat Silver Tinsel
Rib: Oval Silver Tinsel
Wing: Gizzly hackle dyed olive over sparse yellow bucktail
Throat: Red Hackle
Cheek: Jungle Cock (optional)
---
JW Smelt
tied by Chris Del Plato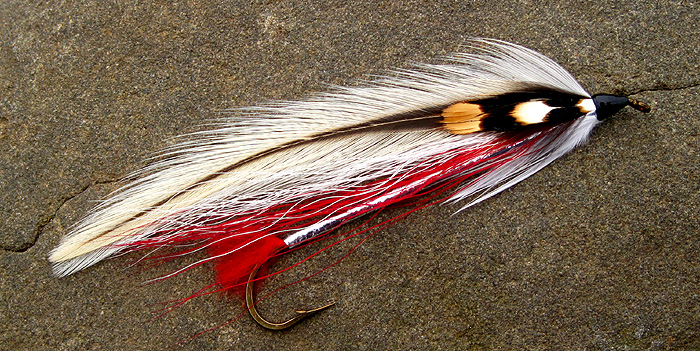 Tail: Red marabou cut short
Body: Flat Silver Tinsel
Wing: Sparse red bucktail under sparse white bucktail under silver badger hackle
Throat: Sparse white marabou
Cheeks: Jungle Cock (optional)
---
Melvin Bay Special
tied by Ken Craigue, Jr.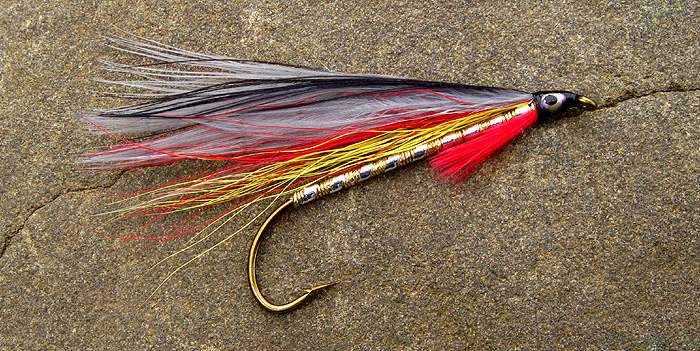 Body: Gold Embossed Tinsel
Rib: Flat Silver Tinsel
Wing: Sparse yellow bucktail under sparse red bucktail under a full gray marabou plume
Topping: Silver Pheasant Crest
Throat: Red Hackle
Head: Black with painted eyes, pearl with black pupil
---
Red Fin Shiner
tied by Barry Phillips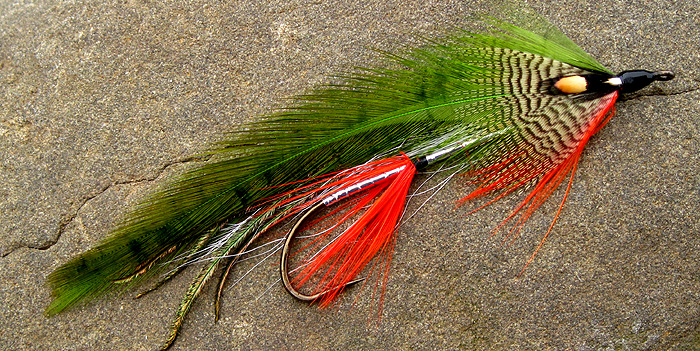 Body: Flat Silver Tinsel, hot orange hackle fibgers 1/3 from the bend of the hook
Throat: Hot orange hackle fibers
Wing: An underwing of sparse white bucktail, topped with peacock herl over which are four olive saddle hackles
Shoulder: Lemon Woodduck
Cheeks: Jungle Cock
---
Ten Feather Emerald Shiner
tied by Chris Del Plato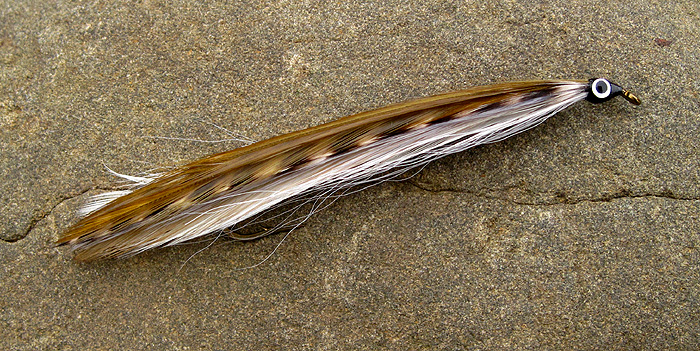 Body: Silver tinsel, double wrapped
Wing: Sparse white bucktail, then three white hackles, 1 dun hackle, 2 blue dun hackles, 2 natural grizzly hackles, 2 olive green hackles, tied flat on top of hook.
Eyes: Pearlescent with black pupil
---
Winnesquam Smelt
tied by Gary Fraser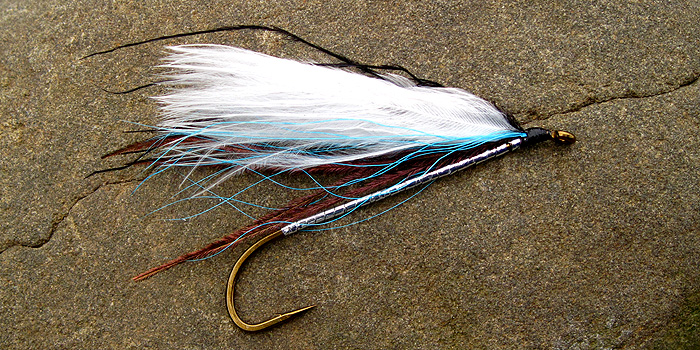 Body: Flat Silver Tinsel, double wrapped
Wing: First layer sparse white bucktail, second layer 3 or 4 thin strands of peacock herl, third layer sparse light blue bucktail, fourth layer a single white marabou plume tied in flat as long as the bucktail, top layer 2 or 3 natural black silver pheasant crest feathers curving down over the wing and nearly the same length if possible. A few back ostrich herls may be substituted.
Head: Pearlescent lacquer with black pupil
---
Winni Smelt
tied by Scott Bernard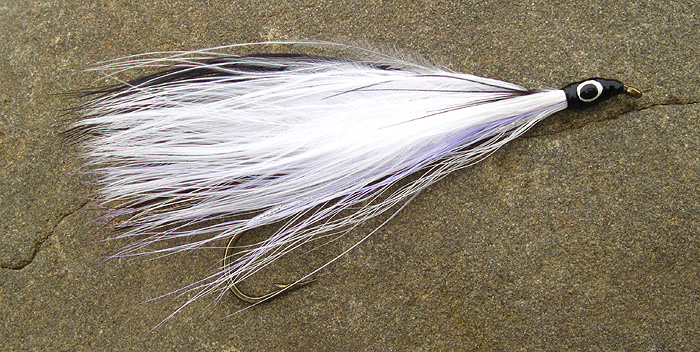 Body: Flat Silver Tinsel, double wrapped
Wing: First layer sparse white bucktail, second layer 3 or 4 thin strands of peacock herl, third layer sparse orchid bucktail, fourth layer a single white marabou plume tied in flat as long as the bucktail, top layer 2 or 3 natural black silver pheasant crest feathers curving down over the wing and nearly the same length if possible. A few back ostrich herls may be substituted
Head: Pearlescent lacquer with black pupil
---
Wolfeboro Bay
tied by Jim Warner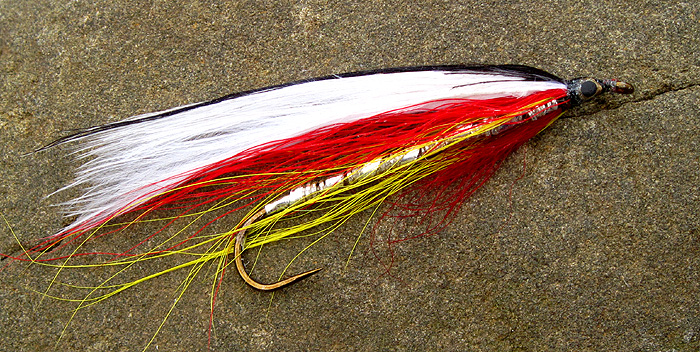 Body: Oval Silver Tinsel
Rib: Flat Silver Tinsel
Wing: Sparse yellow bucktail over which sparse red bucktail over which soft, flexible white marabou plume, over which 2-3 natural black silver pheasant crests (or black ostrich)
Eyes: Built up w/ pearlescent lacquer to give bulging look, with black pupils
---
Yellow Marabou Special
tied by Bob Petti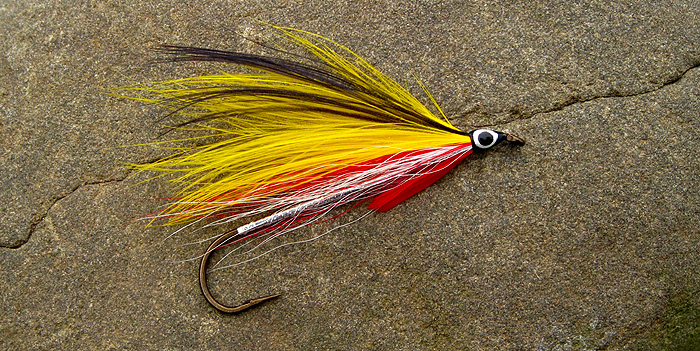 Body: Flat Silver Tinsel
Rib: Oval Silver Tinsel
Throat: Red Hackle
Wing: Sparse white bucktail under sparse red bucktail under a full yellow marabou plume
Topping: Silver Pheasant Crest
Eyes: Painted pearl w/ black pupil
More content from the front page