Published Jul 14. 2003 - 19 years ago
Updated or edited Feb 20. 2019
Bert Quimby
Another entry in the continuing series of features highlighting the flies of the founders of the art of streamer tying. Bert Quimby is not as well known as many, but his flies are just as beautiful and original.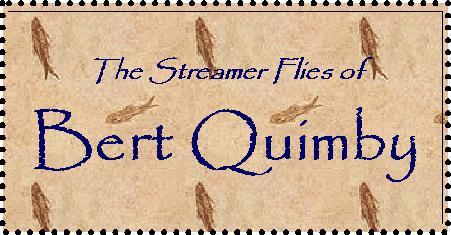 Although their popularity may have waned since their heyday in the 1940's and 50's, the Green Ghost, Lady Ghost and York's Kennebago are flies that are firmly cemented in streamer fly history. While his streamers are often wallet-mates of quintessential patterns by famed creators such as Carrie Stevens and Herb Welch, the aforementioned patterns' originator, Bert Quimby, does not share the same legendary status
as those two streamer luminaries. As is commonly the case with fly pattern history, the longevity and wide acceptance of a pattern or patterns does not ensure that its creator will be as easily remembered as his creations - especially as time advances. Such seems to be the case with Mr. Quimby. Yet, looking back, it is plainly obvious that Bert Quimby had his finger on the pulse of northeastern streamer development and influenced it to a degree that few today may realize.
Bert Quimby worked as a guide, camp manager and newspaper reporter, a vocation shared by some fellow streamer notables such as Gene Letourneau. It was while working as a reporter that Quimby first met Ai Wellington Ballou - generally acknowledged as the father of the marabou streamer. Why exactly Bert was at the mouth of the Songo River on Sebago Lake is unclear, but this meeting may have had a profound impact on not only Quimby's life, but also Maine streamer history in general. For Ballou not only went on to coach Bert Quimby on the finer points of fishing, but more importantly, also gave him his indoctrination into the craft of fly tying. A rather fortunate set of circumstances for other Maine anglers to come, both prominent and otherwise, as well as for us today.
From South Windham, Maine, where he resided, Bert Quimby would not only generate his own streamer designs, but would also have a hand in many other soon-to-be-well-known patterns. As for his own flies, he is perhaps best known for the Green Ghost and Lady Ghost. The Green Ghost is thought to have evolved from a melding of Carrie Stevens' Gray Ghost and the interest in green-winged streamers of the day, attributed to the popularity of the Dr. Sanborn's Nine-Three. Both the Green and Lady Ghosts were chiefly known and used as trolling flies during that time. It has been said that in Maine during the 1940's and 1950's, the Lady Ghost was considered by many to be an indispensable pattern.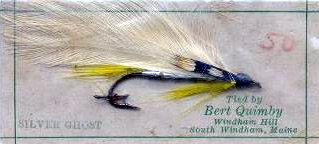 An original Silver Ghost by Bert Quimby
Quimby also cast forth some other intriguing streamer 'apparitions' - his Galloping Ghost, which sports a wing of Bali duck, and a Silver Ghost (shown in the accompanying photo), which is attributed to Quimby by Harold Smedley in his book "Fly Patterns and Their Origins." (Smedley, however, also makes mention of a Red Ghost and Kennebago Special by Mr. Quimby, but this is likely erroneous as those patterns are generally accepted to be originated by Ray Salminen and Bill Edson, respectively.) There were, of course, his less 'ghostly' streamers as well. The York's Kennebago, perhaps Quimby's third most recognized pattern, was named for T. Lewis York of York's Camps. This handsome, badger-winged streamer was developed to imitate a baitfish of Kennebago Lake - perhaps dace or possibly a Lake Chub, which possesses similar dace-like characteristics. Bert himself particularly favored the Lady Ghost and York's Kennebago over his other patterns. Most of his flies were tied on looped-eye Allcock 2811 hooks, a common favorite among streamer tyers of that time.
Additionally, Quimby created his Dusty Streamer (first tested on Moosehead Lake), the Governor Brann (for which he tied and presented the pattern to the former Maine Governor at the Sportsmen's Show in Boston), tied the first Nimrod Bucktail for its pattern originator Henry Beverage (then fishing editor of the Portland Press Herald) and perhaps originated the Ross McKenney (named for the popular Maine guide). Quimby is also credited with assisting Chief Needahbeh in the development of his namesake bi-plane streamer. Bert was the Chief's main source for this pattern, though Needahbeh stated that Quimby eventually tied and preferred his own Chief Needabeh variation, using only yellow hackles as opposed to the original combination of red and yellow.
Given the extent of Mr. Quimby's involvement and contributions discussed above, we might now view his patterns with renewed interest. Members of the Streamers@ email discussion group have recreated these streamers here, serving as either an introduction or a call to revisit, in the hopes that you might be stirred to tie and fish them. A reference list for Bert Quimby's patterns is also given below.
Chris Del Plato
5/2003
---
Chief Needahbeh Variation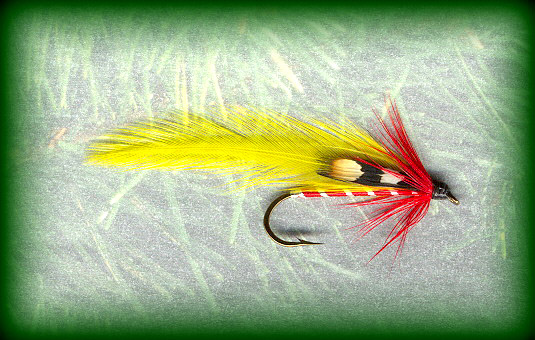 | | |
| --- | --- |
| Tyer: | Scott Daskiewich |
| Head: | Black |
| Tag: | Three or four turns of narrow flat silver tinsel |
| Body: | Red silk floss |
| Rib: | Narrow flat silver tinsel |
| Wing: | Yellow saddle hackles, rather long |
| Cheek: | Jungle cock, rather long |
| Collar: | Red saddle hackle |
---
Dr. Milne Streamer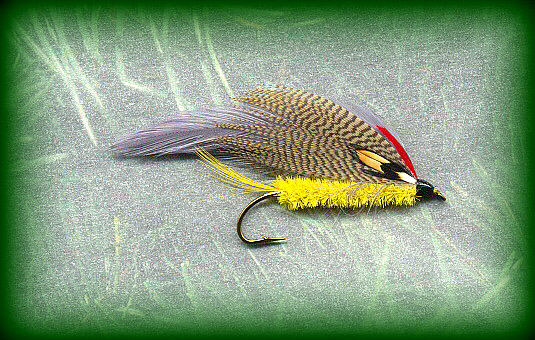 | | |
| --- | --- |
| Tyer: | Dave Talley |
| Head: | Black |
| Tag: | Four or five turns of flat gold tinsel |
| Tail: | Golden pheasant crest curving upwards |
| Body: | Yellow Chenille |
| Wing: | Sparse black bear hair ending at the tail, over which are four gray neck hackles extending well beyond the tail. |
| Topping: | Thin section of red dyed goose feather as long as the cheek. |
| Shoulder: | Bronze mallard flank feather, about half the wing length |
| Cheek: | Jungle cock, medium length |
---
Dusty Streamer #2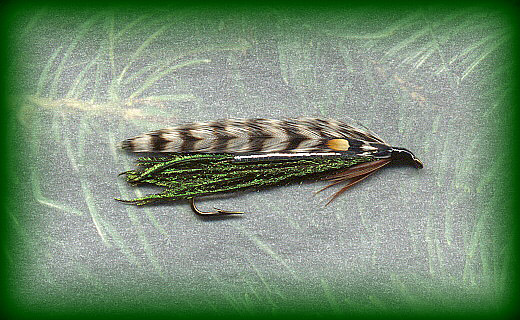 | | |
| --- | --- |
| Tyer: | Ron McKusick |
| Wing: | Grizzly hackle |
| Cheeks: | Jungle Cock |
| Body: | Silver Tinsel |
| Belly: | Peacock herl, longer under body |
| Throat: | Brown over white |
| Tail: | Peacock Herl |
---
Dusty Streamer (late version)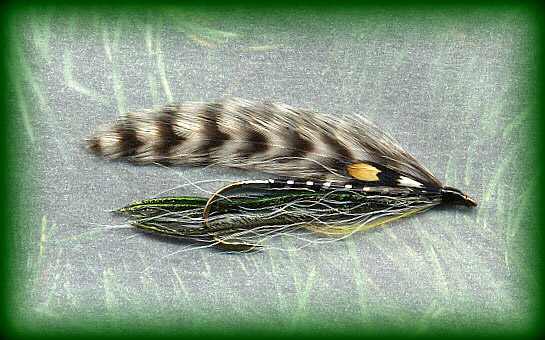 | | |
| --- | --- |
| Tyer: | Dean Endress |
| Tag: | Four or fine turns narrow flat silver tinsel |
| Body: | Black silk, dressed very thin |
| Rib: | Narrow flat silver tinsel |
| Belly: | Six peacock herls, under which is a small bunch of white bucktail, both as long as the wing |
| Wing: | Four well-defined barred plymouth rock hackles (grizzly) |
| Cheek: | Jungle cock |
---
Dusty Streamer (original)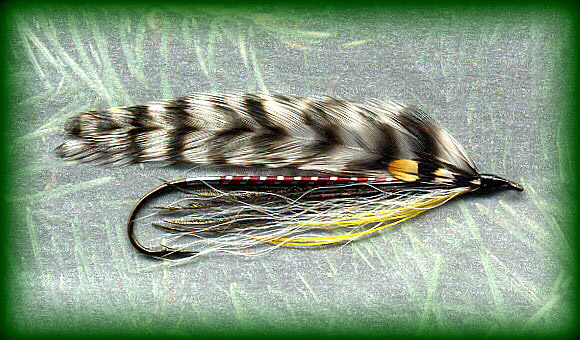 | | |
| --- | --- |
| Tyer: | Bob Petti |
| Head: | Black |
| Tag: | Four or five turns narrow flat silver tinsel |
| Body: | Red silk, dressed very thin |
| Rib: | Narrow flat silver tinsel |
| Belly: | Six strands peacock herl, under which is a small bunch of white bucktail, both as long as the wing. |
| Throat: | Short golden pheasant crest curving upward |
| Wing: | Four well-defined barred plymouth rock hackles |
| Cheek: | Jungle cock |
---
Galloping Ghost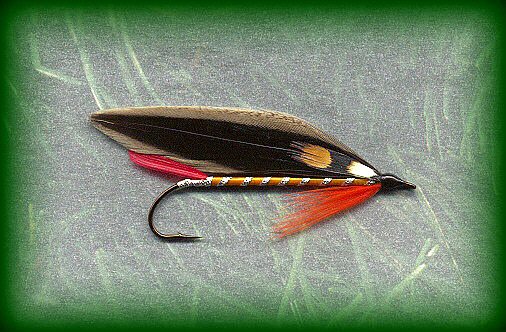 | | |
| --- | --- |
| Tyer: | Chris Del Plato |
| Head: | Black |
| Tag: | A few turns of medium embossed silver tinsel |
| Tail: | Section of red dyed duck quill |
| Body: | Orange floss |
| Rib: | Medium embossed silver tinsel |
| Throat: | Red-orange hackle fibers |
| Wing: | Two Bali duck shoulder feathers, light edge on top, extending beyond the tail |
| Cheek: | Jungle Cock |
| Note: | The few established streamer patterns (Bali Streamer, Jess Wood, Galloping Ghost) that use Bali feathers as a wing, seem to have perhaps used them stripped on one side to give the wing a light top and dark bottom half and a low profile (though Bergman hints in 'Trout' that the Bali Streamer may have been a flatwing design). The variation shown here uses the whole feather, tied in typical upright streamer wing |
---
Governor Brann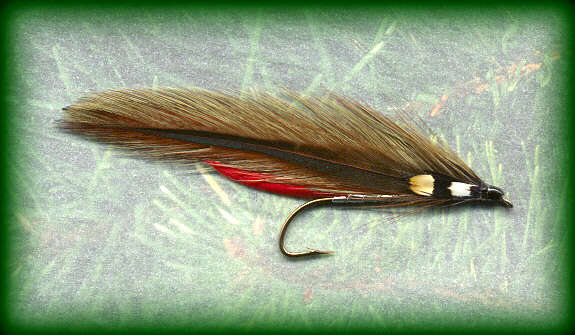 | | |
| --- | --- |
| Tyer: | Deryn Lacombe |
| Head: | Black |
| Tail: | Narrow section of red dyed duck wing, rather long |
| Body: | Medium flat silver tinsel |
| Rib: | Narrow oval silver tinsel |
| Throat: | A very small bunch of dark brown bucktail, nearly as long as the wing |
| Wing: | For olive green saddle hackles, flanked on each side by furnace saddle hackle |
| Cheek: | Jungle cock |
| Notes: | Bates comments that Mr. Quimby had deleted the throat in later versions. |
---
Green Ghost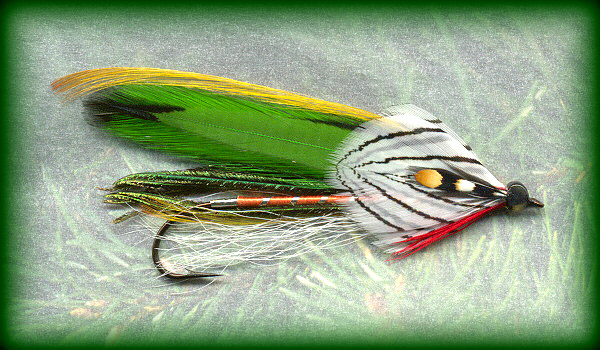 | | |
| --- | --- |
| Tyer: | Emmett Johnson |
| Head: | Black |
| Tag: | Three or four turns of narrow flat silver tinsel |
| Body: | Orange silk dressed thin |
| Rib: | Narrow flat silver tinsel |
| Belly: | Five or six strands of peacock herl, under which is a small bunch of white bucktail, both extending past the hook barb |
| Wing: | Four medium green saddle hackles |
| Topping: | Golden pheasant crest (optional) |
| Shoulder: | Silver pheasant body feather, 1/3 length of wing |
| Cheek: | Jungle cock |
---
Lady Ghost (original)
| | |
| --- | --- |
| Tyer: | Wes Autio |
| Hook: | Mustad 94720, #6 |
| Tail: | Golden Pheasant Tippet |
| Body: | Red Silk |
| Rib: | Flat Silver Tinsel |
| Belly: | Six Peacock Herls, below which is white bucktail |
| Wing: | Four Golden Badger hackles |
| Shoulder: | Reeve's Pheasant body feather |
| Cheek: | Jungle Cock extended to the edge of the brown band on the shoulder. |
| Head: | Black |
| Notes: | Bates states that the Reeve's pheasant shoulder in the original pattern had a white base. |
---
Lady Ghost (later version)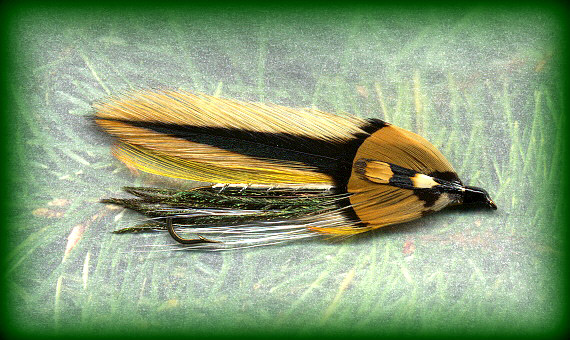 | | |
| --- | --- |
| Tyer: | Wes Autio |
| Hook: | Mustad 94720, #4 |
| Body: | Flat silver tinsel |
| Rib: | Oval silver tinsel |
| Belly: | Six Peacock Herls, below which is white bucktail |
| Throat: | Golden pheasant crest curled upward |
| Underwing: | Golden pheasant crest curled upward |
| Wing: | Four golden badger hackles |
| Shoulder: | Reeve's pheasant body feather |
| Cheek: | Jungle cock extended to the edge of the brown band on the shoulder |
| Head: | Black |
| Notes: | It appears from photographs that Quimby used a much shorter hook, probably no more than a 3x, such that the hook was less than one half the length of the wing. |
---
Ross McKenney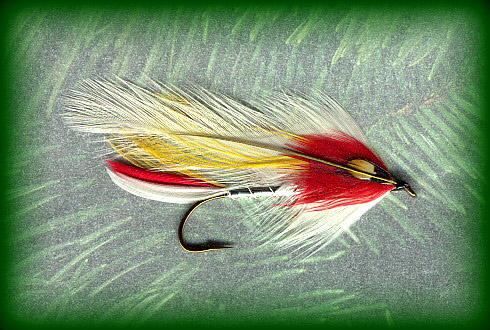 | | |
| --- | --- |
| Tyer: | Lindsey Grandison |
| Head: | Black |
| Tail: | Narrow sections of married red and white duck wing feather, above which is a short golden pheasant crest feather, all curving upward |
| Body: | Medium flat silver tinsel, built up toward the head |
| Rib: | Fine oval silver tinsel |
| Throat: | Small bunch of white hackle fibers, medium length |
| Wing: | Four dyed duck bread feathers, 1/3 as long as the wing and dress and dressed on wing. |
| Horns: | Single fiber from the Blue Macaw tail, 2/3 as long as wing |
| Cheek: | Jungle Cock |
| Notes: | Bates suggested that the Ross McKenney, the Dana, and the Bonbright were all the same pattern. Leonard and Smedley seem to show the Ross McKenney as similar, but not quite the same, not mentioning some details such as the horns. |
---
Trout Rock #1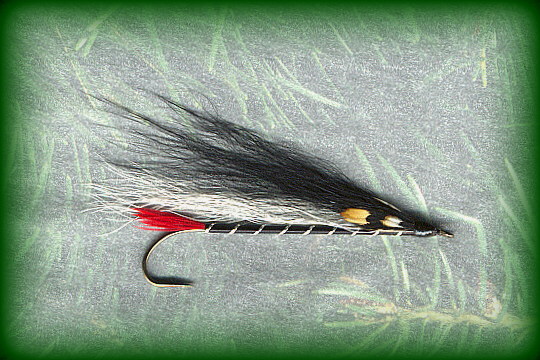 | | |
| --- | --- |
| Tyer: | Bob Petti |
| Wing: | Black over white bucktail |
| Body: | Black floss |
| Rib: | Silver tinsel |
| Tail: | Red hackle fibers |
| Shoulder: | Jungle cock |
---
Trout Rock #2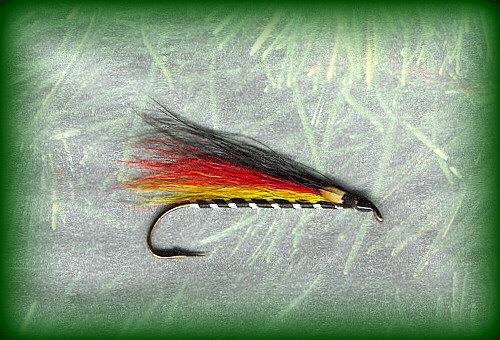 | | |
| --- | --- |
| Tyer: | Monte Smith |
| Wing: | Black over red over yellow bucktail |
| Body: | Black floss |
| Rib: | Silver tinsel |
| Shoulder: | Jungle cock |
---
Trout Rock #3
| | |
| --- | --- |
| Tyer: | Bruce Whittle |
| Wing: | Brown bucktail |
| Body: | Brown wool |
| Tip/Tag: | Silver |
| Shoulder: | Jungle cock |
---
Trout Rock #4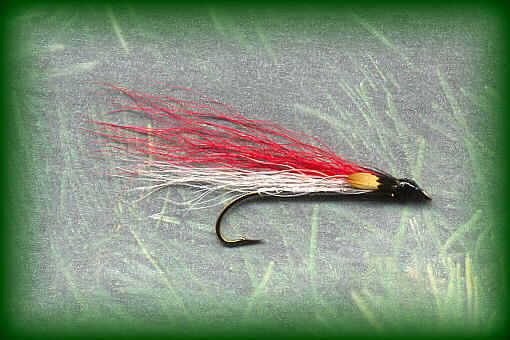 | | |
| --- | --- |
| Tyer: | Lindsey Grandison |
| Wing: | Red over white bucktail |
| Body: | Silver tinsel |
| Rib: | Silver wire |
| Shoulder: | Jungle cock |
---
Trout Rock #5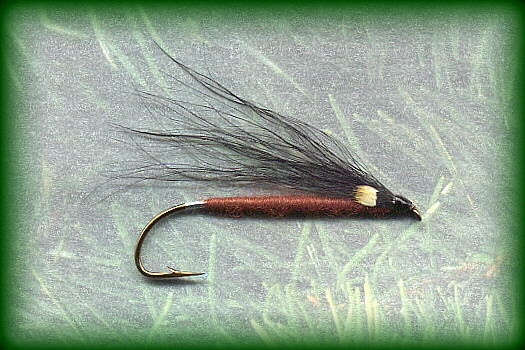 | | |
| --- | --- |
| Tyer: | John Bayerl |
| Wing: | Black hair |
| Body: | Brown wool |
| Tip/Tag: | Silver |
| Shoulder: | Jungle cock |
---
Trout Rock #6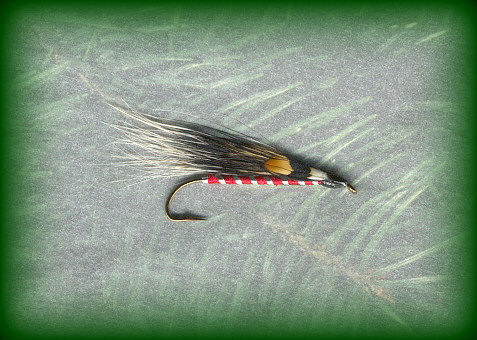 | | |
| --- | --- |
| Tyer: | Alan Petrucci |
| Wing: | Squirrel |
| Body: | Red floss |
| Rib: | Silver |
| Shoulder: | Jungle cock |
---
White Pheasant Streamer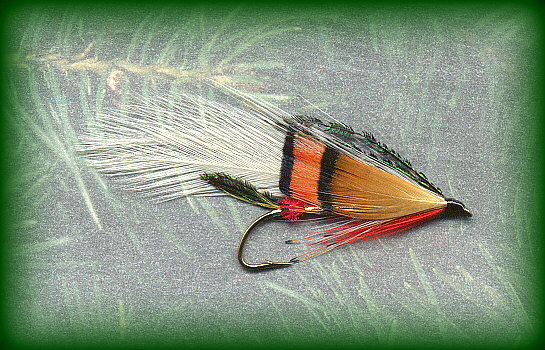 | | |
| --- | --- |
| Tyer: | Clyde Watson |
| Head: | Black |
| Tag: | Flat silver tinsel |
| Tail: | Golden Pheasant crest and Peacock sword |
| Butt: | Red chenille |
| Body: | Flat silver tinsel |
| Rib: | Silver tinsel lace |
| Throat: | Red hackle fibers, under which are orange hackle fibers |
| Wing: | Four white neck hackles |
| Topping: | Strands of peacock sword, about half as long as wing |
| Shoulder: | Golden Pheasant tippet |
---
York's Kennebago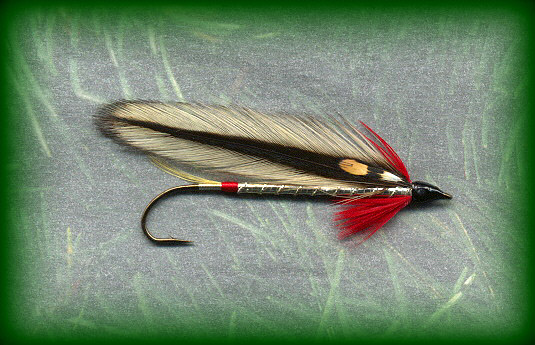 | | |
| --- | --- |
| Tyer: | Chris Leonard |
| Head: | Black |
| Tag: | Three or four turns of narrow flat silver tinsel |
| Tail: | Short Golden Pheasant crest feather curing upward |
| Butt: | Scarlet floss, three or four turns located about 2/3 the way back from the eye |
| Body: | Flat silver tinsel |
| Rib: | Oval silver tinsel |
| Throat: | Small bunch of red hackle fibers, about 1/3 the length of the wing |
| Wing: | Four honey badger saddles hackles, extending quite long past the hook bend |
| Topping: | Small bunch of red hackle fibers, as long as throat |
| Cheek: | Jungle Cock |
---
Pattern references
Green Ghost - B, H, L, S, S&L, S&S, W
Lady Ghost -- B, L, S&L, S&S
Dr. Milne Streamer -- B, S&L, S&S
Dusty Streamer (original) - B, S&S
Dusty Streamer #2 - L, S&S
Dusty Streamer (late) - B, S&L, S&S
Governor Brann Streamer -- B, S&S
Trout Rock Fly (6 variations) - L, S&S
White Pheasant Streamer - B, S&S
York's Kennebago - B, L, S&L, S&S, W
Galloping Ghost Streamer - B, L, S, S&L
Ross McKenney - B, L, S, S&S
Chief Needahbeh variation - B, L
Reference Key:
B - Bates (Streamer Fly Tying & Fishing 1995)
H - Hilyard (Carrie Stevens)
L - Leonard (Flies)
S - Smedley (Fly Patterns & Their Origins)
S&L - Stewart & Leeman (Trolling Flies For Trout & Salmon)
S&S - Schmookler & Sils (Forgotten Flies)
W - Wilson (Smelt Fly Patterns)
More content from the front page