Published Sep 25. 2017 - 5 years ago
Updated or edited Sep 26. 2017
Rattlesnake Streamer
The Rattlesnake Streamer is a large, articulated fly originated by US tyer and guide Ray Schmidt.
In 1985 I started guiding a stretch of water on the Manistee River in Northern Michigan known as Hodenpyl. This is a remote piece of water directly below Hodenpyl Dam.
This water was and is renowned for its exceptionally large brown trout. We were successful with these fish two ways. First, during the famous "Hex" hatch, we drummed these monsters up after dark with our big dry offerings.
The second method was not so easy. I met a fellow angler on the river as I floated. We hit it off and he shared with me his secret for his success. Looked like a half chicken and deer tied to a 6X long hook size 2 hook. We nicknamed our copy "The Youngblood Special" after this man, Ed Youngblood.
I always take things to the extreme
I always take things to the extreme, so I increased the fly size and hook length to a Partridge CS 10 size 2. 10X long!
The fly brought fish, no question, but it lacked the ability to hook and keep them thru the fight. After much frustration and observation I discovered that the fish were grabbing the fly by the head and when they were tired of the fight they simply opened their mouth and let go.
The light bulb blinked on. A short shank hook up front and a stinger trailer.
I love the Muddler style fly, and since there are tons of Sculpins in this river, I was headed down the right track. I separated the front hook and the back hook with brass beads and proceeded to tie a Rabbit Strip Muddler. The fly reminded me of a Rattlesnake for two reasons, first the beads looked like a Rattlesnake tail and second while tying the fly the trailer hook would frequently bite me.
Hmmmm... looks like a Rattlesnake and bites like a Rattlesnake...
The Rattlesnake was born!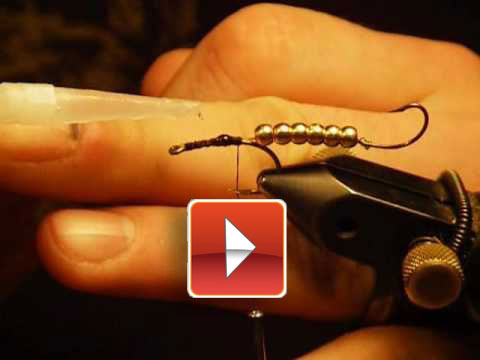 See a tying video for the Rattlesnake here
Contact
Ray works as a tyer, guide, consultant and much more at Double SS Outdoors where he can be contacted for inquiries on trip planning, guiding, photography and much more.
More content from the front page