Published Jun 1. 2013 - 10 years ago
Updated or edited Jun 28. 2021
Gapen's Muddler Minnow
This is an article about Don Gapen's original Muddler Minnow - a fly that is tied in countless versions and has inspired thousands of patterns, but only few that resemble the original
I love muddlers and have tied many, many of them. I like tying them, looking at them and not least fishing them. The muddler technique can be used for many types of flies from deep fishing baitfish patterns to streaking caddises.
Spinning hair
The idea of spinning deer hair to form a voluminous head is attributed to Don Gapen of Anoka, Minnesota in the US, and the original Muddler Minnow was tied by him back in 1937 specially developed to catch brook trout in Ontario, Canada.
I knew that it was quite a lot messier than most muddlers tied nowadays. My own muddlers are stacked, spun and trimmed and I actually strive to get them dense and smooth, but with a bit of uneven, rustic charm. Some muddlers are so meticulously tied that it's almost crazy, and even I don't go that far to make mine neat and tidy. I knew that this wasn't quite in the vein of the original Gapen muddlers, but we tyers tend to like neatly tied flies.
Messy muddlers
I have experimented with messy muddlers with great success both for trout and pike, and I honestly thought that I had made them as messy as Gapen did. But during a recent visit to the Catskill Fly Fishing Center and Museum I saw one of Gapen's own Muddler Minnows, which is on display there together with a lot of other classic flies tied by their originators.
Even messier
And man, that is one messy fly!
First of all: the head is just a bunch of untrimmed, spun deer hair. No even collar, no nice conical bullet shape, no flat underside. Just hair sticking out in all directions.
When I announced this article on Facebook, I got this note from Mick Hall:
Hi Martin,
I have an original Muddler tied by Don Gapen way back in the late 1960s A fishing tackle store in Melbourne called J M Turvilles imported a number directly from Don they came in small plastic boxes and sold for $1.00 au If you would like a hi res shot to use any way you wish I will gladly send one to you.
Cheers Mick
You can see Mick's Muddler Minnow on the image here, and can again confirm that although it's very neatly tied and is trimmed and with a more distinct collar than the really early Gapen muddlers, it's still a lot more bulky than many of today's Muddler Minnows.
And man, that is one messy fly!
Secondly the rest of the fly is a mess too! A large turkey tail, a very rough body made of some kind of embossed gold tinsel, wound on the hook shank with no concern for smoothness or finesse. And sure the wing is squirrel and turkey, but a large bunch of each tied in so that it almost covers the body.
To top it all off the deer hair head is placed a bit down the hook shank, and the fly is finished with a large, bulky and not very elegant head made of thread and varnish.
Very, very different from most muddlers tied these days - including my own.
The method of closer trimming a denser muddler head is attributed to Dan Bailey, whose muddlers in the 50's were used to imitate grasshoppers and obviously needed to have a more well defined profile and maybe some better floatation, which is what the repeated spinning, packing and trimming of the deer hair yields. That technique is the most common i muddlers nowadays and the muddler style is used to imitate caddises, hoppers, baitfish and many other naturals as well as to create a large number of "fantasy flies" like bass poppers.
In Gapen's honor
So to honor Don Gapen and this fantastic fly concept, which has brought me countless hours of joy at the vise and at the water, I will show how to tie the Muddler Minnow Gapen style. I'm not the first one to have done so (apart from Gapen himself of course). Many tyers have tied flies that look like his original. I recently saw and photographed a fly by Ted Patlen, which is very true to the original. This fly is found in a picture above as well as in this article featuring a whole bunch of flies tied as the originators would have done it.
The Gapen family
The Gapen family is still in business and runs a tackle company called The Gapen Company, based on what Don Gapen started back in the 30's and now lead by Don's son Dan D. Gapen, who is an author and the CEO of the company. The company mainly manufacturers and sells spinning lures, but you can still buy the original Muddler Miinnow, tied much in the tradition shown above. You can also read a brief history of the family and their activities.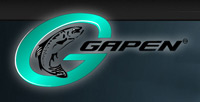 Fishing the fly
My guess is that the Muddler Minnow of the 30's has been fished very traditionally either by casting it downstream across a current and letting it swing back or by casting and stripping it in lakes or even trolling it behind a boat. Unlike many of the modern muddlers (including many of my own), I don't think the Gapen fly has floated or even fished high in the water. The hook was heavy and the tinsel most likely metal tinsel, which has added to the weight, and the deer hair was tied so sparsely that it hardly added much buoyancy. I think this fly was a perfect imitation of a bottom dwelling species like a sculpin and was fished as such.
More on muddlers
If you want to tie a neater Muddler you can follow the instructions in many articles on this site:
More content from the front page