Published Jan 25. 2004 - 19 years ago
Updated or edited Nov 16. 2016
Black Funnel
This fly is kind of a coincidence. An idea. A fad. But it works. It is a funnel dun, Deveaux, Joergensen kind of pattern, which will imitate a hatching mosquito - albeit a very large one in the original version. It consists of two materials and is very easy to tie.
This fly is kind of a coincidence. An idea. A fad. But it works.
I like flies with deer hair, and had an idea of something comparadun-like, but half sinking like a Klinkhåmer. I believe that flies that are semi dry can have a strong appeal on trout.
I am also fascinated by "la methode de Deveaux" - Deveaux' method - a way of tying flies devised by French Andre Deveaux, where the fly is tied from the front and back; hackle first, then tail and then body. In these flies the hackle forms a frontal funnel, which surrounds the hook. The fly rests on the water like an ordinary dry fly on the hackle and the tail, but there is something about this radically different way of tying that has an appeal.
And the Comparadun of course. What a fly! Hard to beat.
I also recall something I remember as the Funnel Dun, not unlike the Devaux flies.
Before a recent trip to Iceland I was filling my box, and started cranking out the contraption seen on this page. With no pattern description or no name, I just put them in the box, and left them there. I didn't fish dries much on Iceland. The island has a strong streamer tradition, and I was at first decided on using deeply fished nymphs to give the Icelandics some smoke.
That worked - not a big surprise. Heavy nymphs are deadly.
But there were places where they were not well suited - especially large, calm, shallow pools. The bottom was close for one thing, and secondly the fish were rising.
Action in the air left little doubt about what they were taking: mosquitoes! And lots of them! For the first time in my life I felt compelled to put a mosquito net over my head. Jon, our local friend, said it wasn't even bad. Well, I don't want to see bad then!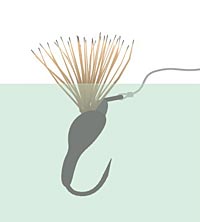 The fly floats with the body right under the surface film.
But it stirred my urge to fish dries, and in my box I found the funnel contraption. A bit large, maybe, but certainly much like a hatching black mosquito. I tied on one, applied some floatant (Muceline) to the hairs and gave it a spin. And Eureka! It worked. Fish were not hammering it, but they showed interest, and a couple of small ones forgave my lousy casts and dragging drifts and took the fly. I imagine that a few flies smaller than the 12's and 14's I had tied would have done the trick.
Upon inspection the fly revealed to be a very good "vertical dry" in the British buzzer tradition, floating in the surface with the body under the water and the tips of the hair hackle almost flush with the surface, showing just enough above surface for a poor sighted man like myself to see it and showing plenty for a large, poor sighted trout to see underneath!
It is indeed easy to tie and the materials list has few items.
| | |
| --- | --- |
| Hook | Traditional dry fly, size 10-18 - even smaller |
| Thread | Black 8/0 |
| Wing | Fine deer hair |
| Body | Black non-dry dubbing |
Instructions
Attach the thread in the middle of the hook
Prepare and stack a very small bunch of fine deer hair
Tie in the butts on the front part of the hook shank on top of the hook
Make sure the hair doesn't flare by holding on to the tips while tying them in
When the hair is securely attached you wind the thread forwards in loose turns to create the narrow funnel
Wind the thread to the rear of the fly
Dub the body, thin in the back, thick in the front
Lift up the wing and take some tight turns under it to lift it a bit
Form a head, whip finish and varnish
When you fish the fly observe these points:
Tie the fly on the tippet with a loop, allowing it to tip over to vertical
Only apply floatant to the wing - not the body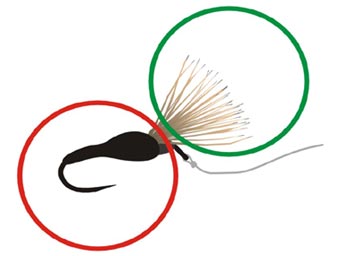 Floatant: Red means stop, green means go!
A comment came from Tasmania:
You may be interested to know that we have been using the Black Funnel here in Tasmania for quite a few years now. We call it the Shaving Brush, for obvious reasons. Here we use it as an emerging dun and tie it in sizes from 14 to 8. And a very successful fly it is too! Not much buzzer fishing is done here but next time I am at the tying bench I will tie up some small Shaving Brushes and do some experimental fishing with them at Brumby's Creek or Arthurs Lake.
Thanks for the Global Flyfisher, one of my favourite web pages.
Regards,
Alan Taylor,
Tasmania, Australia.
My reply:
Alan, as it has been said many times before: nothing new under the sun! Of course a simple an useful pattern like this will have seen the light of day before. It just shows that inventing something new in fly tying is VERY difficult.
Another one came from Wales:
Just been reading your piece on the Black Funnel. Very neat little fly and sure to be effective in many situations both on rivers and lakes.
As you say your idea bears more than certain resemblances to UK 'suspender' type patterns and as such I have a few comments that might be of interest to you both in terms of fishing these patterns and tying practicalities.
Firstly, I love the idea of tying off at the tail end off the fly. Your comment about 'vertical' dry flies perhaps hits the point more than you imagine. With existing suspender type patterns where the fly is finished at the head, care needs to be taken in not displacing the vertical wing by forcing it away from the line of the shank with lots of wraps in front at the head. You can combat this by tying off at the base of the wing, over the wing material, but this makes for an ugly collar of thread. I use the first method with a 3 turn finish on the bare hook shank under and in front of the wing. I'm going to try the Devaux style on my next batch of suspenders.
A tuft of CdC, is a perfect alternative to the hair wing, no floatant required, just as visible, probably more bouyancy for less material.
You didn't mention what type of imitation you were looking to achieve when you set out to tie this fly but you've come up with a midge pupa profile. One suggestion that will help with the correct fishing attitude of this fly would be to use a non-bouyant thorax and try to achieve a slimmer and shorter thorax profile. The use of quick sinking materials will help the hook weight counterbalance the wing giving the vertical alignment. This will obviate the need for a loop knot to tie the fly to the tippet. This is important, I'll explain in a minute.
Ok, hook size and weight. You mention using standard dry fly hooks down to an 18. In my experience of fishing these types of patterns I've found that the smaller the pattern the heavier the hook needs to be. There are two reasons for this, both related to the vertical fishing attitude of the fly:
Small light hooks even with the bare minimum of materials dressing will float in the film horizontally. Just the slightest smear of natural grease from your fingers will achieve this.
Weather conditions effect this type of fishing more than you might think. Midges and Mossies tend to hatch in more calm areas of water. Couple this with high pressure weather conditions and you have the ideal situation for these patterns. High pressure effects the hatch by making it exremeley difficult for the emerger to break through the film, forcing them to hang there just under the surface for the fish to mop up. Without the high pressure conditions buzzers hatch quite quickly and different patterns/presentations are required. So again you need a heavy hook to break the water surface tension. Its quite amazing just how heavy a hook a tuft of CdC will hold. We regularly use size 10 Kamasan B175s though its not often we have to go below a size 16, for the smaller flies you could try heavyweight grub hooks with the pattern tied quite short. Something like a Kamasan B110.
Your photo of the Black Funnel Water is indeed perfect conditions for the pattern and I suggest the reason stated above is why. This brings me onto presentation.
The film tension will float the leader and an important factor in this type of presentation is to sink it. Your strike rate will be affected by the leader sitting in the film, its very visible to the fish in these conditions. We get over this in different ways. By degreasing the tippet as often as you need to to sink the tippet, sometimes as much as every cast. This is demanding fishing as you experienced and its worth doing. You could use flurocarbon as your tippet material, as you know somethimes it will sink if its clean, but again the grease on your hands will give it the opposite effect and generally still needs degreasing in smaller diameters. Or you could use a sacrificial fly on a dropper in conjunction to your suspender.
This is very effective, the sacrifical fly pulls the leader under and the suspender holds in the film. It's a usefull technique in these situations with the sacrifical nymph some inches under the surface. You might be suprised how many fish take it.
Accuracy. This style of fishing in such conditions as mentioned above mean that the trout are high in the water with a reduced window of vision. If you are casting to sighted fish you need to be right on their noses.
Anyway, just a few thoughts and you've probably condidered them anyway :-)
Best
Paul Slaney,
Wales
My reply:
Paul, I will be the first to admit my lack of knowledge of what to me seems to be a very complex world of buzzers, suspenders, larvae, pupae, droppers, top flies and what have you. Those concepts in the type of fishing, done extensively on British still waters, is a far cry from what I have tried - not to mention my everyday fishing. I have little experience in floating flies in the surface films of calm waters and as little in using two or three carefully selected flies as a team.
Your observations are quite to the point - including the notice about CdC. And you notes about grease, precision in casting and hook selection are a great addition to my own - more or less coincidential - findings about this particular pattern.Thanks!
More content from the front page