Published Nov 30. 2005 - 17 years ago
Updated or edited Apr 13. 2018
Bow River Bugger
Al Grombacher has shared with us one of the most effective patterns for the Bow River in Alberta, Canada, famed for its excellent fishing for rainbow trout.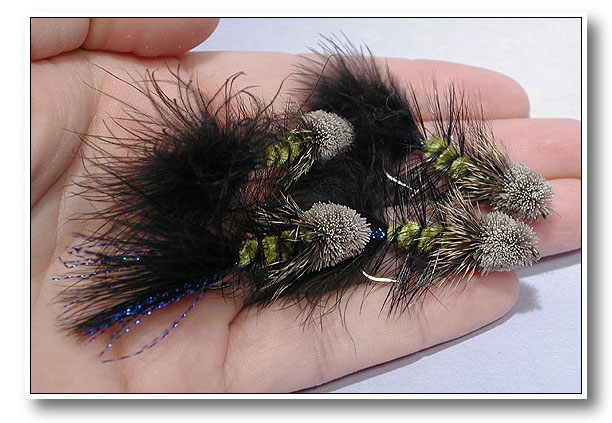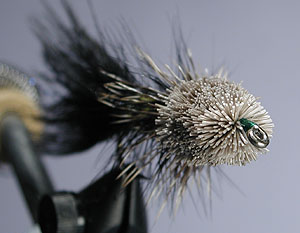 The fly will fish better if you don't pack the deer hair for the head too tightly.
I tie up 5 dozen Bow River Buggers (BRBs) for my own use every year. According to Jim McClennan, in his book - "Flyfishing Western Trout Streams", a Mr. Peter Chenier developed this fly in the 1980s. This fly melds the best of the wooly bugger and muddler together, to form the classic Bow River Bugger streamer pattern.
Remember to not pack the muddler-style head as tight as a Tim England bassbug. A loosely packed head will aid the BRB in staying on the bottom. Tight packed heads are eye catchers, but loosely packed heads fish better. The white headed Bow River Bugger is commonly sold in Calgary fly shops. Jim McClennan notes that black, olive, and white are the best colors. The black/olive/natural deer hair combination has proven to be the best performer for me.
The Bow River Bugger is heavily weighted and fishes best along the bottom of the river. I use three basic rigs to keep my BRB along the bottom of the rivers as I fish it. My most common rig is a floating line with a 9 to 10 foot leader in 1X or 2X. In fast water, I'll place some split shot 8 to 10 inches above the BRB. In deep water situations, I'll break out my Teeny 300 with a 4 foot leader.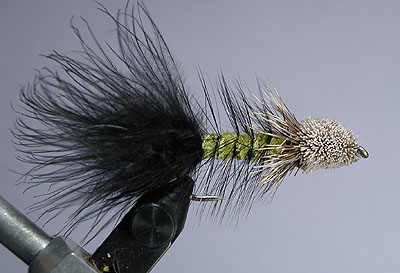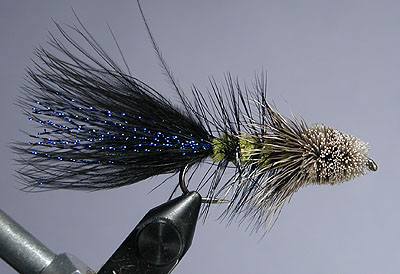 The Teeny 300 rig works well in the fast deep sections of the BOW and in several Frenchman's Creeks. The BRB is also a great night fishing fly, as it pushes a lot of water with its muddler head.
Tying Recipes
Tail: Black Marabou
Body: Olive Chenille
Rib: Copper Wire
Palmered Hackle: Black Saddle
Head: Muddle style head of deer, elk, or bighorn sheep
Collar: Hair tips left untrimmed
Weight: 20 to 25 wraps of lead or lead substitute wire
Hook: Varies, but normally Mustad 39841 or 79580, #2-#8.
---
Recipe same as above, but with some blue krystal flash along the sides of the tail.
More content from the front page