Simply the Best Place to go for Online Fly Fishing and Fly Tying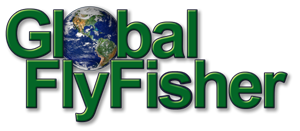 Published Jun 19. 2009 - 9 years ago
Updated or edited Nov 17. 2015
Lake Champ
Many years ago, when Colombian Carlos Heinsohn began to tie flies, he didn't have more than a few basic materials and not more than three models of hooks. He wanted a huge dragonfly nymph, so he made one almost entirely with black and brown marabou on a #6 hook with a few wraps of copper wire.
The largest one always escapes
The next weekend I went out to fish to a lake. It was my second or third time fishing with a fly rod. I was casting at the shore of a small bay, when suddenly a really large trout took my new fly, perhaps the largest trout I have ever had on the other end of the line.
As soon as it swallowed the fly, the trout came directly at me, hit me on the legs, tangled the line, and ran away.
The ones that escape are always the largest!
Since that day I can't forget what it feels like when a big trout hit your legs, and how much they like dragon fly nymphs.
Evolution
Since that moment the original fly began to evolve, and in all the models I have developed it has given me good strikes, whenever it maintains certain characteristics of the original one, like the blend of black and brown in the abdomen, the bronze sparkle, the marabou tail, and the legs tied horizontally with brown hackle or marabou, long enough for a good swimming motion.
This fly works great when fished near the shore, especially where grass or other vegetation grows from the water. Does not seem to be a fly for small trout. When I have caught trout with it, they have always been larger than the average of the day.
Use it near the shore, especially in zones where grass and other plants emerge from the water.
I hope you enjoy this fly as I do every time I go fishing to a lake for trout.
Best,
Carlos Heinsohn