Published Jan 12. 1996 - 27 years ago
Updated or edited Sep 18. 2017
Mysid
Wanna tie a mysis? This might be the pattern... Small, easy to tie. It can even stand in for a small dragonfly nymph.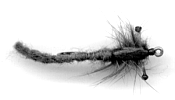 This is one of the few real imitations to be found in my boxes. The Mysids (Mysidae) are a group of marine crustaceans, that are especially abundant in the spring. They grow quite large - almost 2 centimeters or 3/4" - and are seen in many colors. my favorite is a light olive one, but I've also fished a dark brown variation with some luck.
| | |
| --- | --- |
| Hook | 6-10, straight eye streamer hook. Best are of course stainless hooks for salt water resistance |
| Thread | To suit color of materials |
| Body | Hares ear or rabbit dubbing, natural, cream/white, light olive or brown dyed |
| Tail | Extended body made with a furled dubbing loop. |
| Hackle | Hair hackle, palmer wise on front half of body. Made with a dubbing loop from guard hair of hares mask or rabbit skin |
| Eyes | Burnt monofilament |
| Back | Scud back or any kind of elastic back material |
| Head | Small, Color of thread |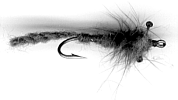 Start by preparing the eyes
Burn a length of heavy monofilament in one end
Cut and burn the other end
You should end up with a connected pair of eyes the right length. It might take a few tries.
When the eyes are good, color them black with a marker or varnish
Tie in the thread over the barb and form a dubbing loop
Secure the thread, and dub one strand of the loop to a length of double the hook length.
Spin the loop with
Fold it over behind the hook and let it unwind to form a furled, extended body
Tie it down, and cut off rest of loop.
Dub the body in a light taper to just after middle of hook
Tie in a narrow piece of back material
Form an other dubbing loop.
Tie in eyes perpendicular to the hook shank
Dub the front part of the body, covering the eye stalks with figure-of-eights
Make a hair hackle from guard hairs from the fur
Spin it
Wind it over the thick front part of the body behind the ears.
Pull the back material over the body and tie down
Form head over the eyes, whip finish and varnish.
This will do fine as a Damsel fly nymph too, actually. A bit longer and maybe another color, and there you are.
More content from the front page