Published Jan 10. 2000 - 23 years ago
Updated or edited Mar 11. 2023
Nutria muddler
A large surface muddler for all fish that eat in the darkness.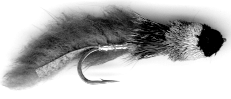 Once again a muddler. This one is typically tied as a large fly (size 2 or 4) and moves a lot of water (and air...). Other muddlers are the Small Muddler, Full Metal Jacket Nutria Muddler and the general muddler pattern The banding does not make it a much different or more effective fly, but it does make it more beautiful and a bit easier to see at night.
It is obtained by using several different colors of deer hair during the stacking process. I normally use bright colors like neon orange, pink, green or yellow mixed with black an natural tan for the sake of contrast It's quite easy to obtain the desired effect.
| | |
| --- | --- |
| Hook | Any long shank streamer hook 2-10 |
| Thread | Tan or black. Heavy for spinning (6/0, Dyna Cord, kevlar or similar) |
| Body | Flat silver tinsel |
| Rib | Oval silver tinsel |
| Wing | Narrow strip of natural Nutria fur tied in Matuka style |
| Head | Stacked deer hair, spun and cut. Natural or colors mixed in bands |
See the detailed description for tying a ribbed tinsel body. The methods are applicable here too.
Tie in ribbing along the underside of hook shank
Run thread forwards to form a smooth base for tinsel.
Tie in medium flat silver tinsel a couple of eye widths behind hook eye
Run tinsel to hook bend and forwards again in even turns.
Tie down and cut off
Tie in wing strip with hair pointing towards rear of fly. Strip has to reach beyond hook bend.
Pull up ribbing behind hook
While pulling fur strip tightly backwards, draw ribbing through fur and down on front of hook
Repeat the processing while working towards hook eye
Tie down and cut off ribbing where tinsel body starts
Tie in 2-3 bundles of deer hair muddler style
Stack the first bundle and let tips reach just beyond middle of hook.
Cut down hair except tips of the first bundle to form a dense, conical head with a collar.
More content from the front page