Published Aug 27. 2019 - 3 years ago
Updated or edited Oct 28. 2021
Omoe Brush in living color
I purchased a purple dyed golden pheasant skin and thought I'd tie a Purple Omoe Brush… and then things happened.
On my way from home to Skjern River in Jutland here in Denmark, a mere 3 hour car ride, I thought I'd give myself a well deserved break and stop at the tackle and fly shop Go Fishing in Odense on Fyn.
I needed some peacock herl, and found some – dyed orange, but not really orange, but quite close to the natural herl – which were sold out.
I did of course browse the shelves, and picked up a hare's mask and also found a beautiful purple dyed golden pheasant skin at a very fair price. The GP skin is one of the most versatile materials you can buy, and contains a ton of useful feathers and is usually sold at a very fair price. Most skins are sold without tippet and topping, which each can fetch as much as the skin if the quality is good.
I got a purple skin, and could add that to my selection of GP skins. I already had several natural skins as well as one dyed orange and one dyed red.
One of my favorite flies using these feathers is the late Ken Bonde Larsen's Danish coastal fly the Omoe Brush (Omøbørsten). It uses the red body feathers, tied in as both tail and hackles and features three hackles separated by a body section of yarn.
So I had feathers that would allow me to tie the Omoe Brush in at least five variations: natural red and yellow, dyed red and orange – and my newly acquired purple. A single mallard feather on the table inspired me to do one with mallard too. I had some waiting time to spend while a computer server I was preparing was installing the system, and could use the natural breaks in this work to crank out some flies.
These are essentially all tied just like the original, just using dubbing in stead of yarn for the body sections. I have simply selected thread, flash and dubbing to suit the color of the feather and used body feathers from golden pheasant for all flies except for the white/grey one, which uses mallard for the tail and the hackles. I don't weigh the fly, but use a heavy hook.
The Omoe Brush is not a difficult fly to tie, but does require some steps: tail, dubbing, hackle, dubbing, hackle, dubbing, hackle, head. Since the hackles are all GP body feathers, which are quite short, they do require some finesse to wrap. Ken used to tie them in stem first and grab the tip with a set of hackle pliers. I prefer tying them in tip first, bend back the tip barbs, and then wrap the feather grabbing the stem with my fingers. This is easier to handle, makes you grab the durable stem rather than the fragile tip, it protects the tie in spot and helps form a fuller hackle. I have made a small video demonstrating the technique.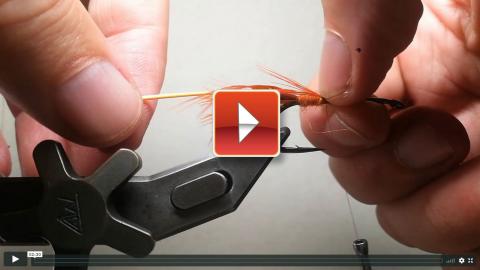 Apart from that these flies are quite straightforward. As mentioned I have simply picked material colors to suit the color of the feathers. The hook on all flies is the beefy Ahrex Deep Streamer NS115 in a size 2. This hook has a great shape and a wire thick enough to add good weight to the fly, letting you leave out the weight added to the original fly. You can opt for a lighter hook if you want a fly that doesn't sink quite as fast.
Fishing the fly is the usual sea trout method: fish on a floating or neutral line, a rod length or more of leader and tippet. A fly this size is best suited for a 6 or 7 weight line, but you can tie it smaller and lighter for lighter rods. Cast out, let the fly sink a bit and strip back with various speeds and stripping lengths. Give the fly a pause now and then before stripping on.
More content from the front page