Published May 11. 1997 - 24 years ago
Updated or edited Nov 4. 2016
The Shank
An almost naked fly with almost no materials.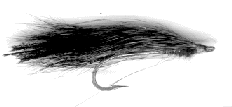 The Shank is a fly that will be both small and large at once. It's actually just a tuft of hair on a hook shank, but the hair chosen is fairly stiff squirrel, and will give the fly some volume. Still when there's current or you retrieve it a bit faster it collapses to a narrow strip.
The Shank also uses natural flash - peacock herl in stead of my beloved flash straws. A good autumn fly.
| | |
| --- | --- |
| Hook | 4-6 curved nymph/emerger hook |
| Thread | Tan |
| Body | Natural squirrel underfur taken from the butts of the hairs used for winging the previous fly. |
| Wing | A few peacock herl under a tuft of squirrel tail hair. I use red or gray Siberian Squirrel. the hair is longer, softer and more curled than most squirrel seen. |
| Head | Color of thread |
Dub the front third of the hook to a small eliptical body. Mostly ment to support the wing.
Tie in a few peacock herl almost double hook length.
Remove underfur from a tuft of squirrel tail hair.
Tie in wing on top of herl. The wing most be almost double hook length.
Cut the surplus and form a head.
The squirrel can be tricky. I usually catch the material in a loop of thread over the hook before passing the thread under the hook. In this
manner the hair is kept together in a neat bundle and will sit on top of the hook shank. Also I varnish the hair when I have trimmed the butts -
before adding the finishing wraps and making the head. After finishing the fly I varnish it as I usually would.
More content from the front page