Published May 15. 1996 - 26 years ago
Updated or edited Jun 6. 2017
A day of fun and fly tying
Once again I've had the distinct pleasure of being together with fly tyers of the absolute elite. Henrik Strandgaard - a reputed Danish salmon fly tyer - had again set up a fine arrangement featuring two US tyers: Steven Fernandez and Marvin Nolte. Both ought to be well known, but let me introduce them to you anyway:
Hi Fellow lovers of the art of fly tying,
Tutti Frutti Ben Franklin tied by Steven Fernandez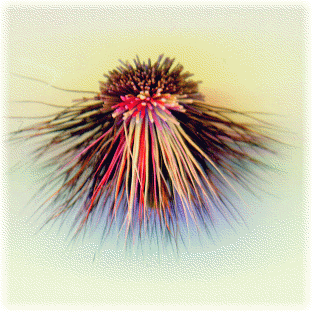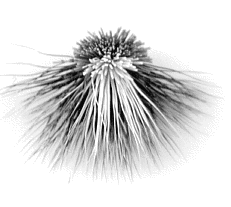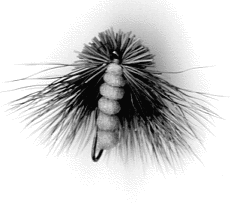 Once again I've had the distinct pleasure of being together with fly tyers of the absolute elite. Henrik Strandgaard - a reputed Danish salmon fly tyer - had again set up a fine arrangement featuring two US tyers: Steven Fernandez and Marvin Nolte.
Both ought to be well known, but let me introduce them to you anyway:
Steven Fernandez
...is an architect living and working as such in California.
He ties flies in his 'spare time' (whenever that is) and is known for his radically different way of doing it. Steve is an example of a fly tyer that isn't afraid of introducing anarchy, extreme order, art, hysteria or any other concept into fly tying. The result is always food for thought. On top of that Steve is a brilliant tyer, able to teach and very entertaining.
Marvin Nolte
...is a full time fly tyer (his business card says Fly Dresser), winner of the Buz Buscek award and also an extremely skilled fly tyer. Where Steve might be called colorfull, Marvin is more 'soundfull' - he grumphs and umphs (and worse) a lot while tying.
Marvin is a teacher par excellence, and has tips and explanations for his tying. He might be best known for his current job: tying up the Grainger Collection, a set of 350 full dressed, individually framed classic salmon flies.
A few of you might remember my report from a similar event last year (with Steven and Wayne Luallen), and the scenario was much the same: two teams of each eight people watching one tyer at a time, each for half a day.
Trout flies
I started on the Marvin Nolte team, and Marvin started his tying session by making a few simple trout flies featuring CDC feathers. One of those had a close resemblance to a fly I knew well; Hans Weilenmann's CDC&Elk, and during the lunch break Marvin told me that it was inspired by excactly that fly.
Marvin proceeded with several flies: Strip Wiggle Nymph (A Gary Borger pattern). He told us that this pattern was normally tied with rabbit strips, but for smaller sizes we agreed that squirrel was better. The smallest sizes posed a problem though, and that wasn't solved until Marvin thought of using mouse skin!
Marvin isn't a salmon fly tyer for nothing, and he finished his session by tying a Matador, which is an old american bass fly - a really fancy fly showing a married tail and wings from whole wood duck feathers amongst other things.
Lunch was - as at the previous of Henriks arrangements - delicious, made by the Danish tyer Kim The Butcher.
The Grainger collection
Right after lunch Marvin showed a series of slides. These were on the Grainger Collection, and Marvin told us the story, which I will use the space to retell here. It's a good one - and I hope that Marvin and the rest of you will forgive any errors.
Marvin used to tie salmon flies in his spare time (that word again), and was one day called by a man by the name of Grainger. He wanted to order some salmon flies. "OK" said Marvin, "Which ones?". "Them all" says Mr.Grainger... "But," says Marvin. "That's a lot of flies", and he thinks of an old book that contains at least 350 patterns. "There are at least 350 patterns" he says, whereto Mr.Grainger replies: "Then I want 350 full dressed classic salmon flies".
So Mr.Grainger places an order by Marvin: 350 individually framed salmon flies. Marvin has been taught by Wayne Luallen, meaning that he does nothing half or even 90%, so now he's a full time tyer and expects to spend a good deal of 5 years on the Grainger collection.
Can you imagine what it takes to tie 350 *different* classic salmon flies? I can't. But Marvin gave us an idea.
One blind hook
You need some hooks. And not just any kind of salmon hook. These need to be blind and have a nice shape. Marvin couldn't find such a hook on the market. But Partridge had one with an eye that Marvin liked (I think it's the Bartleet). So Marvin calls Alan Bramley of Partridge, and now there's a blind version of the hook on the market.
Blind hooks have no eyes, so Marvin has to tie gut eyes on them all. But gut eyes are made from... gut. Silk worm gut to be excact, and that's not a merchandise that's easy to come by. Actually Marvin ended up growing silk worms himself. Fed on mulberry leaves from Texas (Marvin lives in Wyoming) and guttet and prepared one at a time.
Hooks and eyes alone don't make flies, and even though he didn't tell about the the numerous kinds of excotic materials needed, he did mention that it took 140 golden phesant heads to get enough toppings for the flies.
Did I mention that Steven is a joker, BTW? This became evident during Marvins slide show. While Marvin was musing over mulberry eating worms and silk glands, a couple of very mammal glands appeared on the screen, nicely placed on the front part of a female member of our own species. "Who put that picture there?" yells a confused, but laughing Marvin, while Steven and a Danish photographer in the audince are rolling on the floor.
The Pink Lady and more...
After lunch I was at Stevens table. Steve ties to the limits of anything. He always aims for the fewest turns of thread, the largest bunch of deer hair, the slimmest body and the smoothest surface. This was reflected in his demonstration.
He tied a quill winged may fly called the Pink Lady - with a parachute hackle. Anybody in the audience ever tied a quill winged fly with a parachute hackle? Steve does it and winds up with a beautiful, delicate fly: pink silk body, metal tinsel rib, quill wing. Probably less than 30 turns of thread on the fly when he's fininished.
He continued byt tying a fly featuring the amazing Qtzinger (sp?) hackle wing. That's a neat technique! After that an oldie, but goodie: The Tutti Frutti Ben Franklin - "200 years of American history in one fly", as Steven puts it.
The last couple of flies showed a technique where the dubbing is twisted into a rope before turning it. This is a simple way of attaining great segmentation on a fly, and Stevens last fly demonstrates the possibilieties. The One Material Scud uses SLF only, and still has antennae, legs and a segmented body.
Fly tying philosophy
As last year the day ended with Steven's slide show. Remembering the happenings earlier in the day, Steven had watched his slides closely. Actually he brought them with him to the restroom several times.
They were all in order, and while showing them Steven spoke about the philosophy of fly tying, how we tie and tie, even though we all could do fine with an Adams, a Phesant Tail Nymph and a Woolly Bugger. Steven draws lines to art, architecture and other disciplines when talking about and tying flies, and was as always a great inspiration.
I shure hope this will become an annual event. I had a great time, and I think this was the case with the rest of the attendants too. If you ever get the chance to see these guys tie, do so. It's worth the time and money.
Thanks for letting me on to your computer screen
Longwinded as always
Martin
Steven also tied this very nice classic Muddler Minnow.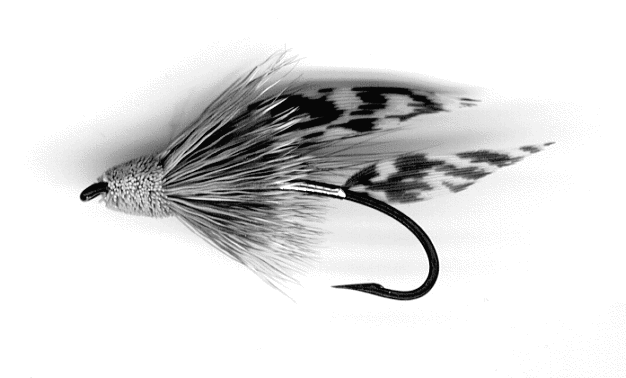 More content from the front page