Published Jun 1. 2001 - 22 years ago
Updated or edited Dec 21. 2020
Festival fishing
Read the collected stories about the Danish Fly Festival and the enjoyable fishing, which took place before and after. Tons of pictures and great stories taken and written by contributors from the Netherlands, Slovenia, Wales and Denmark. See it all here.
This article will grow to become a complete story about the Danish Fly Festival - and the fishing before and after the show. Anybody who wants to contribute pictures and text are more than welcome. Mail it off to Martin Joergensen and your contribution will come into consideration.
Dutch Bas Verschoor sent in his impressions from the fishing before the show and the show itself. Read his story
"Velkommen til Sjaelland" (Welcome to Sealand)
April 21st. Spring is trying to make faint attempts to make some steps into the Lowlands by the Sea. On our way to one of them - Denmark that is - friend Bart and yours truly found themselves on a 6-lane 'Autobahn', somewhere between Bremen and Hamburg, with Eric Clapton sitting in the backseat.
"Can't get her to go any faster than that, Bas", said grinning Bart as the speedometer of the Citroën travel monster indicated 200 kilometers per hour (125 miles per hour). Another long expected fishing trip has begun, lovely Denmark being our destination.
Having been our guest in Holland a few times and having fished Lake Oostvoorne together, GFF Partner Martin Joergensen repeatedly said: "Come and fish with me on my home turf some time, guys. I'll try to get you into some Sjælland seatrout".
The Danish Fly Festival being held in Kolding, on the Jutland peninsula, every 2 years, was the ideal opportunity to finally accept Martin's kind invitation. A speedy, 9-hour trip took us to his house in Bronshoj, a quiet residential suburb of Copenhagen. We were welcomed with a warm and friendly "Velkommen til Sjælland" by all members of the Joergensen-crew, and also by our friend, Tomaz Modic - aka Fish in VFS - who had flown in with the Slovenian and German Luftwaffe earlier that day.
A few facts: Denmark is the world's oldest kingdom, and with its 5.2 million friendly inhabitants, no country in Europe is more accomplished at blending old world charm with new world efficiency.
Denmark has: more than 5,000 kilometers of clean, sandy beaches (the cleanest waters in the European Union), 100+ castles and manor houses, hundreds of years of fascinating culture, a raft of exciting leisure activities. The mainland peninsula of Jutland points north from the top of Europe but Denmark's 406 islands spread like stepping stones across the mouth of the Baltic Sea. No matter where you are in the country you are never more than one hour away from the sea and some of the best saltwater fishing in Europe.
Enough of this tour guide stuff... let's go fishing. I had no camera at my disposal until the show started at the very end of the week, so I was unable to take any pictures of the fishing. Some of the other members of the Sjælland Seatrout Slaughter men shot a few rolls of film. Pictures can be seen here. Take a peek, Folks!
Some details about the fishing equipment used: Rods: 9 feet Loomis IMX & GLX 7/8 wt. Sage SP and Thomas & Thomas in the same category. Floating and Intermediate lines.
Some of the flies designed by the author:
the "Great Gonzo" *G*

a Low Water Red Tag as per Danish instructions.

a simple Shrimp pattern which I have successfully used on Lake Oostvoorne.
The weather - very variable - made us feel right at home. Long, sunny spells on Sunday, Tuesday and Thursday morning. Pouring rain on Monday and Wednesday. The fishing was not at its peak yet, the water temperature being 6 degrees Centigrade Only.
"You should have been here now", said Martin when I spoke to him on the phone yesterday.
For a novice in seatrout the fishing can be difficult. Finding them can even be an even greater problem as the fish can be here, there, everywhere or nowhere. Determining factors are - as in many other areas - the weather, the water temperature and the food supply. We mostly fished on the western part of the island, and also went to Hornbaek on the northern coast.
Martin was as excellent a ghillie as any flyfisherman could wish. He was even maintaining close mobile phone contacts with his other Sjælland colleagues who were fishing at the same time. In spite of the low water temperature, most of us caught some nice fish, where we would have been skunked without Martin's friendly guidance. And while watching him and his colleagues skillfully casting their lines into the Store Belt, it flashed through my mind...
All in all, a most interesting learning experience to be repeated in a hopefully not too distant future.
The Danish Fly Festival. A friendly show organized by the Danish Federation of Flyfishers. A great compliment goes out to Soren and Birthe Klünder, the head organizers, for all the work they put into it. I have taken pictures, which can be seen here.
It was great to be back in Kolding again, meeting so many old friends and making a few new ones. We met with Marvin Nolte, Ed Berg and A.K. Best, were deligthed to see Mike & Sheila Humphries and members of the Flydressers Guild again, and to 'slip some skin' with ol' buddy Gaither 'Butch' Sherrill.
Hadn't hugged Helén Kensby from Sweden in three years and did make up for that.
Had some lively chats with Grey Eminences Poul Jorgensen and Preben Torp Jacobsen and spent some time at the Casting Pond. Didn't see much news in point of materials, but spent some money in Paul Morgan's bookstand. The dinner party on Saturday evening was most enjoyable indeed - as the picture will show.
Summing up: fish were caught, tallest of tales were told. Paul (aka Taff in VFS) flyfisherman and bullshitologist par excellence kept on telling stories that brought tears to our eyes.
Tomaz displayed his culinary talents serving us an exquisite 'Risotto con frutti di mare'.
A sophisticated keyboard was thoroughly tested and approved of by the author
A flyshop was visited.
Stuff we didn't need, but absolutely had to have was purchased.
Flies were tied
Chinese food was enjoyed with all Joergensens, just around the corner of their house.
It all seemed to be over before it even began... in the twinkling of an eye. Going home on the last Sunday of April with fond memories of our friendly neighbors.
"Fishing with good International friends for a week. That's what I call having a nice time!", says the Global Partner. AMEN to that Maestro Martin!
Bas A. Verschoor
May 14, 2001
---
Dutch Henk Verhaar and his wife Haneke contributed some pictures from the show. Henk was tying, Haneke taking pictures and their son Floor just hung around
Henk Verhaar responded like this to my "call for papers":
This page shows what he and his girlfriend Haneke De Bakker sent ("SO. Girlfriend. Partner. Not wife. We're NOT married. Explicitly so ;-)" as he wrote).
---
Slovenian Tomaz Modic made it an even dozen when he came to conquor the Danish seatrout. He did well by doing as the Romans... eh... when in Rome, that is... duh!
Better read the story in Tomaz' own words
I knew there was a Flyfair in Kolding but I never thought of going there, until I saw a special invitational price for flights across Europe with 50 percent discount from Adria Airways.
That was when I first raised my eyebrow.
I also knew that two of my Dutch friends (Bart&Bas) were supposed to stay with "Mister www.globalflyfisher" Martin Joergensen and drive all the way from Holland. After revealing my plans to them they unselfishly offered to drive me around during my stay in Denmark.
I immediately asked friend Martin about guided fishing in the time of the show that he recently offered in EuroFF@ and renting a room in his neighborhood, but he invited me to his house without hesitation as well!
"No problem" he said. "We will arrange something!"
I must say I was skeptical, having three of us there... well... I'd rather rent a cabin, etc. etc.
But I let Martin arrange everything like he said and decided to "go with the flow". As you might see later, that was one of the best decisions that I made about the trip ;-)
A few more phone calls and e-mails and my trip was almost completely covered, except for the "Kolding part".
So... Next e-mail was my booking for staying in Kolding. The answer was surprising. I was invited to tie there!
Just before I decided to kindly refuse the offer (hey, I wanted to fish for seatrout!), mister Verschoor informed me that tyers have free rooms there!
Yes, you guessed it...
Tying it was ;-)
So...
Race with the time began...
Work, flies, preparation for tying at the show and building a 4 piece rod for Bas really got me unprepaired.
I finally left my job at 10 PM on Friday before flying Saturday morning! Saturday morning our »BIG« airport arranged another surprise at the check-in, where I met one of my fishing friends leaving for a business trip in Turkey. We looked a little strange for two good friends as you might guess: one in the jeans, GoreTex wading jacket and hiking boots with 2 huge bags of gear, and the other... well... you know what I mean *S*. He had to work and me... I had to fish. That's a 1:0 lead for me.
A few minutes later I was flying...
And he was NOOOOOOOOT, by the way hehehehehe!
He forgot that we need visas for entering Turkey. that was 2:0 ;-)
I arrived in Copenhagen exactly on time in perfect sunny weather and was really pleased to see Martin after our first meeting on the Oostvoornse meer. He knew I was very excited about the trip and we quickly went to his house to wait for the "dangerous dutch duo".
Blue sky, good friends, great report from morning fishing from one of Martin's buddies... Is this life or WHAT? It looked like 3:0!
It was long ago since I'd been so relaxed in the car. Our Danish friends really drive carefully and my US/German friend Hermann would really like this country! *EG*
Dutchmen were there a little late but all in the good mood. Developing things just called for surprise #2! That was special Lasagna made by Martin himself. He still don't know that it's the one of my favourites ;-) And let me tell you - he IS a good cook!
I brought him a bottle of my favourite rare Chardonnay from 1995 and it looked that I hit the nail on the head again. 4:0 ;-)
Apart from all that, I also had 24 hour connection to WWW and LAW vise plus tying materials at my service all the time! Everything looked too good to be true. All we needed now was some seatrout.
My "instant" bed was very comfortable and I fell asleep and started dreaming of big wild seatrout the same moment I laid down.
I thought I saw the animal, big pale brown, but it had no spots!? It didn't look like a trout either! And it definitely was not wild because it was one of Martin's cats looking for a warm place to sleep and our first close nightly meeting scared the heck out of me*.
OK...finally fishing time!
Sunday early morn...well, not THAT early, we "hit tha road" for our first attempt for seatrout.
Martin's KGB (that is his famous net of his fishing buddies all equipped with mobile phones, exchanging up to date info on fishing conditions all the time!) information was, that one place (no names please!;-) about 60 minutes from our home was HOT!
Bartmobile was there in no time or it was the merry gang of poachers (BTW we called ourselves POACHERS - since post offices were closed for the licences) in the car that made the trip so short.
We got there in nice and sunny weather. After Martin's words it looked like a perfect #5 rod day! Let me tell you that it was windy and preety cold, but sunny - as far as I am concerned! And his friend Mark had already landed 13 fish that morning! Oh yes, that's thirteen like in 10+3!
So I unpacked my 4 piece GLX #8 9' with great anticipation.
I tried to hide my gloves in the back pocket of my jacket, but my host was too fast for me:
"Gee, what will you do when we'll have the #8 rod weather?" :-/
A few more instructions, tips and some of the best beautiful fishing spots for us "guests" ;-)
And we were fishing!
Usually I go with the "when you're in Rome - do what the Romans do" attitude, and I followed the instructions strictly as I could. I was comfortable in my GoreTex waders and 2 pairs of Patagonia capilene underwear plus thick Helly Hansen fleece pants.
Ok, I admit I reduced those layers a bit at the first "coffee and cakeW break. It was not THAT cold!
Every few moments I checked the length of my casts, movements and speed of my stripping by looking at Martin and Mark in action. It all seemed like usual streamer fishing to me.
Then I tried some of the flies that were supposed to work best - without success.
Like a smart Slovenian I tied on some of my shiny tubes, wollies, shrimps... nada.
Mark had interesting way of fishing. He stood on the bank and smoked, but every now and then he would wade in and start fishing. Later I discovered that he went in mostly when he saw the fish!
Sooooo! I thought, "those fish can be seen, eh?"
"Sometimes", replied Martin. (!?)
Well I think I never saw one in the whole first day.
But Bart did
He was fishing about 20 meters on my left and shouted something that I couldn't hear.
A few moments later he had his first seatrout on! I ran out of the water and even filmed the moment with my video camera. It was only a fish about 35 cm - but it was our first seatrout!
I had no idea that this would be the fish that would save our name that day, since only Martin caught one or two later (Martin's remark: that was three (3), Tomaz!). And as for myself: I remained "fischloss". Later the plan was to change the spot for one more hour fishing, and so we did.
Surprisingly the parking lot was preety crowded but no one there looked successful. Some bait- and spinfishermen, even a few flyfishermen were rather enjoying the evening sun than fishing.
Martin and me went further to the right away from the last fisherman.
Martin waded in the water and I observed him. I couldn't decide where to go in cause I spotted few nice spots even further. Martin turned back and showed me a distant peninsula and said that that should probably be the best place, but we have no time to walk such a long way.
I told him that I have really good experiences with places that are far away from parking lots, cause they don't see crowds of fishermen.
I stood there for a moment. Then in the split second I decided to walk to that spot.
"I am going" I said..."Who the hell knows when, (if ever) I'll be fishing these waters again."
The answer was: "OK then I am going too!"
We walked fast and far, and the place was magic.
Huge rock behind us. Waves about 30 centimeters from the right side of the cape and calmer water on the left side, which was off wind.
I fished on the calmer side and Martin tried the rougher side.
After few moments I thought I heard the whistle and turned to see his IMX curving and a huge "did I tell you, or what" smile on my friend's face!
"A good one!" I thought and ran out of the water for his camera. The fish was already in the shallow water pulling back to the deep.
"That's at least 65 centimeters," I said!
It took Martin additional 5 minutes or so to land it. Few photos were made and we had to run back to the car. Our already certified "CHEF" took the fish for smoking.
Later we measured the beast and it was 70 centimeters!
What a memory that was for me! My biggest trout so far is still 66 centimeters rainbow from the Sava River!
We found Bart and Bas out of the water and returning to the car we stopped at some local fishermen to boost their envy ;-)
Way to go Maestro Martin!
After we came home I tied some more cone headed buggers for myself and the rest of the company and then - tired of all that walking and double hauling - fell into bed like a dead man.
The next - cloudy - day we started in a beautiful fly shop owned by Kim Rasmussen called Salmon Fly not far from our house.
You know how it is... you buy things even if you don't really need them, but what really got my attention, were reel seats with the prices that were extremely affordable! It seemed like no one builds rods there!
Of course I bought four of them on the spot and some small tool for my sea fishing.
It's that same old story - you never know, you know! *S*
Mondays suck!
MONDAYS SUCK... is the subject of the mail that WE on the Bas' joke mailing list usually get on Mondays. Now I know why.
It rained cats and dogs there and joke-listmeister was smart enough to stay at home and fool on the synthesizer when all other tough fishermen from the house continued their struggle for seatrout together with Martin's friend Henning.
I should have listened to Mr. Bas because the result was:
Constant showers, waves up to my chest. We only did about 30 minutes of "poaching". Difficult and deep wading, scary traces of rust on my 1,5W Loop reel and the most painful thing - all 4 of us "fischloss".
Later Henning told me that he had his Loop reel bearings replaced!
You can be sure I spent almost 60 minutes cleaning my reel in the bathroom and after that I even left it in fresh water over the night!
Tuesday
After listening to the morning »KGB news«, Martin democratically decided to drive us down to the same spot that we were fishing Sunday morning. In front of the house, before sitting in the Bartmobile, I said to Bart: "I think I smell a seatrout!"
We were waiting for our host to get (his Danish lower back) out to the car, but he was again "making money", as he said, by talking to someone on the phone.
He finally got out and guess what were his first words!
"Can you smell a seatrout in the air, guys?"
Yesssssssssssss ;-)))))))
I wanted to explain the coincidence, that I just told Bart the same th....
But our car already roared down the road and nobody listened anyway.
"Poachers" were on the road again!
We were there a bit earlier than on Sunday and I was ready in no time!
So was Martin and we went fishing immediately, leaving Dutch duo there to get ready nice and easy ;-)
I took the same spot as two days ago and started fishing with my blue-dun and gray Woolly Bugger.
In first minutes of fishing I caught my first seatrout! It was around 35 cm and I was more than pleased, because I just accomplished my mission in Denmark.
Martin was there, almost as happy as myself (Martin's remark: AS happy Tomaz. With me and my Danish friends the other fisherman's luck is as good as your own), witnessing the whole happening with his camera. And guess what! That was not all! I caught 2 more in few minutes - the last one reaching approx. 54 centimeters! (almost 22'') and the first around 45!
Martin was running for my video camera and started filming me fighting that last fish. Somewhere in the last stages he shouted at me: "You better land this one fast Tom, the battery is running loooo..."
Yes... the battery and Martin were gone but I wasn't ;-)
I held my lucky spot I landed my fourth fish (again something over 40), before Bart and Bas even started fishing!
And that was it until after lunch (oh yes and Coffee too!) when I got two more average fish. That really made my day there.
In the meantime, Martin's friend Ken joined us with his famous chocolate labrador Charlie!
He was fishing some other place but I guess after some KGB'ing with Martin and friends he soon ended up on the current "hot spot".
I was relaxed as I can be, but I couldn't get any more fish there and neither could the others. We went to another spot pretty new to us and a little different too. Waves were reaching the weds about three meters from the shallow bank and I was told by my new ghillie and mister M to fish carefully near the weeds in water no deeper than up to the knee.
As you might guess, I was following the "Roman" rule and caught the fish in not more than five casts! It was on my cone headed fly - again.
I looked at Martin asking if we should take that one for dinner and he was trying to tell me just the same thing when he prepared his camera for the documentation of my last (#7!) fish that day. It was a nice one in the range of 54 centimeters. We measured that one in the kitchen!
Dinner was superb again, as I was able to eat the rest of the Lasagne plus some fresh seatrout.
Later that day we had a phone call from Paul (VFS name Taff) and confused him a lot with four different views on Danish seatrout fishing from the four of us ;-)
He also sent an e-mail to Henk (VFS name Henk) that accidentally ended on computers of all the members of EuroFF@ mailing list! By the time we reached the Kolding show, we, "the Poachers", were already well known and had no idea how that happened!
The most important thing that I also bought in that local fly shop, was a graphite large arbor reel called Compo 5/6. I decided to use it then and put the line and some backing on it before bedtime. Again I performed the usual "cleaning the salt from the gear" procedure and only from that moment my Loop was safe! (((exhale)))
Wednesday
Bart and me agreed that it was about time to get a license. So after visiting the first post office, "poaching times" were over. We were still "poachers" during the evening sessions in our VFS chat room, and felt almost like celebrities *S*
Bas decided to take another day off and boy how right he was again!
Martin drove us somewhere on the island where he had to attend a meeting or something (read: make more money) and left two poor flyfishermen in the company of an elderly spinfisherman and heavy showers.
We "worked" hard, Bart and me...
Tried a lot of spots and finally ended up sleeping on the bench for half an hour in heavy rain!
That is also one thing I'll never forget. Thank you Patagonia for your SST jacket!
Actually I was really comfortable and warm in my outfit and wasn't wet at all. Bart was, well, a little wet, and cursed the moment when he drove away from his home without his newly acquired Simms jacket. The borrowed one was not nearly up to the task.
After that famous "siesta" we decided to fish again a little and then quit. We saw the spin fisherman landing a fish. Actually we found out later that he had two of them in his net already (One was way under size limit of 40 centimeters BTW).
That was a good sign for me and I had energy for some more fishing.
In the calm water and rain I suddenly saw the fish on the surface and cast immediately. The fish took the fly at once and you bet I was ready! It was about 35 cm long and my fish #8. After that we decided to call it a day and walked back to the meeting point with our businessman.
I was glad that my new reel performed well and at least I tried it.
Thursday!
The alternating pattern of rainy/sunny days continued and we all together drove north to try some new spots in nice and calm Thursday morning.
Unfortunately we didn't catch anything there and the weather changed to little rainy, so we drove to some lakes that were supposed to hold big pike.
After we saw some huge flies for pike in our local fly shop I suggested that we try a little of that too while we were in Denmark!
So after the weather improved a little, we had our chance at the lake Bøgholm near Elsinore.
We had a lot of fun picking the "right" flies for the job and I came up with the idea of using the tube fly that a friend Bob Kenly tied for me. You can see the article about them on GFF site! The pattern is called the Sabot Fly!
Martin, Bart and I worked the lake for about one hour and I managed to land two smaller (50-55 centimeters) pike using 60 lbs. Mason for the tippet ;-)
Martin was fishing another Bob Kenley's tube fly that was making such noise on the water that I thought he had a fish on with every strip he made!
Unfortunately those two pike were all that we had that day and it was time to drive home and welcome the fifth member of the gang - Paul. He was about to fly into Copenhagen later that evening.
And so he did. It was nice to see him again and I immediately interrogated him about the bonefishing that he did last fall (Read the GFF article "Trust Me, Mon!").
We had a ball listening to his stories again and some of the jokes that I already knew plus some new ones. Sometimes I think he should have been a stand-up comedian, because every time we meet, he simply cracks me up.
Needless to say the evening was kind of a long one and since Paul brought some booze with him (The exact Glenfiddich Barrel Malt that we ordered as a joke night before in the chat room ;-) we were in the good mood for a long time!
Friday
Friday was time to say bye to the cool Joergensen family and slowly drive to the Fly Festval.
Of course we stopped to fish for few hours. Martin led us to a spot with nice shallow water and surprisingly high number of fishermen (mostly spinfishermen!).
We started doing usuall "few casts and step to the side" thing and Martin had a new client - Paul for showing him basics of fishing in his waters.
Bart was the first to have a fish.
After some time when I was at about the same place where Bart caught his fish, I got one too (#9).
We repeated the casting and walking procedure couple of times and then stopped for lunch - and the famous coffee of course. We saw a double handed fly rod fisherman taking a nice fish while we sat with sandwiches in our hands.
I started my afternoon session at the peninsula that was supposed to be the best after Martin's words, and that was the place where he introduced Paul to his fishing the same morning. I was lucky again. First I thought I had a bite, then I took the smallest trout of the week! It was only about 18 centimeters long, but it swallowed my streamer easily (Fish #10).
After few more casts and few more steps I had a feeling, that something was following my fly over a sandy stripe of white bottom running along the beach - what Martin called a "seatrout highway" ;-)
Immediately I cast the fly to the same spot and started retrieving with extremely erratic movements, trying to represent the small wounded fish. It was the first time that I saw a fish take my fly. It was a movement similar to what pike do when they grab the fly. First they hit and then the fast curve back to the safety of the weeds. Landing all my trout caught in Denmark wasn't too hard since I was using 3x fluorocarbon and a #8 rod. Getting them close was easy and fast and only then it took a while to get them to hand since they got really scared.
This one had again around 54-55 cm and it was my fish #11.
Martin had some fish on some orange fly a little to my right and that was about it.
After that rain started and it was time to drive to Kolding show anyway.
Driving there was fun since my Welsh driver in an Opel Corsa couldn't stop complaining about how slow people drive here!
So naturally we arrived to Kolding before our leading car! And I was praised for the improvement of my navigating skills because we weren't lost at all, comparing to our last adventure in Ireland, where maps were to blame - not me!
So, fishing was off for a while.
We had a Chinese dinner with Charlie from Kudos Rod Co. and the gang and got into bed a little late.
Next day the usual preparation for tying was over and we had some great laughs at the tying tables with tyers and visitors.
I was tying next to Helen Kensby from Sweden and Henk Verhaar (NL) That Dutchman still owes me a pike fly! After the show, which was over in a blink of an eye, we went to Martin's hotel for some socializing...*S*
A few beers in the bar where the famous "Danish Mob" picture was taken, got us into the right mood for one of my last social highlights of the trip. We had dinner with friends from EuroFF@. Unfortunately it took place without the famous listmeister Wolfgang, who was lost somewhere in the city I missed him, because I only met him couple of hours earlier, and he's doing a great job with running our mailing list.
My fair budget had been severely cut at the stand of our EuroFF@ friend Paul Morgan and his Coch-y-Bonddu Books as usual, so I had to take out my reserves.
Loaded with two large bags I needed a lift back to Copenhagen and Ken generously offered hospitality for my last night. So I had to leave all those good friends the same evening.
Lift was provided by another KGB member Jørgen and beside a small accident - and pulling the car back to the road from the center of one roundabout together with Ken - the journey back to Copenhagen went smoothly. *S*
Ken's place looks like a dream of every trout bum. It has all what a fisherman needs plus some historical stuff - but we all have it somewhere too.
I fell asleep in moments and suddenly felt a famous "Crazy Charlie good morning lick" on my face. It was time to wake up already!
Ken kindly drove me to the same place where we fished on Friday for my final act of the trip.
Conditions were perfect after his words, but a couple of spinfishermen that were sitting on the beach told us not to bother - that the fish were not biting!
Naturally we fished anyway. I remember changed flies and tried orange one that Ken gave me. He had two takes before but was too "careful" by his words.
After that I had some of the careful takes myself and couldn't connect! Finally I thought I felt something again and set the hook instinctively. To my surprise it was a rainbow. Not big but fat - and it felt hard in my hand. Ken said it was a "prisoner" that escaped from fish farm!
Glad that I made a dozen fish on this trip, I decided to stop fishing, and Ken agreed. We didn't want to be late for my plane.
We said goodbye at the Copenhagen Airport and I thanked him for unforgettable days we had spent together.
My hometown welcomed me with nice 27 degrees weather the next day and I was filled with energy again.
Spending a week with good friends...
Martin is absolutely right.
It doesn't get much better than that.
---
Danish Martin Joergensen - GFF partner and the editor of this article also did a small something on his own behalf. Read about his impressions below.
Editor and GFF webmaster Martin Joergensens asks: "Is there anything better than to invite fellow fly fishers into you country and your home? Well, OK... there may be... but it sure is great fun no matter how!
These are my stories from a week of fly fishing and fly tying in connection with the Danish Fly Festival 2001.
Up to the Festival there was the usual commotion on the e-mail. Messages coming and going from and to friends who wanted to come to the show and to sample Denmark and the Danish flyfishing.
Dutch Bas Verschoor and Bart van der Schrieck had inquired into the possibilities already a year before the show, at FlyFair in the Netherlands, and I was prepared for the phone calls and e-mails:
To my surprise and great joy he continued:
Our mutual Slovenian friend, Tomaz Modic, will join us. He availed himself of the opportunity to get a special deal Ljubljana/Copenhagen.
Great! Two Dutchmen and a Slovenian! We have a spare room, and by juggling a bit with mattresses, blankets and the local residents (my family!) we would easily manage to have them all three in the house. The details were discussed and arrangements were made. Tomas was obviously also looking forward to the trip:
To top the whole arrangement, we had a phone call from Welsh Paul Slaney, who was invited to tie at the show, and would arrive in Copenhagen before the show to drive with us from Sjælland to Jylland and Kolding where the show took place. Altogether a potentially very enjoyable, International gathering in Brønshøj.
The Bartmobile
Tomaz was the first to land in Denmark. I picked him up in the airport as scheduled and we went back home to the residence in the suburbs. Tomaz brought gifts for the family and a nice book about his home waters - the gin clear streams of Slovenia. We caught up on the talking and Tomaz had the first of many cups of coffee during his stay in Denmark.
The two Dutchmen arrived as planned just before dinner. I had pinned out an exact route for them, and flying low over Europe, Bart's large Citroën XM zoomed towards Brønshøj. Bas and Bart arrived safely and were greeted by the Brønshøj family and Tomaz at the garden fence.
Dinner was served - a Danish lasagna - which obviously left an impression, especially with Tomaz, who wrote this after he returned:
I'll never forget my first seatrout in my life, I'll also never forget your lasagne and will probably tie you by my kitchen table when you get here ;-)
And yes, seatrout were caught. Already the next day was planned to be fishing day - and so was actually every single day from Sunday the 22nd to Friday the 27th.
The first trout
We were lucky with the weather already the first day. Later that week it was going to show itself from all the nice and nasty sides the Danish spring weather can mobilize.
The first day was nice though, and we fished one of my favorite spots with some luck. Both Bart and Tomaz got onto fish, and we all had a very nice day on the coast.
The guests were learning to fish the Danish way.
The ocean is large and intimidating to most fly fishers, because it is so wide stretched and seemingly eternal. But as the visitors would learn, there are fish within casting distance and there are structures to focus on and features to look for... as well as visible fish to fish for.
They also learned that a seatrout can be a hard-earned prize for many hours of work. Often we had to fare the raw Danish way and fish off vast stretches of water expanse to locate the fish. We also had to endure some really nasty Danish weather with wind and rain. But determined as we were, we fished through the raging of the elements.
Bas Verschoor was the only unlucky guest. In spite of an energetic and weeklong effort over some very promising spots, I did not manage to put him onto a fish. But it was a great pleasure for me to set all the visitors onto some fish.
For his comfort I have made a little series of pictures.: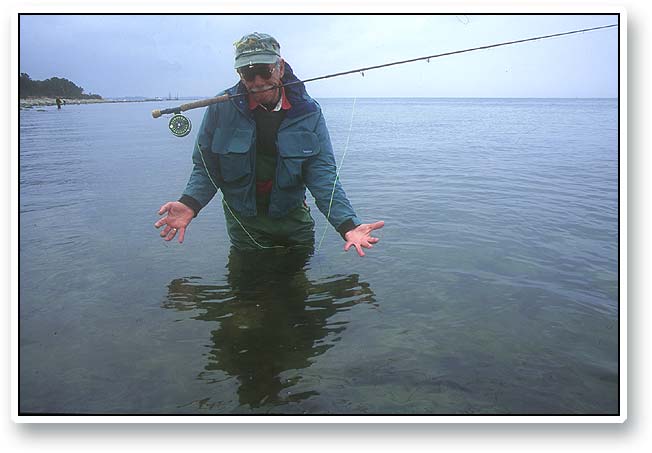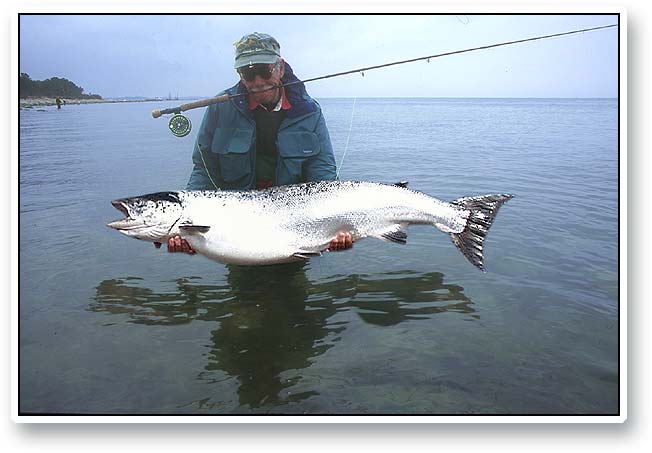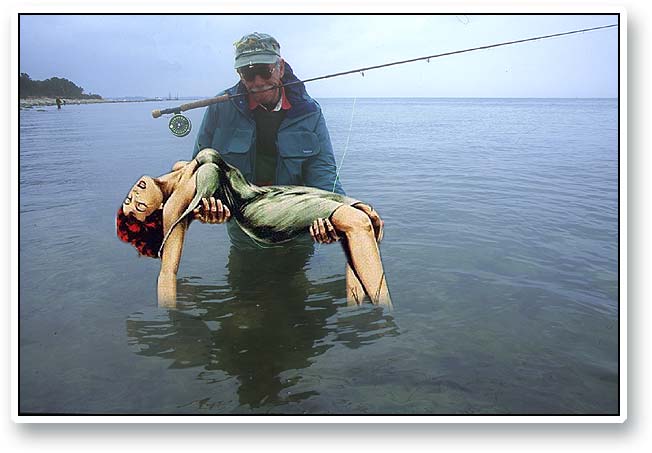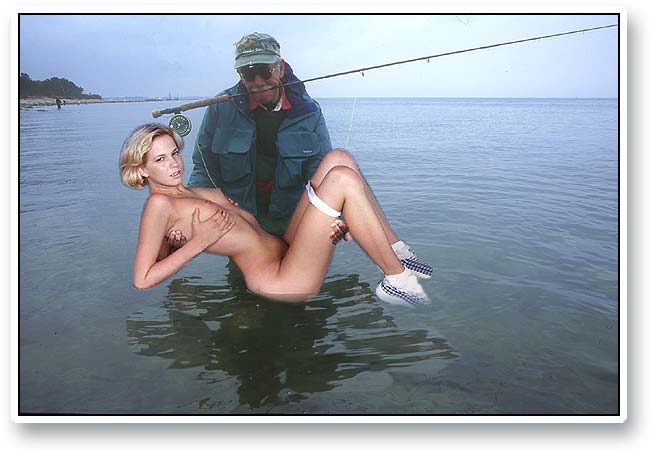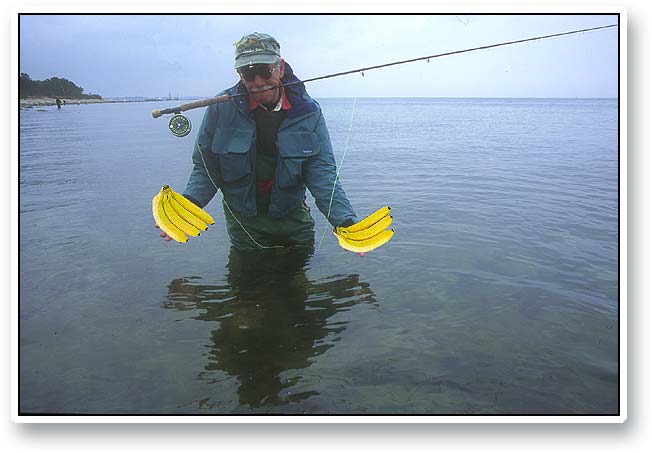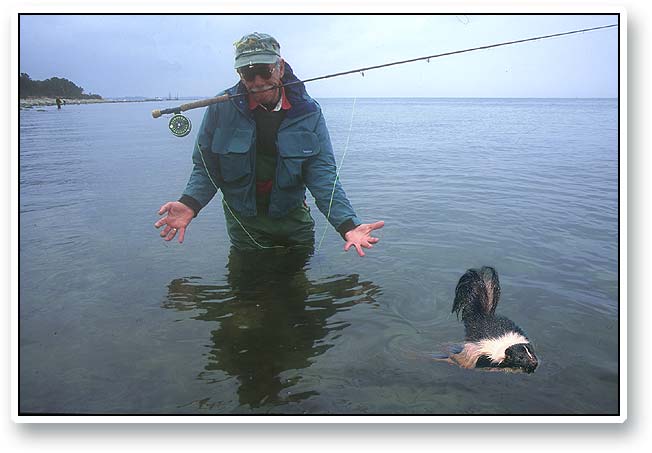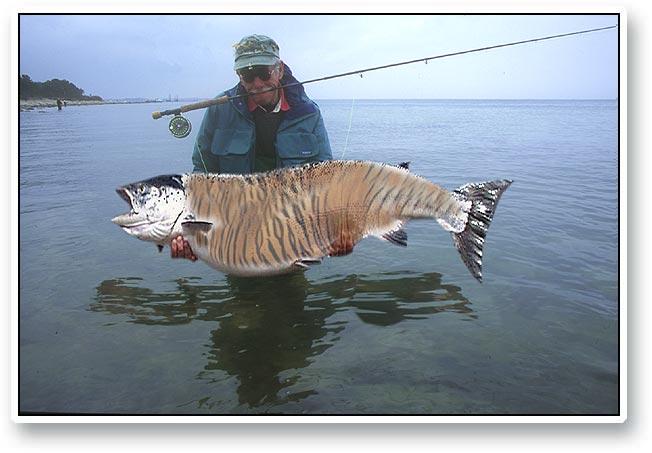 After our succesful days of fishing we set the direction towards the main course - The Danish Fly Festival. As always this event was a pleasure to take part in. The show is very professionally arranged, offers a lot to see and usually attracts a huge crowd.
This year was no exception. The show was great fun, and to many of the visitors meeting old a new friends is the main purpose of participating. I enjoyed meeting many good friends from all over the world - none mentioned, none forgotten. Strolling around the floor of the exhibit revealed a wealth of inspiring tying and many new methods and materials. The shops were well visitid and as always you need to guard your wallet as it seems to get a life of its own, constantly bouncing into your hands and offering itself to more than helpful sales clerks. I managed to avoid the worst temptations even though my visit with Paul Morgan in the Coch-y-Bondhu as always cost me a bit.
I spent some time tying in the booth of Kim Rasmussen's shop Salmon Fly, which was quite well visited. I tied my usual Danish coastal flies - some for the tyers who were going fishing during the show. I did actaully 'invent' a new pattern during my tying sessions, which I dubbed 'As little as possible'. When asked what I was tying I found great fun in replying "As little as possible". The fly was tied utilizing some neat cross cut fur strips, which Kim sold in the booth.
During the Sunday - the last day of the show - I was apporached by my friend Søren Glerup. He wanted to know whether I could help set up some acommodation for AK Best and his wife Jan.
I actually ended up offering our guest room to AK and Jan, and before I knew I was setting up return trips for the two, myself and Welsh Paul Slaney. We returned Sunday night where my darling wife Birgitte awaited us with a luxurious meal and the cozy comfort of nicely made beds.
The following days just emphasized the fact that hosting foreign fly fishers and fly tyers is a joy. Many glasses were emptied and many cigars were smoked. Flies were tied and fish were caught.
I can only repreat myself: Is there anything better than to invite fellow fly fishers into you country and your home? Well, OK... there may be... but it sure is great fun no matter how! Thomaz' mail says it all clearly:
He continues:
Any time, guys... any time!
Martin
More content from the front page