Published May 30. 1996 - 26 years ago
Updated or edited Sep 6. 2019
Fly Fair 1996
The following report was sent to the flyfishing mailing lists - FlyFish@ and Euro-Flyfish@ - after my return from a most enjoyable Fly Fair in Holland May 1996.
X-Sender: martinj@login.dknet.dk
To: eur-flyfish@qsar.ritox.dgk.ruu.nl, flyfish@lsv.uky.edu
From: "Martin Joergensen, Copenhagen, Denmark"
Subject: Fly Fair '96 - l o o n g report
Fellow Listers,
Fly Fair '96 - Ahhhh... What can I say? A lot, some of my friends will answer ;-) And they're probably right.
Let me sketch the scene for those of you unfamiliar with the settings. Fly Fair is Europe's largest outdoors Fly show and takes place every second year in Holland. It's set up in a huge tent on the banks of the river IJssel near the town of Zwolle. The show features tyers, casters, exhibitors and audience from all over the world and is very well visited. The tent, the tying area and the surroundings are constantly buzzing with activity for the two days of the show and several days both before and after.
This was my first Fly Fair, but certainly not my last. I do not intend to miss another one. I was lucky enough to be invited to tie there, and that made the experience so much the better.
Being a tyer at Fly fair has some clear advantages. You get to be there all days. Not only the two show days, but also on the day before and several days after if you want to. All in the company of some of the most enthusiastic FF-people you'd ever expect to meet - audience as well as tyers, exhibitors, arrangers and all the other people involved in a show like this.
For the participants the show offers a unique chance to meet old and new friends, and the audience have the option to choose from a program featuring the cream of the crop of tyers, casters, shops and products. There are many commercial booths at Fly Fair, and the weak of heart better leave the credit card in the car.
For me the highlight of the Fair was definitely the tyers. I can only touch on a few of them, as I didn't have a chance to see them all tie. The tyers list has some 70-80 prominent tyers, and as half of them are tying at any
time, being in the tyers area is like being a kid in a candy store.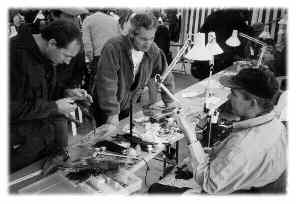 Jeff 'Bear' Andrews in the tying area
A few names: (in alphabetical order by last name):
Jeff 'Bear' Andrews: Jeff should be well known to many US tyers. He's the guy that does the 'charity' 24 hour marathon tying at the FFF conclave in Montana. Jeff 'Bear' tied nymphs at the show. He's a pro and cranks them out at a very acceptable speed (read: fast). He used some prefabricated eyes that look real good. Jeff also told me that there will be a 'Blind folded wooly bugger' arrangement at the Conclave this August. Be there and try it!
I will.
John Bowden: John tied some very delicate quill bodied flies, and used a lot of time to teach people his technique of preparing the quills: remove the flue from the barbs of peacock herl with ladies hair remover and store the quills in 75% water and 25% hair conditioner. That will give you some very nice and soft quills.
Danes sp.: a lot of them - all (except myself) tying classic salmon flies: Tommy Ohlinson, Henrik Strandgaard, Kim Rasmussen and more. Kim ties in silence - full dressed salmon flies as fast as I tie woolly buggers (almost). A real pro. Henrik is far more talkative, but also meticulous and ties one - maybe two - flies per 4 hour session on his beautiful home made hooks.
Nathan Drohm: Nathan did the most impressive stone fly imitations. He created a hectic buzz the last day of tying by showing a framed stone fly nymph emerging from its shuck. This really had the audience thinking, because Nathan's flies are so immensely realistic, and the shuck was amazing. Nathan later told the truth: 'It's a joke', he said. 'The fly is mine the shuck is real'. Still it was beautiful as were Nathan's framed mayflies.
Kieran Frye: Kieran tied some very fishy stream flies. And for a good reason: he was going on to Austria to fish for his first grayling ever. He did some very fine CDC emergers and some Caddis pupae using an 'instant body' material, that I never saw before: stainless cotton covered wire. Neat! He also used the dubbing material Scintilla extensively. It looks very good and is very easy to apply to the thread. I managed to get samples of both.
Chuck Furimsky: Chuck tied salt water flies. He had some special materials of which his 'Bug Skin' was most noteworthy. Bug Skin is very thin leather in different colors and even coated with silver. Used for prawns, crabs and streamers (in combination with Jack Gartside's braided tubing) it makes some very good imitations.
Mike Martinek: Mike has had some well deserved attention lately. He has tied flies for a very long time, but his focus on Carrie Stevens' patterns and the Rangerly Style of tying has brought him into the limelight. He had some beautiful framed streamers and a small booklet on the subject. Ben Benoit of FF@ fame mentioned him recently.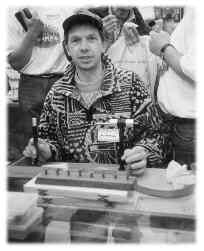 Jan Bergvoets tying at Fly Fair.
Marvin Nolte: I have mentioned Marvin before, and will again. Marvin Nolte, pro tyer, creator of the Grainger collection - 350 framed classical salmon flies. He didn't tie salmon flies though, but fishing flies, and had a hard time letting go of the tying tables. He's a good entertainer, a good instructor and well worth watching.
Glenn Peckel: Glen was a new name to me, but a very pleasant new aquaintance. He had the most beautiful collection of classical American streamers winged with whole feathers, but tied the Rusty Rat every time I saw him.
Hans Weilenmann: Hans probably had a couple of busy days like myself. He speaks the native language and must have talked a lot. On the second day he tied #28 Pheasant Tail nymphs and had a few on the onlookers confused by obviously having no hook in his vise.
These were the ones I particularly noticed. Other names were: Peter O'Reilly (Author of 'Trout and Salmon Flies of Ireland'), Hans van Klinken (NL), Chuck Echer (US, Buzeck award winner and Santa look-alike), Ed Thomas (US), Bas Verschoor (NL), Tom Jindra (US) and many many more. Too much to see and too little time.
A couple of highlights:
The auction - the first evening of the Fair there is an auction. This auction is quite spectacular. The items for sale is a happy mess of surprises, junk and high class goods. Some had a great time bidding for the helmet with rear view mirrors that helps you keep and eye on the back cast, stream side horn (one honk: 'I got one!', two honks: 'It's a big one!' and so on to five honks: 'There're no goddam' fish on this stream. Let's go to
the club house for a beer!' or something along those lines). The surprises were hilarious. The 'real' stuff was really good: clothing, rods, reels and most of all some very nice mounted and framed flies from well known tyers.
And prices were absolutely acceptable.
The beer fly - On the Hotel Postillon where most of the tyers stayed, there were some very happy evenings - none without a vise on the table. One evening Henrik Strandgaard tied The Beer Fly. This is an amazingly living emerger. Once tied you drop it into a (large) glass of beer and it will happily emerge to the surface and go back down to the bottom. The fly was born in Norway (sic!) and Steven Fernandez' hand is quit obvious somewhere in its genesis. I will try to get the secret pattern from Henrik and post it here.
I met a lot of friends on Fly Fair and made almost as many new ones. Present from the on line societies were to my knowledge: Hans Weilenmann, Tom Hattink, Sven Ostermann, Frans van Beek and Jan Bergervoet.
I managed to keep my credit card low all days, and didn't wind up with much else than Kieran's samples, some Partridge hooks and SLF, some 12/0 Bennechi thread (amazing stuff!) and a few loose items.
Two years to next Fly Fair - start saving.
Martin
Martin Joergensen, Copenhagen, Denmark
Reply to: martinj@login.dknet.dk