Published Nov 24. 1996 - 25 years ago
Updated or edited Dec 13. 2015
International Fly Tying Symposium 1996
This story was mailed late november 1996 to both the U.S. and European flyfishing mailing lists.
This story was mailed late november 1996 to both the U.S. and European flyfishing mailing lists.
Date: November 24th 1996
From: "Martin Joergensen, Copenhagen, Denmark"
Subject: Trip report: International Fly Tyers Symposium NJ (long)
Listers,

Here's a small report from mine and other member's recent trip to the U.S. of A. attending an international tying event in New Jersey.
I had the honor of being invited to tie at the International Fly Tying Symposium in New Jersey a couple of weeks ago. And I had the money to go there thanks to low air fares and generous and helpful friends from all over the world.
The show was great, but unfortunately not that well visited. There were a lot of American and international tyers showing their skills along with many shops and organistations strutting their stuff. I will not go though every tyer on the show but just mention a few highlights (in alphabetical order after first name):
- Bas Verschoor - From Holland. With Jan Siman's dubbing brushes and bead heads, Bas could tie nymphs as fast as...
- Bob Clouser - Huge man, huge flies. The American salt water tradition obviously calls for large flies.
- Bob Mead - Impressive naturalistic 'flies'. Yes, he is the one with the praying mantis.
- Chris Helm - Man of hair. Spinning deer hair like no one else. He taught me and many others how to do it, and can still teach us lots more.
- Chuck Echer - Was tying damsel flies using disposable styrofoam food trays. Neat.
- Hans Weilenmann - Of list fame. Tying his beautiful and functional stream flies... and his #28 PTN.
- Jan Reniers - From Holland. Jan is a very innovative fly tyer. His huge prawns are impresive as are his eel skin flies and long 'tube flies' tied on braided backing.
- Jeff 'Bear' Andrews - As always tying with great skill and speed - beautiful imitative and suggestive flies.
- Kieran Frye - Kieran ties regular fishing flies - and I love them. He tied me a bunch of flies that are in a shadow box on my wall now.
- Mike Martinek - Classic streamer man. I think he was the one that tied on this Danish Danica vice. I wonder why? It's really not very good.
- Oliver Edwards - Fly tyers masterclass indeed. As always astonishing people with his amazing flies.
- Pol de Meyer - From Belgium. Tied some huge and good looking salt water flies, but was surprised how few salt water fishers there actually were at the show.
- Roman Moser - From Austria. Roman did some very good looking pike flies with a wool like material that he brushed together. Very good looking.
Other names who I didn't get the time to watch were Darrel Martin, Davy Wotton, Dick Talleur, Gary Borger, Gary Lafontaine, Ted&Bob Patlen and many, many more.
There were tying and casting classes at the show, speakers, featured authors and lots of activities, and I think all who took part and attended were very satisfied with the arrangement.
Saturday night was banquet night. Chuck Furimsky - the president of the symposium - made a great speach on the Symposium, and each of the foreign tyers were gifted with a nice calender and a money clip that contained copied money - with Mike Martinek as the president! Gary Borger showed a few slides and talked with his usual rock steadiness and routine on fly fishing, family love and the dwindling fishing waters of the U.S. I think it ended up being a millionth of a millionth or even less of the earth's water that was fishable trout streams. A good reason to take care of these streams... and yet another good reason to fish the salt.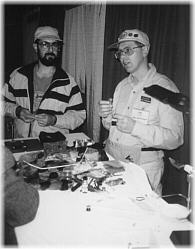 Bob Perry and hans Weilenmann both of FF@ fame.
While we were banquet'ing Hans Weilenmann took listers Carolyn M.Richards with husband Bruce, Bob Perry and Lawrence Waldron (of LAW vice an reel fame) out to dinner at a place recommended by tyer Ted Patlen. They returned later and joined the rest of us in the hotel bar where this evening ended.
I was lucky enough to be hosted by Larry Clemens, a friend of a friend. Larry and his wife were perfect hosts for Jan Siman from the Czech Republic and myself. Jan is Mr. Dubbing Brushes whose factory makes a lot of very good products on copper wire and tying thread. How about ready-to-use marabou brushes on copper or CDC-brushes on soft tying thread? We had a ball at Larry's place, and it didn't take us long to find his basement - a true Alladin's cave for a fly tyer. We spent many hours down there.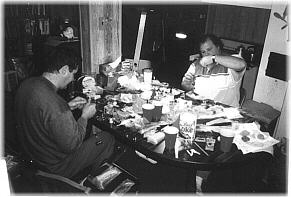 Jan and Larry having a ball in Larry's basement.
We spent a couple of the off days shopping in Ramsey's Outddors, Flyfishing Plus and Michael's Craft Store and many other places, gearing up and filling bag after bag with tying materials. Not even Jan who makes the stuff seems to ever get enough.
We also had the chance to go fishing; one day for stripers and one day for trout.
The striper fishing was fine. Small fish but lots of them when we first found them. I caught my first four ever, and Jan - who had never fished the salt before - caught six. John who was our guide from the local shop Flyfishing Plus had dozens and so did his friend. The fish gathered close to the bottom near some jetties in a very small area while the tide was pulling out. Fairly easy fishing compared to my normal sea trout fishing. A lot like my cod fishing actually.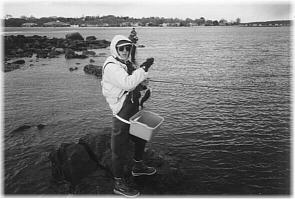 John our striper guide on the jetties at Combo Beach.
Next time I return to a place like that with smaller stripers I think I will bring my regular 6 wt. salt water equipment, and save myself the strain of casting a 9 wt. sinker with a fly the size of my float tube anchor. My largest fish that day was maybe 3 lb., which is by no means a big fish. It would be fun trying that on some lighter equipment. You can run into a large fish of course, but the average - like with our sea trout here - is probably closer to 2 lb. than to 20.
And the trout fishing? We went to the stream Connetquat on Long Island. If you were ever there you will know that it's a very nice stocked spring creek with so many fish that even I can catch them. Very few rises, but lots of sight fishing with heavy nymphs, dropper or split shot on the leader. I set most of the few flies I had begged from people in the trees on the banks. I'm used to more space than this.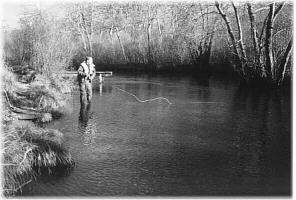 Dutch Piet Weeda on the Connetquat.
It lasted me about an hour to get the grip of it, but when I got it, I started catching a few fish. I even experimented a bit with a strike indicator thanks to some good advice from Dutch Hanafi Saleh. I had about ten beautiful rainbows and browns that day, which just shows how poor I am at it. Skilled stream fishers like Jan Siman and Sepp Fuchs probably had more than fifty.
The fish were stunningly beautiful and the stream good looking too. If stocked fishing (called put&take here) was anything like that, I might be tempted. But the general fishing lake here is so lousy with so poor quality fish that it's sometimes detesting. Not for me, please.
So two productive fishing days out of a week - that's a ratio that I can live with... as long as the other days are used for having a good time with fly fishing and tying friends.
Martin
More content from the front page