Published Oct 7. 1996 - 26 years ago
Updated or edited Mar 11. 2023
The biggest catch - hooking yourself
A story about a hook in the finger
This small story was mailed early October 1996 to both the U.S. and European flyfishing mailing lists.
Date: Mon, 7 Oct 1996 09:37:15 +0100

From: "Martin Joergensen, Copenhagen, Denmark"
Subject: Biggest catch of the day (long)
---
Hi list,
A small (says he!) story from the indian summer in Denmark:
Saturday I went fishing with my friend Brian - master of the 5 weight and catcher of quite a number of good fish.
He had been out friday, and I was in the local flyshop when he arrived carrying a very nice 7 lb. sea trout. After the ooh's, aah's and pictures taken, we decided that our already scheduled trip on saturday should go to the place where he had taken this fish... and lost one even bigger and seen even more.
The time was set to 5 am at his place which would mean that we would be by the water at 5:45 at the latest.
I was there 5 sharp, but the house was pitch dark. Uh, uhh! I rang the door bell, and quite right: he was sleeping OK. We managed to get out of the door in less that half an hour, which would still give us a litte fishing before the sun rose.
Normally the hours on each side of the sunrise and sunset are the best this time of year, but not this day. We fished for 90 minutes and didn't see or feel a thing. We decided to move on.
Now my car is long enough to accommodate our 9' rods without 'breaking' them, so I put my rod in, reel first over the back of the front seats and let go. But the rod was stuck to my hand in some strange way. I had felt the sting from the hook, wich was sitting in an eye on the middle of the rod, pointing towards the handle, but I just guessed that it was a touch of the point.
A salt water spider. A nice looking fly on a very good hook.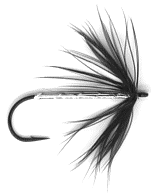 But no, the hook was firmly set in the ring finger of my right hand. Firmly!
Burried to the middle of the hook bend. As the hook was going through the rod eye and still tied to the tippet, I was quite strongly connected to my rod. The hook was - unfortunately - a Kamasan 840B size 4. This is a very good hook: thin, smooth wire and of course extremely sharp. I hadn't felt a thing, just the usual sting of a hook point, and even so the hook was deep into my flesh in an angle of 45 degrees.
Well, it didn't hurt, but the hook had to come out in some way. We cut the line to get me off the rod - carrying a 9' 5 weight attached to the finger is a bit cumbersome.
I grabbed the hook and gently tried to remove it. Nothing. Then a bit firmer. Nothing. Then very hard. Still nothing.
Then we took pictures and actually had a great time, laughing and joking. My finger didn't hurt a bit.
I started being more systematic. I took out a new fly on the same hook (a salt water spider, in case anybody should wonder) and compared to see how
deep the barb was set. Not that deep. I trid all kinds of maneuvres to loosen it: pressing, pulling, jerking, turning and twisting. Brian was getting a little pale by now.
But that was nothing compared to his color when I took out my line cutting scissors to cut the wound a bit more open. But to no avail. So I hauled out my fillet knife which I use to clean fish at waterside. Now Brian was almost transparent and breathing heavily like a woman in labor.
I realized that I could cut myself to pieces before this one got out, and thought of the FlyFish@ discussion of hook removal. There was something with a loop of monofilament, take it round the hook and Snap! you're free. But I just couldn't remember where to put that loop, and I had a hard time imagining how that Snap! could bring anything but further injuries. I was getting quite irritated by now. Loosing valuable fishing time because of a hook in the finger! We decided to get professional assistance, so off
we went to the nearest hospital - only 10 minutes away. Now this hospital does not have an emergency, and our knocks and ringing the door bell didn't bring any reactions at all.
The next hospital - with an emergency - was about 15 minutes away, so we decided to go there. Upon arrival we were received by a very kind nurse and by promising her a bit of the days catch, we managed to bribe ourselves in front of the line. Nah, not so! We were the only ones there, and was admitted to the doctor in less than 5 minutes. Now, the following scene was a sight worth remembering. I was in full
ornate: waders, big wading boots, vest and wading jacket. All wet to above the belt. Brian had folded down his waders, but was still just as wet. I was lying on a high couch in the middle of the room with my hand on a stainless steel plate beside me, and Brian was bouncing around taking pictures. Both of us were laughing and had a good time... until the doctor - named Jens by the way - put the needle into my finger. Youch! That hurt ten times as much as the hook and Brian started huffing and puffing like a steam train.
The finger was numb within a minute and snip, snip, the hook was out in less than two.
The nurse thought that this chummed hook might catch us a white shark, and Brian was shure that my unfortunate start of the day had to mean the turning point for our fishing trip: now we were in for some very good fishing. So I was bandaged and we thanked them many times, and headed back to the water to get our big white shark.
This fly has been places that you can't imagine...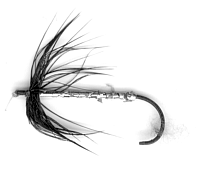 But... there were no sharks. No sea trout either and not even a small cod.
This might be because my lucky hook broke on the stones on the beach in a back cast. Then again it might not.
Casting with a numb finger wasn't that difficult, even though later that day when the anesthetic stopped working, I was glad that I started fishing a light 5 weight in stead of the traditional 7-8 or even 9 weight. So we didn't pay the nurse for letting us in so promptly and the biggest catch of the day was...
Yours truly
Martin
PS: I can warmly recommend the Kamasan 840B hook. Its hooking capability is beyond description.
PPS: I need to learn the trick with the monofile loop.
PPPS: Yes, I know: this would not have been a problem of the same dimensions if I had fished barbless.
More content from the front page