Published Nov 1. 2002 - 18 years ago
Updated or edited Nov 30. 2016
East Branch Rod
"I had heard about East Branch's $20 "test drive" program so I gave them a call. Sure enough, come the Friday before opening day, the mailman delivered a large tube with a pair of fly rods." Read Bob Petti's review of the 9' 3pc GTX 6wt.
As seems to happen every year, I got caught on opening day with my pants down. Not only didn't I have any leaders tied, but my fly boxes were pretty near empty and my gear was strewn all over the garage. What's worse is that I had no appropriate tackle. A reel with no line and blanks without guides. Nothing to fish
with but a tiny trout rod and a steelhead rod.
I figured this was as good an opportunity to give the folks at East Branch a call as any. I had heard about their $20 "test drive" program so I waited until the last minute (typical) and gave them a call. Sure enough, come the Friday before opening day, the mailman delivered a large tube with a pair of fly rods. The one I'm going to talk about here is their 9' 3pc GTX 6wt.

The fit and finish of this East Branch GTX trout rod was as good as anything I've seen on the market.
Like any red blooded fly fisherman, the first thing I did after the package arrived was to tear it open and assemble the rods for that all important wiggle test. That doesn't prove anything, but it's tradition and I wasn't about to go without some touchy feelies.
My first impression wasn't very positive. It didn't feel like the powerful fast action fly rod it was described as, and it seemed to have some tip wobble when I did the wiggles. Both points were proven wrong when I took it out fishing, but we'll get to that later.
The cosmetics on the rod are top notch. The first thing I noticed was the burled wood spacer in the reel seat matched with the blued nickel silver fittings. Very appropriate for the blank color (blue) and wraps (also blue). Being an amateur rod builder myself, I couldn't help but give the wraps and epoxy work a good look see and I liked what I saw. The entire rod was wrapped conservatively, which is exactly how I wrap mine. The wraps are short, not tipped with "garnish", and the color of the thread matched the blank to the point where you had to look closely to see the difference. That is how I dress my own rods, so I naturally chalked this up as a positive point. The epoxy work was also professional - if a little on the heavy side. I thought the ferrule wraps were a little short and blunt looking, but certainly functional. In short, the cosmetics of the rod exceeded what I would have expected given it's retail price tag when compared to what we get from other high end rod manufacturers.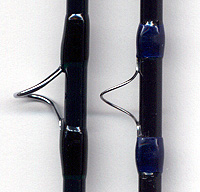 These guides are the same size. The one of the left is a traditional hard chrome snake. The one on the right is REC's new "Recoil" guide used on the East Branch GTX rod I demo'ed.
One interesting aspect to this rod was the use of REC's new "Recoil" guides. These guides are made with incredibly thin wire that has a spring-like action to it. The guides seem impervious to damage. Curious, I bent one down to the blank and it popped back into shape without a problem (sorry Erik). Still, the thinness of the guides left me with some unease. I'm sure they are durable, but I wonder if they will cause damage to a PVC coated fly line under stress. The tip-top didn't seem to match the guides, but that's a minor point. I'm sure the rod is available with standard guides if you're squeamish about such things or are a stickler for tradition.
Ok. So the rod is pretty and has funky guides. How does it fish?
In short, I thought this rod kicked butt. A few folks know that I've been on a quest for the "perfect" six weight fly rod for some time. One that has power yet is not tiring to cast all day. A rod with enough backbone to lift a long line from the water and cast a streamer through the wind. One that is able to throw some weight as well as some bushy bass bugs. While I didn't do much bass bugging with it last weekend (it's April, for crying out loud), I did get to test drive it with some weight and some line extended through the guides.
My first impression as I prepared for my initial cast was how light the rod was in my hands. It did not feel like a 6wt rod at all, at least none that I've ever tried. In fact, it was lighter than some 4wts I've
used.
The second impression I had was formed when I lifted the line off the water the first time. I positively zipped over my shoulder with was seemed like no effort at all. Since I was actually fishing, not lawn casting, I wasn't making unrealistic casts just to test the rod. It was, by far, the best performing 6wt rod I've ever held in my hands. I was able to fish a very heavy tungsten impregnated leader with no problems. I was able to lift long lengths of line at the end of a drift without feeling like the rod was going to quit on me. I was able to reach out with casts easily and almost effortlessly. The tip "wobble" I thought I felt in my family room wasn't apparent when I was casting a line, as the loops were tight and smooth.
I'm no Joe Caster, so I can't talk intelligently about taper and wall thickness and all that technical mumbo jumbo. All I can say is that in real fishing situations, this rod was a winner.
More content from the front page