Published Jan 1. 2001 - 22 years ago
Updated or edited Nov 3. 2022
Bob Kenly
Staff writer Bob Kenly - tube fly meister par excellence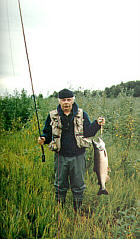 Bob Kenly with 13 lbs of silver from the Kuskokwim River, Alaska
Bob Kenly - owner of the company Nordic Way Tube Flies - is one of the rare American tube fly tyers. Tube flies are a typical Scandinavian thing, but you will probably see more and more flies tied on tubes all over the world.
As Bob puts it: "I think my big reason for turning to them is portability".
One bag of flies and a small container with hooks of your choice, and you're set for days of salmon and steelhead fishing. And with Bob's flies, which are made with epoxy, the flies will last a whole season.
Bob ties tube flies profesionally and is usually booked up early as he does all his own tying. All tying done in the home office in a dedicated area. And we're talking quality flies. Average actual tying time per fly (not including drying and curing of different stages of fly) 1/2 hour.
Says Bob: "My preference is to fish with a two handed rod which increases the laughs
from fishing partners as I sometimes wack myself with my flies".