Published Jan 23. 2006 - 17 years ago
Updated or edited Dec 19. 2015
My Eyes!!
Painting eyes on streamers is nothing new, but as with any other tying procedure, there are some tricks that can help, and some pitfalls that should be avoided. This article shows you how to do it on-the-cheap with readily available materials.
Do the fish really care if streamers have eyes? I don't know. Some well-knowns like Lefty say they make a big difference, yet others (can't think of names - sorry) tend to poo-poo the idea. I've caught fish on streamers with no eyes, streamers with jungle cock eyes, and streamers with painted eyes, so I can't say definitively one way or the other if they really make much of a difference. Even so, I tend to feel better about the fly when it has eyes, and thus I fish it a bit harder and with more confidence. The flies just plain look better to me, and I'll pluck them out of the fly box ahead of a fly without eyes almost every time.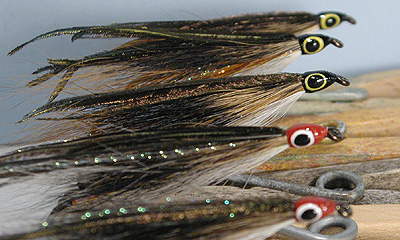 Can you see the eyes? I bet the fish can, too.
Not that many of my streamers or bucktails lack eyes these days. In fact, none do. Well, maybe a couple old ones. For featherwing streamers, I still like the traditional look of jungle cock eyes. The contrast of the white, black, and brilliant orange might not look like an eye from an iris/pupil point of view, but they to jump out of the fly box. They catch your eye, and not just because they are expensive feathers. I feel they catch a fish's eye as well.
I've heard a lot of folks ask questions about adding eyes to flies, and while my method might not be perfect, it does work and it's pretty simple, so I thought it worthy of a small article. I was tying up a batch of bucktails, so the timing was right.
In short, I use a simple hobby acrylic paint ($1 or so at a craft shop for those little connected tubs of paint), some quarter inch dowels sharpened in a pencil sharpener, and some nail polish.
Ok, then. Let's go.
This is what the unfinished head looks like. It has just a coat of clear nail polish to seal the threads.
This is one time where your aim is not for a tiny head. If you're going to paint eyes, you want to paint large eyes, so you're going to need a large canvas to paint on.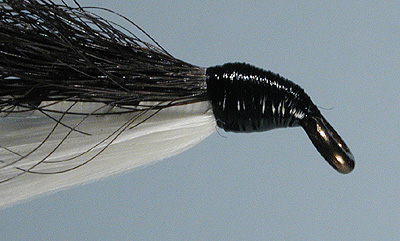 These are the sticks I use to paint eyes. I bought a couple feet of quarter inch dowel at a hobby shop, cut it up into smaller pieces, and sharpened each end to different sharpnesses. This gives you different sized tips for different sized eyes and pupils.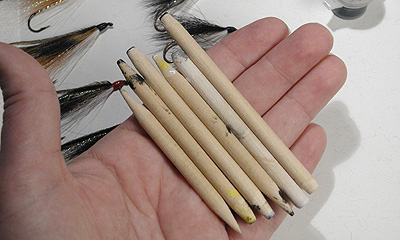 It's important to pick your eye stick so that the size of the tip is about the same size as the head, so the white or yellow "iris" fills the head space. This looks like a pretty good match.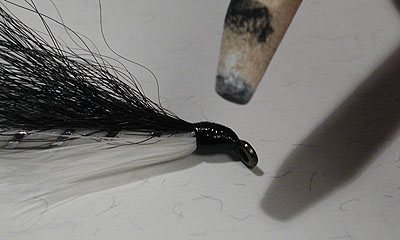 Do you remember these little hobby paints? You can get them anywhere, and for our purpose, they last almost forever. Every now and then you gotta wet your finger and put a drop of water in the paint to reconsitute it, but I've been using this set for years and it's far from used up.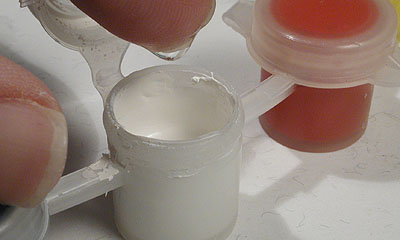 You want the paint thick enough so it doesn't run on the head, yet not so thick it will form a crown when you dab it on the head to form the eye. I mix with a toothpick and look for a consistency where it will form a good blob at the end of the toothpick, but not drip off.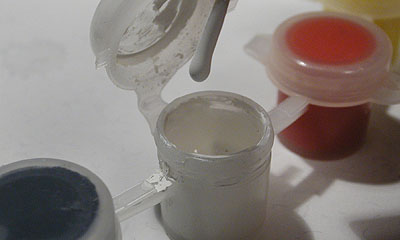 To load the stick, just touch the tip to the paint so that the tip gets a drop formed. You don't dunk the whole thing, or you're going to risk a mess.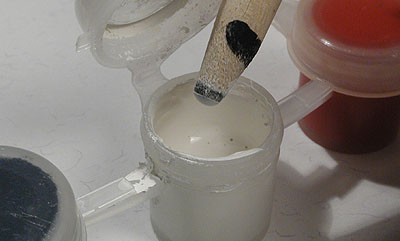 Hold your breath.
Here we go. A steady hand here is helpful. If you can't keep your hand steady, rest your wrist on something to help, and skip the high caf coffee.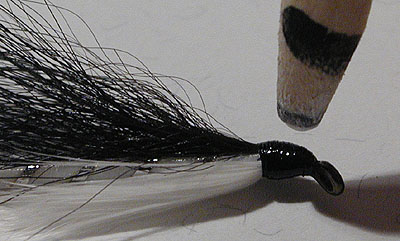 Phew. The Iris is complete. Notice how the paint did not run into the thread grooves, yet did not "crown". You got a nice even coverage of paint, and the white acrylic easily covers the black head in a single application.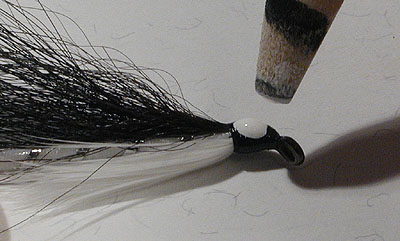 Here's the iris from a straight-on point-of-view. Notice how it fills the entire head area. This is why we wrapped a relatively large head. Big head equals big eyes, and big eyes are easier for a fish to see. Big head, big eyes, big fish? Hope so.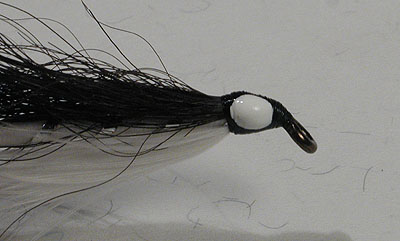 Don't do one fly at a time. Do a bunch of 'em all at once. Mass production is the only way to go when painting eyes. I spent my fly tying time tying flies. I can do the eyes in between other chores around the house.
It only takes a couple minutes to dab on the eyes, and I can walk away and let them dry.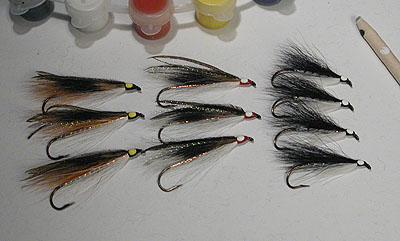 Ready to add the pupil. This stick has a slightly smaller tip. Aim for the middle of the iris (duh). NOTE: This
is only done once the iris is completely dry. These acrylic paints dry dull, so if the eye still looks glossy leave it alone. Do not touch it to test it, 'cause it will smudge for sure.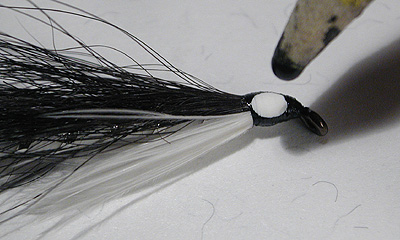 Pupil done.
In the middle.
Beauty.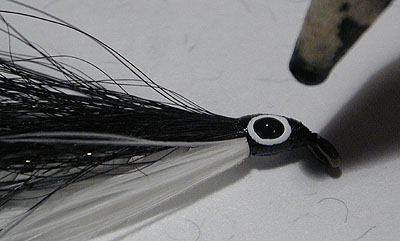 See how they dry dull?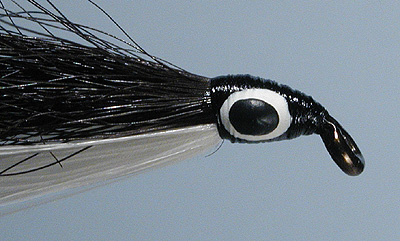 Nail polish is compatible with the acrylic paints, but not so with some other paints, like the hobby model enamels. Unless you brush hard, the eye will not smudge if you use nail polish.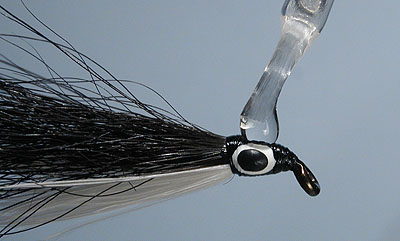 The finished head (and a blurry photo - sorry). This is after two coats of nail polish. The upside to using nail polish is that it is designed not to chip of flake off. This eye will outlast the fly. I use Sally Hansen's Mega Shine.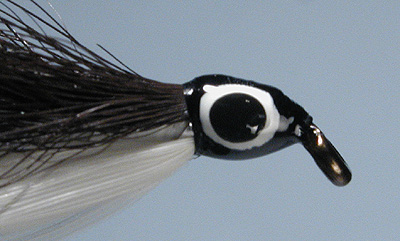 More content from the front page