Published Jan 16. 2012 - 11 years ago
Updated or edited Dec 22. 2015
Oatman's Silver Darter
Someone asked me how to create the "slightly tapered" body on an Oatman Silver Darter and it was pretty difficult to describe in words, so I tied up a sample and took some photos along the way. Here for your enjoyment is a Lew Oatman favorite, the Silver Darter
The Silver Darter is one of the first streamers that ever caught my eye. The problem is - it was the version that was published in the Orvis Index of Fly Patterns, which had about as much in common with Lew Oatman's original pattern as I do to Johnny Depp (just ask my wife). The original pattern is very much a traditional featherwing streamer with the characteristic Oatman tapered body. It's a beautiful fly - but it is also a deadly fish catcher. It deserves a place in your fly box for sure.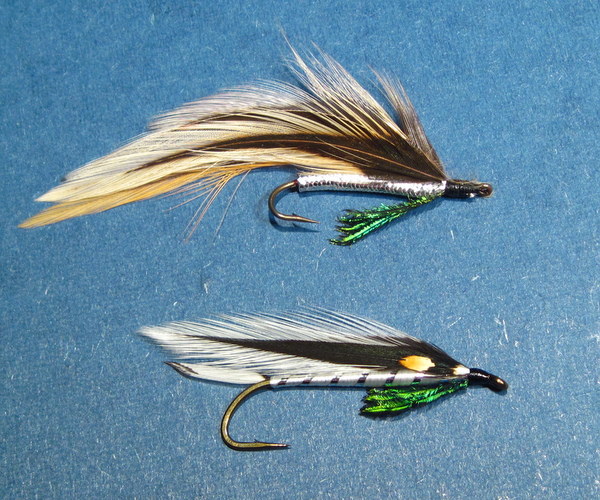 A tail of two flies. The top fly was one of the first streamers I ever tied a long time ago now. It was supposed to be the Silver Darter as shown in the Orvis Index of Fly Patterns. The bottom is the twin of the fly tied for this article. Progress?
Before I go on
, I guess I should say that I'm certainly not the best guy to demonstrate this fly. I know two guys who are Oatman junkies - Chris Del Plato and Ted Patlen - and either would be a better choice to show us how to tie this fly. That being said - someone asked me how I created the tapered body and it was not so easy to describe in words, so I tied a fly and took a few photos along the way. The result is below. Hopefully Chris and Ted won't give me too hard a time, and if I screwed something up they will post their thoughts in the comments section at the bottom.
That reminds me
of a story. People who know me know that I pretty much keep to myself. I don't often tie in public and when I go to tying shows I try to keep a low profile. Not that people would flock to see me (kinda goes without saying), but I guess I'm a bit introvertered (Guess?? C'mon!). Anyway - one of the first times I was invited to tie in public was at one of the Catskill Fly Tying Guild's rendesvous in Roscoe, NY. Chris and I showed up about the same time and were going to tie next to each other. When we walked in they said we could setup anywhere but at the table in the corner, which was reserved for Poul Jorgensen.
Hold on.
You're telling me that Poul Jorgensen is going to be over
there tying flies?"
"Yep".
Gulp.
What in the world was I going to do? I felt like a rookie about to take batting practice in front of Mickey Mantle. A duffer on the golf range when Tiger Woods shows up. Tuning my guitar in front of Eric Clapton. Cooking dinner when Jaques Pepin stops by for a bite to eat. I mean - I checked Poul's books out of the library constantly when I started tying. He was THE MAN - and he was going to be tying flies over there? Really?? Talk about a "not worthy" moment. So I've got a little bit of that going on now with this article, knowing that CD and Ted are going to see it someday. I hope it's up to their standards.
Talk about a "not worthy" moment.
On with the show.
Silver Darter
Originated by Lew Oatman
The following recipe is from Col. Bates:
Hook: No. 4 to No. 12, 2x to 6x long (Mustad L87-3665A, #6 used below)
Thread: See below
Tail: A very small section from a silver pheasant wing quill, slightly
longer than the gap of the hook.
Rib: Medium narrow flat silver tinsel
Body: White Floss, slightly tapered
Throat: Two or three fibers of a peacock sword feather, reaching
about halfway to the point of the hook and curving toward it.
Wing: Two white edged badger saddle hackles, extending slightly
beyond the end of the tail
Cheeks: Jungle Cock, small and short
---
Wrap an even layer of thread from behind the eye to the beginning of the bend.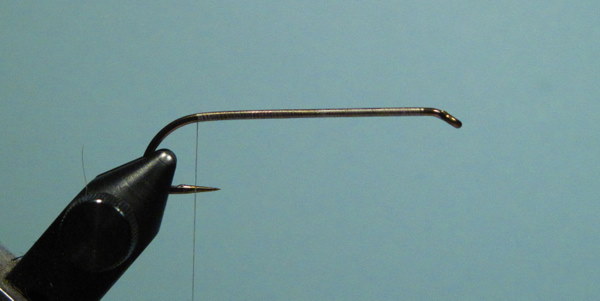 ---
The tail is from the wing quills of a Silver Pheasant.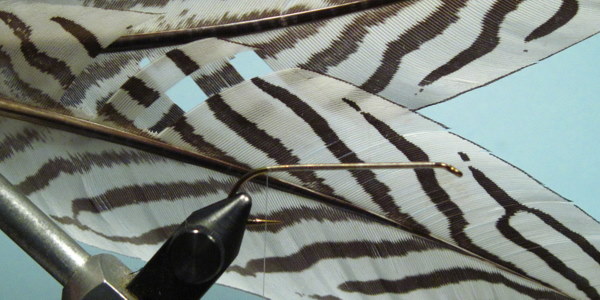 ---
Measure the tail for length - should be nearly the same as the hook gap.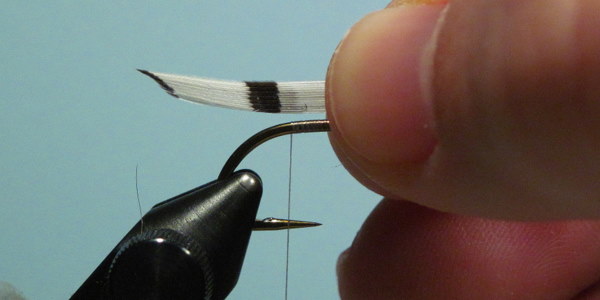 ---
The tail tied in.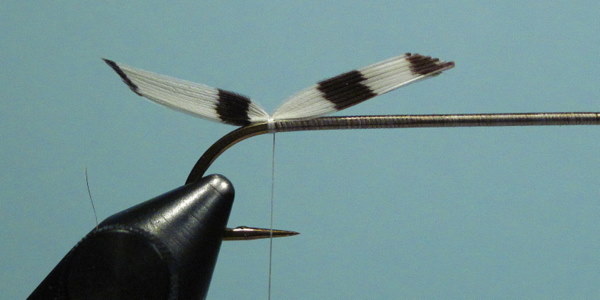 ---
The rib is flat silver tinsel.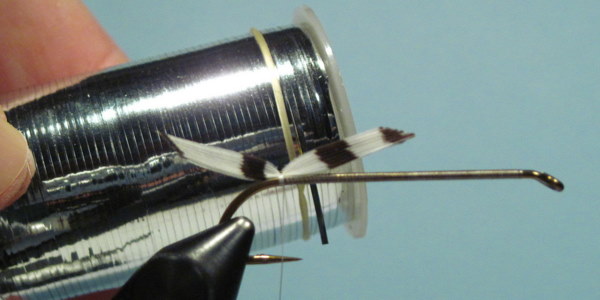 ---
Tie the tinsel on the far side of the hook, gold side up.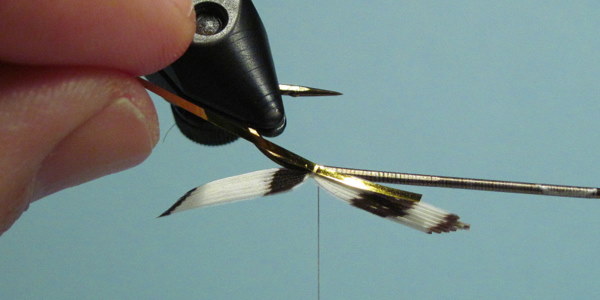 ---
The body is white floss. Here is a spool of Danville 4-strand.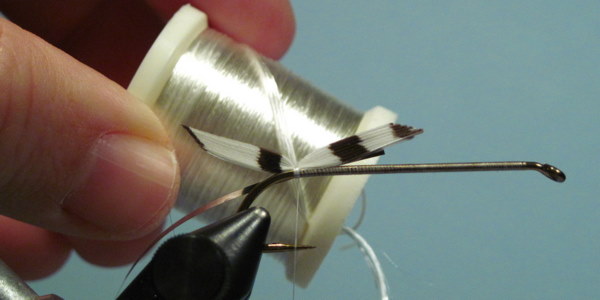 ---
We'll only need two strands for the body, so split the floss and save the other two strands for the next fly.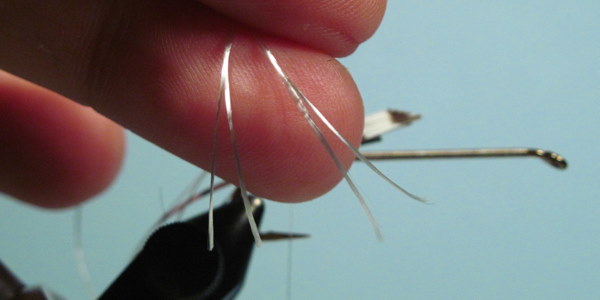 ---
Tie on the floss on the far side of the hook, just like the tinsel. Remember the first thing wrapped is the last thing tied on.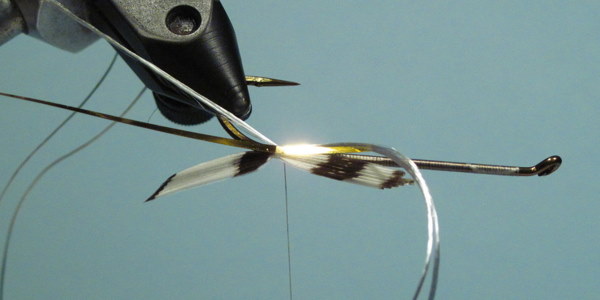 ---
Wrap ahead to the eye securing the tag ends of the floss and tinsel along the way. We will be wrapping an underbody so perfection is not required here, but don't go crazy. Smooth wraps are never a bad thing.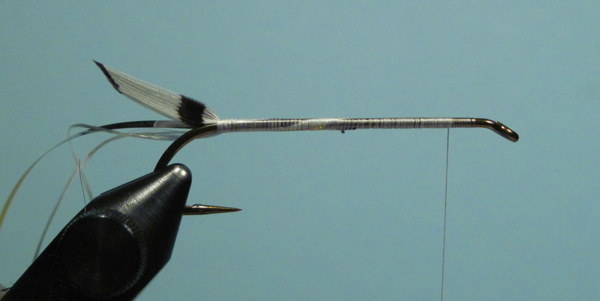 ---
The underbody is wrapped with Danville Flymaster Plus thread, which is very heavy. It will lay flat if untwisted. Another alternative is Danville Flat Waxed Nylon. The key is to use something that can lay flat on the hook but is heavy enough that you can build up a tapered underbody with just a few layers.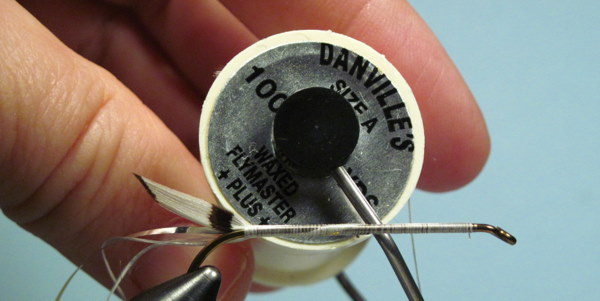 ---
Wrap back and forth in ever lengthing layers until you have a smooth and tapered underbody. Be careful at the turn-around points not to leave a sharp edge. A couple wraps before the turn around, untwist the thread and flaten it carefully with a fingernail, and make an exaggerated turn. This will make those transitions smooth and bump free. For this fly, it took three trips down and back to build up a smooth slightly tapered underbody. Tie off the flymaster plus and tie on black thread to finish the fly.






---
Wrap the floss forward to the eye and burnish as you see fit. The result is a body with a slight taper moving forward, but still plenty of room at the head for the wing and throat materials.
---
Wrap the tinsel forward in evenly spaced turns.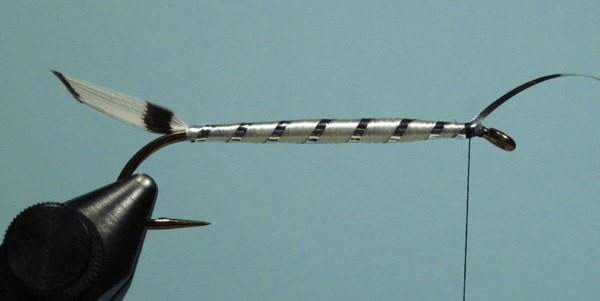 ---
The throat of the Silver Darter is peacock sword. Pluck four or five from the stem and make sure they don't get twisted. Peacock sword has a definitve curve and it's easy for them to get out of sorts.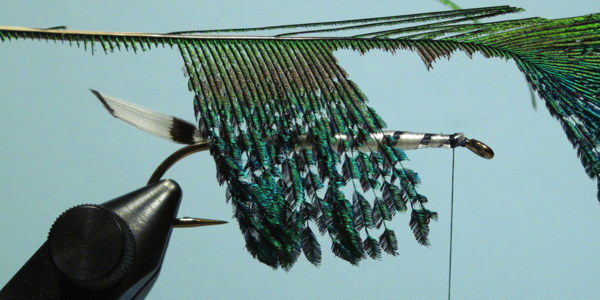 ---
Oatman's pattern specifies that the throat is nearly half the length of the body.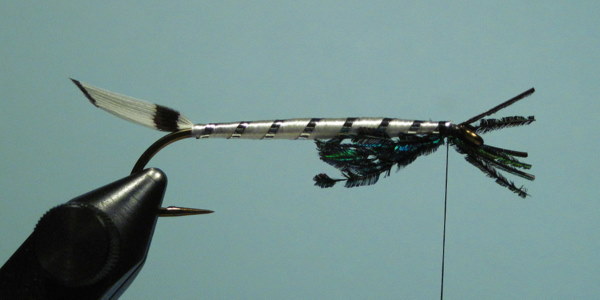 ---
The wing is made from Silver Badger. Here are two necks, one a stark white and one a bit less so. Badger comes in many hues. The brightest feathers are good for this pattern.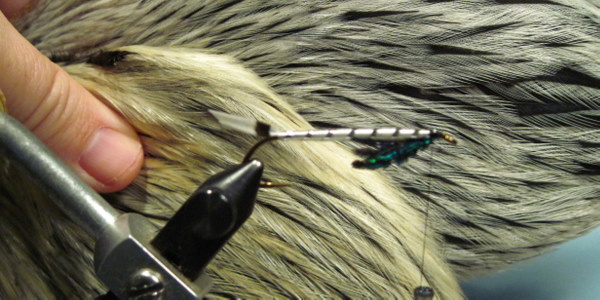 ---
If possible, pick a pair of feathers that have slightly opposing curves. Here is a "left" and a "right" feather that will form the wing.
---
Measure the wing to length. Not too long, not too short. Use the tip of the tail as a guide.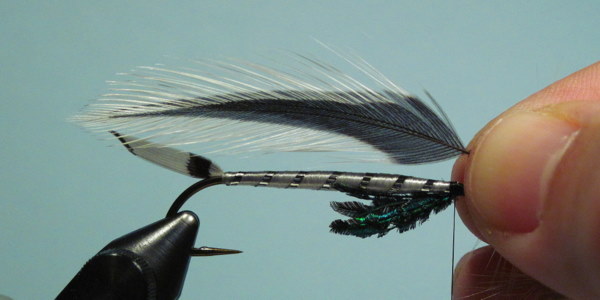 ---
Even though we have a flat and level tie-in area, it never hurts to strip off a few fibers off the bottom of the wing hackle. This will help prevent it from canting up at an odd "open jack knife" type angle.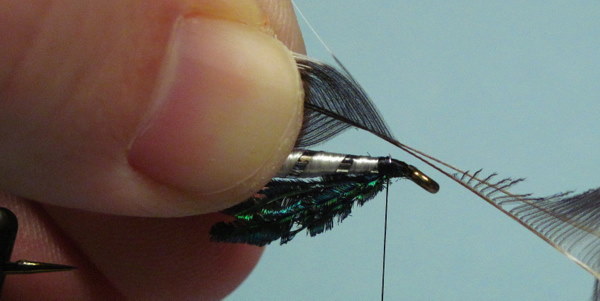 ---
The wing tied in with a few wraps of thread. Check for position before securing with several firm wraps.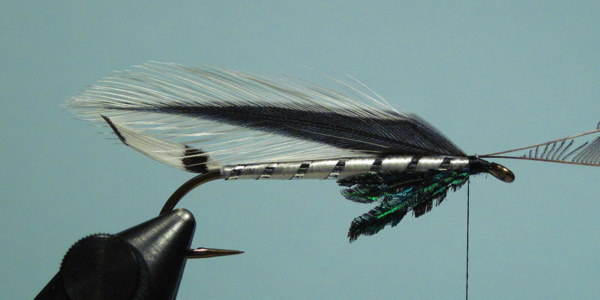 ---
Make sure it is centered and vertical when viewed from above.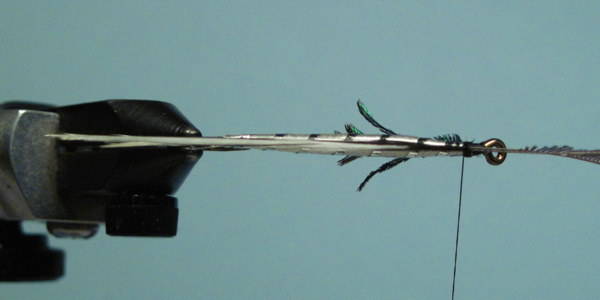 ---
A pair of jungle cock eyes complete the fly. Oatman's flies sported fairly small and short eyes, so keep that in mind when selecting your feathers.
These are, of course, optional.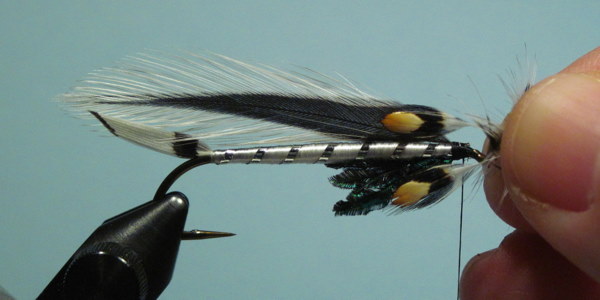 ---
JC eyes tied in and head wrapped to a smooth bullet shape.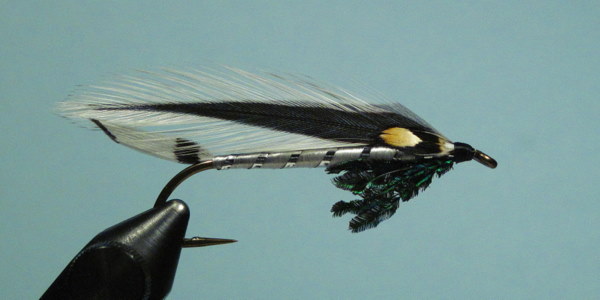 ---
The finished fly with a coat of head cement, as effective a fishing fly as it is eye catching.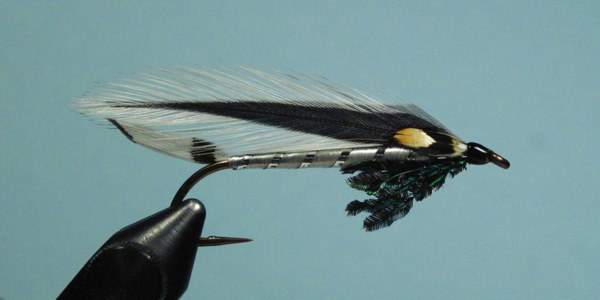 More content from the front page