Published Jul 21. 1997 - 25 years ago
Updated or edited Mar 14. 2016
Picric acid
Dyeing with picric acid yields colors between a gorgeous olive and an electric yellow.
Several years ago, I first came across a piece of tying material that was dyed with picric acid. I was walking around the tying island of the Danish Fly Festival, where Hans Weilenmann was tying tiny nymphs with gorgeous olive dubbing he was scraping off a small hide when needed. The hide in question was from a small mammal, about the size of a weasel, with a brownish yellow hue to what used to be the back of the animal, whereas the belly fur was an electric yellow I'd never seen before.



From the darkest olive to the brightest, yellowish lime. That's picric acid
Since my curiosity as to how such a strangely coloured skin could actually produce such a wonderful olive dubbing was roused, I approached Hans and asked what that skin was, and how it got to be the colour that it was. He told me that it was a pine squirrel skin, and that it was dyed using picric acid. Upon asking about the dyeing process, he replied that all he could tell me was that he had a bottle with a solution of picric acid in water, that he was given some years back, that he used to dye his skins. Being the chemist that I am, I there and then resolved to find out how to reproduce this process.
Picric acid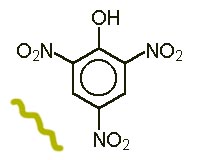 Picric acid
First a few words of caution. While picric acid is not immediately life threatening, it DOES warrant somewhat more care in handling and storage than your average fabric or tying material dye. Picric acid is also known as trinitrophenol, and is a close relative of TNT. Not surprisingly, it is explosive, in dry form. It is therefore stored wet, either as wet crystals, or as solution. When wet, there is NO explosion hazard. It is also reasonably reactive to biological materials (which is why it is such a good dye in the first place!), so it will almost immediately stain any part of skin with which it comes in contact, colouring it bright yellow. Therefore it is advisable to always handle picric acid with good laboratory gloves. It is not particularly toxic on ingestion, but it is not harmless. Storage of stock crystals and solutions should therefore be in a closed cupboard or room.
Dyeing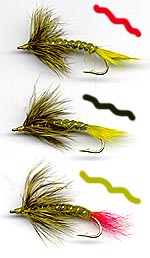 The Dalby Revenger utilizing picric acid dyed rabbit
Dyeing with picric acid actually couldn't be simpler. Basically it just means taking a clean, dry skin, totally immersing it in a sufficiently strong solution of picric acid in water, making sure that it is wetted throughout, and leaving it there for about 24 hours. First of all then, you need a picric acid solution. The best way of obtaining that is of course to find a chemist friend and ask him to make you up a solution... The second best way is to obtain a supply of picric acid crystals and make up the solution yourself. I don't know where to legally obtain picric acid other than through a chemis friend, but if you con't have one, you should try asking a chemicals' supplier. If you ARE that chemist friend, here is how to make the solution: Picric acid has an aqueous solubility of about 12 grams in a liter of water, but it dissolves slowly. Take a liter of hot water, and throw in 12 grams of (wet) picric acid. Either let it stand overnight, to ensure complete dissolution of the solid acid, or, if you're in a hurry, add some sodium or potassium bicarbonate and stirr. You then have a bright yellow solution that is ready for the dyeing.
Dyeing, as said, is nothing more than immersing the skin and let it sit there. After 24 hours, take out the skin, thoroughly rinse it under running water (make sure your rinse water isn't yellow anymore), blot dry and let it air dry. You won't get the nice, soft skin that it might have been before, so if you want to cut zonker strips from it, you may want to check how to (re)tan hides. If you're only interested in the dubbing and/or hair, air drying is perfectly OK.
As far as I'm told the picric acid solution keeps indefinitely, and will dye many, many hides before getting exhausted.
Results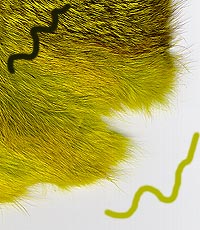 A piece of natural, tanned rabbit after dyeing with picric acid
Picric acid, as said, is a yellow substance, and will impart a yellow colour to whatever it reacts with. A white belly therefore will turn electric yellow. The brown guard hairs of most mammal furs will turn a
yellow brown-green hue. Most feathers (which are shades of brown) will again turn a yellow to brown-yellow hue. The most sought after effect however is what happens with most mammal skins' underfur, which normally is a distinct shade of grey or blue-grey. This grey colour turns into the most gorgeous hues of olive green when 'mixed' with the yellow of picric acid. The results vary from a medium yellow green with the light blue grey underfur of a rabbit to the already mentioned wonderful dark olive from the dark grey underfur of a pine squirrel or grey squirrel. They also tell me that mole skin dyed picric yields interesting colours, although I haven't tried that myself yet...
Happy dyeing