Published Nov 20. 2007 - 15 years ago
Updated or edited Nov 26. 2017
Good, Bad, and Ugly
Having wrapped my share of thread over the years, I thought it was time to revisit a long held interest of mine - traditional salmon flies. My first attempt years ago was pretty disappointing, and I was hoping my skills had evolved enough for me to take that next step and produce a better result.
In January 1999, I tried to tie a traditional salmon fly - a Fiery Brown to be exact. I remember feeling pretty good about that fly up to the point where it was time to add that first wing ingredient, and then the train came off the rails. There was an abrupt drop-off at the end of the dubbed
body, so of course the wing resisted laying down low. Not only that, but every time I tried to tie in the married slips of feathers, the top half - the mottled feathers - kept coming unmarried and the thread would slip
off. I never finished that one - just whipped a finish and set it aside. I was not up to the challenge at that time. I still have it somewhere, I think.
I remember exchanging emails with Bryant Freeman about that attempt. Bryants salmon flies were my inspiration as they are supremely beautiful, but yet are sleek, sparse, and entirely fishable. I've always been drawn
to flies like his, Bill Hunter's, and Poul Jorgensen's, because you can see they were tied by tyers who have fished the flies. The idea is not to have the tiniest head, or to show off the baby smooth floss body. The
idea is to tie a fly that is well proportioned to the hook, will hold up to casting, and will "swim" well in the water. Much like I always wanted my salmon hairwings to look like Warren Duncan's, I always
wanted to be able to tie traditional salmon flies like Bryant. He coached me as best as he could via text emails, but I knew I wasn't ready.
So here we are, almost nine years later, and I'm trying attempt number two. It certainly is an improvement over the previous attempt. I mean - heck - I finished it. But it still falls well short of the goal.
Tying flies is a learning process, a series of trials and errors, plenty of errors if you are like me. We learn from our mistakes, and I thought maybe someone reading this who is interested in salmon flies might learn
from mine. Lord knows I don't have many solutions to the problems I encountered, but maybe someone reading who is trying their first fly will have a few extra things to keep in mind when they start. There might also be someone
reading who wants to chime in with some advice for my next attempt - hopefully not another nine years in the future.
So with that, here goes the critique.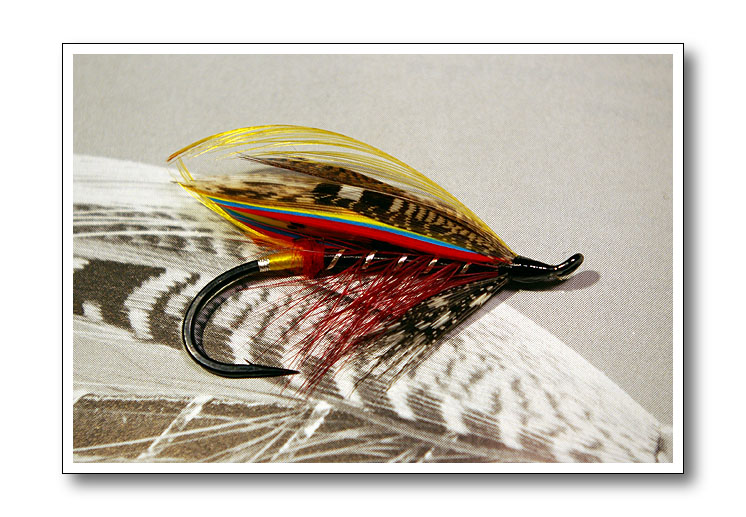 The Good
I'm pretty pleased with everything from the butt backwards. That's not really a surprise, since I've tied tips and tags and crest tails many times in the past on hairwings and spey flies and what
not. Those components were not new to me.
I was pleased that I was able to get the underwing and the outerwing to hug the top of the body and not crook up like an open pocket knife. Once I got those tippet strands to lie low, I was actually optimistic
the fly would turn out ok.
The overall shape of the fly is ok, in spite of the empty space between the tip of the wing and the topping. The topping makes the fly look more top heavy than it really is because of that empty air. I think
it would fish well.
The throat is ok. Not great, but I don't think it is bad enough to go into the bad category. At least compared to the other bad stuff, lol.
The Bad
Totally forgot the head on the Black Doctor is not a simply black thread head. Duh. No excuse for that. I was working from Poul's book with the black-and-white photos, but still. Even a black and white photo has a black head that looks black. It didn't
in the book, and that should have been a clue.
The side wing components - the married slips of teal and barred woodduck - seem a bit short. Jorgensen had them ending with the ends above the butt of the fly, but if I look at some other flies, like Bill Hunter's
in Judith Dunham's book, they extend a bit futher along the wing. Mine also are not aligned very well with the other wing components. My teal sides are a little dark, too, not a vivid black and white. I might paw
through my stuff to see if I can find a better pair. These could be gadwall, as the bag was not labelled. I know I have better feathers somewhere.
The head, while not too bulky, is far too long, which of course is because I ended the body too early on the hook.
The topping should have hugged the top of the wing a little better. I didn't take too much time to shape it properly, so I just took what the feather had to offer. It wasn't the straightest feather in the world,
either, so it's not nearly a good topping for the fly. Not shaping the crest also yielded that big old ugly blank space between the wing and the topping.
The wing tip extended outside the tail, which certainly wasn't the plan. The plan was for the upper tip of the wing to just touch the tip of the tail, like in Poul's fly. This is borderline ugly.
My florican sub is not good. It doesn't have good color, is a real bear to marry to other feathers, and is short. If I'm going to do this again, I need an upgrade. Or I could just leave that part out while
I'm learning to tie these things. No sense wasting good feathers on bad flies.
The Ugly
Whatever passes for a bronze mallard roof on the fly is super ugly. What a mess. I tried for a good half hour to get a real roof over the fly and finally just waved my hands and gave up.
I then tried to tie a thin slip of bronze mallard along the top edge of the fly, and you can see how well that took. Thus another episode in a long running troubled relationship with bronze mallard in my
tying career. I can count on one hand (one finger maybe) how many times I've reached in my baggy of bronze mallard and came away with a satisfactory fly.
The body hackle is a too long, and it is not tapered at all. I might have to try a different hackle next time. To me, the hackle as much as the bronze roof makes the fly look sloppy and - well - ugly.
You can see some of the working thread behind the head, where I tied off the body hackle. Man, that just sticks out in my eye like a sore thumb. Argh! I ended the body way to far back from the eye.
---
What I learned
I took the time to plan ahead the shape of the tail, which is the most important ingredient of the fly because everything else has to be tied to fit the tail. A bad tail, and you're dead.
So I took the time to draw out a hook on a piece of paper and draw in the shape of the tail I wanted to help me select and tie in a crest tailing. However, I did not take that time to plan out the body the
same way. When you have that many materials to tie into one area, you have to plan ahead, and I gave myself a bit too much room. Next time, I'd widen the tinsel wraps just a bit, so the last wrap is a
little closer to the eye. Of course, these steps would be automatic to someone who has tied these flies for awhile, but for the beginner it helps to plan these steps out in advance since so much depends
on proper placement of these foundation materials.
The second early mistake I made was not paying better attention to the hackle I chose. I just picked up a new claret neck at the IFTS and was hot to use it. That neck might not be the right choice for this
fly. I have an old chinese neck I might try next time, to see if I can get more taper to the hackle. The Whiting neck will be better for streamer wings (which is exactly what I got it for).
If I am going to do many more of these flies, I need to sit down and spend a couple afternoons fiddling with bronze mallard. I cannot blame it on my materials - I have good bronze mallard. It's my technique.
I need to watch some experts handle it, and see if I can mimic that myself. That is one material I have not come close to mastering.
You can retie these salmon flies many times. I bet I tied those wing slips on a dozen different times and they were none the worse for wear (although maybe they are and I just don't see it). I retied the underwing,
throat, and wing several times trying to get things to sit right. I envy guys like Bryant who just grab the feathers, hold them to the hook, and they just magically affix themselves in perfect position. But even
if they don't go on properly the first time, just unwrap and try again. The wings are surprisingly durable and able to withstand more handling and re-attaching than I thought.
Looking at the fly again - I actually like where the wing is positioned. If I were to do it again, I think I'd make the tail a little flatter and not cocked up quite as high, which would lead to that long sleek
look I am after. The inner wing components tend to get hidden in that style of tying, but that's ok. I'd rather have a fishable fly where some parts are harder to see than a fly where you can see everything
but it would flap and fly apart with a single back cast. I feel the same about my Rangeley streamers. That beautiful floss body should be hidden underneath the hackle.
Oh well. Whattyagonnado? This attempt came out much better than the Fiery Brown way back when. I got off to a good start with the tail assembly, but the fly was doomed when I wrapped the ribbing too short. I think this
would be a fishable fly - and I might just do that if I ever make it up to the Salmon River during a run again - but it will not win any beauty contests.
Tying a salmon fly is humbling.
So - any experts out there who want to chime in with a few words of wisdom - feel free.
More content from the front page