Published Feb 21. 2020 - 3 years ago
Updated or edited Feb 21. 2020
Moulin's Deer Hair Parachute
Swiss/Norwegian tyer Fabien Moulin stumbled upon a seemingly new way of creating a parachute hackle and wing in one.
While making a post for a traditional feather parachute hackle, Swiss expat Fabien Moulin, now living in Norway, discovered something intriguing.
He made a single, vertical wing from deer hair on a large mayfly pattern, and wanted to create a post for a parachute hackle as it's usually done with calf tail or other hair materials. But when he wrapped his thread around the base of the hair and tightened it, the hair flared – as deer hair does….
Much to Fabien's joy - and surprise - it formed an almost prefect parachute hair hackle, spreading out nicely and with no particular effort.
Fabien started experimenting with the technique, and soon discovered that he could make a very nice combined deer hair wing and parachute-like hackle in one go.
He remembers the discovery like this:
It was late in the evening and I wanted just to enjoy some time at the vise. I wanted to tie a fly with deer hair for the wing and a feather hackle wrapped around it, like a traditional parachute hackle.
When I was ready to make the base for the hackle, I began to wrap the thread around the stem of the deer hair and pulled the thread too hard. Every flytyer knows what happens then when you tie that way with deer hair. The hair flared, of course.
Much to my astonishment I had both the wings and the hackle done in one go!
What a surprise.
I was so exited to have found this out.
I could not stop trying other patterns: smaller ones for the first hatch. A handful of
Marginatas
#14 - and then maybe would also work on the
Vespertina
on a #16 hook?
This evening was very exiting and long for me. This was a technique and a way to tie I had never seen before.
Maybe I have been sitting to long on the vise and begin to have hallucinations?
One thing is sure: flytying is fantastic!
I am sure that all of you flytyers can understand my excitement when finding a new way to tie! Whatever will come out of this - a technique that has been used before or not - I have had a lot of fun with it, and I am exited to fish with the flies this coming season.
Thank you very much to all of you in advance.
The phenomenon is well known from many deer hair flies like muddlers, caddis flies and even Comparaduns, but when Fabien started looking around for previous accounts of it used as a technique to create parachute hackles, he failed to find any.
I was talking to Fabien about another project when he mentioned it, and I also tried to trace down earlier references to this technique, but couldn't find any.
So we concluded that it was quite likely that Fabien had actually "invented" something new – a very rare incident in modern fly tying – and decided to do an article about the technique and share it with the world.
Now, we both realize that it's very likely that someone has done this before, but in spite of both researching thoroughly and asking around, we have been unable to find any patterns or methods that resemble this style - apart from the aforementioned Comparadun, which is similar, but still quite different.
So we boldly decided to call it Moulin's Deer Hair Parachute.
Please let us know if this is a known technique! We don't want to steal anybody's thunder.
We don't want to steal anybody's thunder.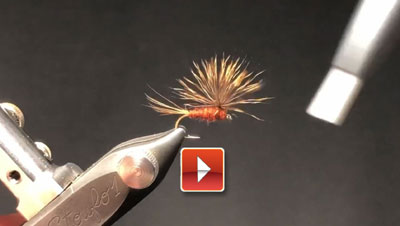 A video showing the technique.
It's a fairly simple technique. You need some deer hair that flares willingly, like what you would use for a muddler or even a bass bug. It needs to be fairly short, depending on the size fly you are tying, so typically hair from whitetail and larger deer will be too long, while so called "yearling" hair and softer and short hair meant for caddis wings may work. It's essential that the hair isn't too hard, since the result relies on the hair flaring as much as possible, creating a sphere rather than a cone.
You tie in the hair as you would a calf tail wing, typically pointing forward on the hook and with the butts to the rear over the hook shank. Then you build up a small "bump" in front of the wing to raise it to vertical, and finally you take a couple of wraps at the very base at the wing, tightening the thread as you would on a muddler, compressing the hairs and making them flare. The result is essentially half a pom-pom – in other words a dome of hair with a flat underside and a spherical profile, perfectly making a parachute hackle and a wing at once.
A further advantage of this type of combined hackle and wing, is that not only will the underside of the hackle support the fly in the surface film, but the floating nature of the pithy deer hair will help the fly keep floating even after the underside of the hackle breaks the surface, so you get some flies that will really stay high in the water after having been fished for a while.
You can of course aide this by treating the hackle/wing with a floatant such as Muceline or CDC oil, and you can also use amadou or dry shake when the fly is drenched, as you would with any dry fly.
The hackle/wing style will lend itself well to mayflies in particular, but could easily be adapted to other flies traditionally using parachute hackles like hoppers, stoneflies and even ants or beeltes. While finding short hairs for small ant patterns might prove difficult, longer and coarser hair for large hoppers and stoneflies should be very easy to come by. Many of these patterns already incorporate deer hair, but typically used for a slanted wing, adding to the profile and buoyancy of the fly. When the wing is done, you typically tie in a hackle post and then the parachute hackle, making these flies quite complex. If you use this technique, you can essentially combine the two and save a tying step. If you find the dome shaped wing unfitting for your pattern, you can simply trim the top, leaving the underside of the dome as a hackle and the rearward pointing tips as a wing.
More content from the front page