Published Sep 15. 1997 - 25 years ago
Updated or edited Nov 19. 2015
Visiting Partridge of Redditch
It is now more than a year ago since Mustad took over Partridge of Redditch. And I thought it might be of interest to you to have an update on the status...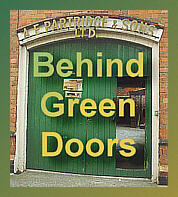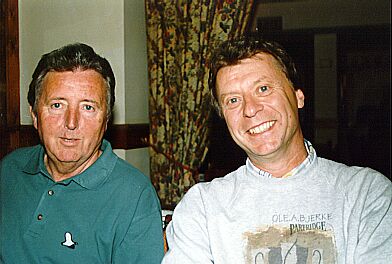 Ole Bjerke (right) and Terry Ems (left)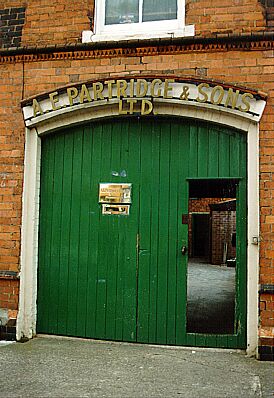 The Green Doors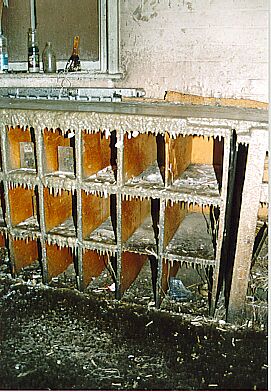 Many, many strips of bamboo have been glued up on this bench...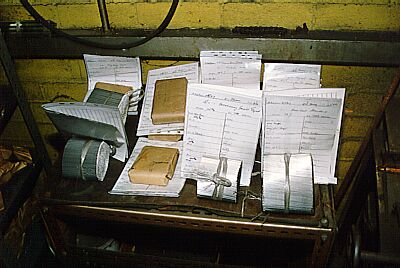 Bundles of wire - hooks in the making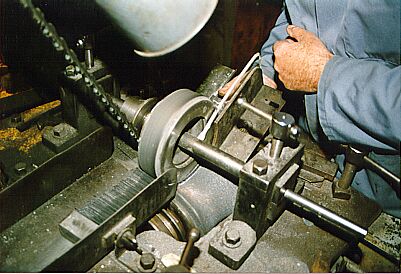 Center portion of wire is ground down, ready to become a loop eye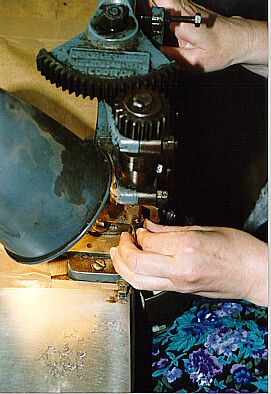 Forming the eye on #28 Vince Marinaro midge hooks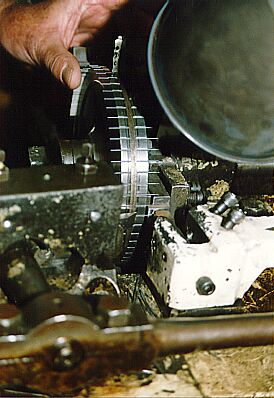 Grinding points on the wire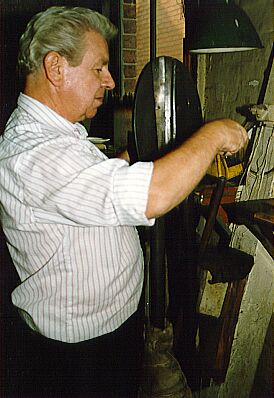 The human knee operates a huge pair of shears, cutting wire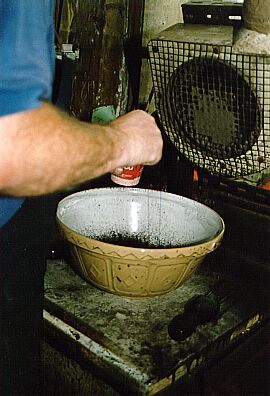 To a batch of hooks, add two tablespoons of coating...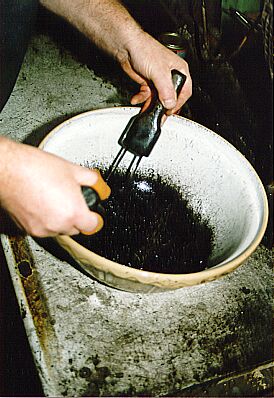 ...now lightly toss the hook salad...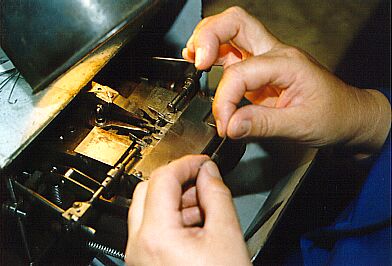 Bending a double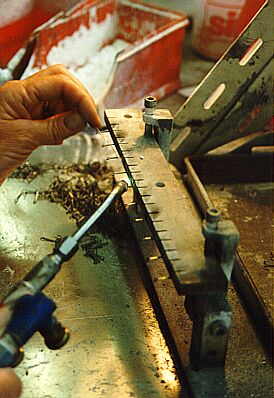 Brazing doubles
What Goes on Behind Green Doors?
The true story of Partridge and Mustad
It is now more than a year ago since Mustad took over Partridge of Redditch. And I thought it might be of interest to you to have an update on the status...
Now to be perfectly honest, when I first heard about Mustad acquiring Partridge I felt some unease. It was not at all clear to me what Mustad's plans would be with Partridge, in spite of the 'business as usual' content of the original press release confirming the acquisition.
The Preface
During the Kolding, Denmark, flyfishing show I met the new Partridge managing director Ole Bjerke. Ole, as you may have gathered from the name, is Norwegian.
I explained my interest as a flytier in Partridge. We agreed I would try to visit the Partridge plant during my next trip to England and we would combine the Q&Amp;A session with a tour of the premises.
And so it came to pass. Once in the area I called Partridge and arranged for a visit later that week, to spend some time talking to Ole Bjerke and Terry Ems, the Production Manager.
Friend Lawrence Waldron decided to come along, and so the two of us drove onto the parking area next to the Partridge building in time for our 10am appointment. Partridge is situated in the town of Redditch, near Birmingham, in the middle of England.
Green door
A brief stop to take a picture of the famous Green Door with the polished copper Partridge plaque and which has the big brass A.E. Partridge running above in a semi-arc. Another step to take us through the small door-within-the door and we were 'there' ;-)
A small yard, with a door to our left for visitors, up the narrow stairs lined with several interesting frames and into Ole Bjerke's office.
Ole welcomed us in and we said hello to Terry Ems as well. Terry has been with Partridge for a long time and both Lawrence and I have known him for many years. A Partridge person through and through, and his cheerful face was a welcome indication of the good atmosphere we found in the whole place.
Extremely generous
And the first indication was certainly favourable: the coffee we were served was of Norwegian strength, not British nor 'merican ;-)
Second statement I would like to make is that the people at Partridge were extremely generous with their time set aside for our visit. Both Ole and Terry were ready to address any question thrown at them in the two hour session until noon. And after a pleasant lunch in the pub across the road, Terry
gave us an extensive tour around the place. We had a good look at the various stages in the production process. The 'salad tossing' has to be seen to be believed
After a final mug of the new-style Partridge coffee back in Ole's office we finally made our departure at 3:30pm!
The Spanish Inquisition

When did Partridge get involved in producing fish hooks, and fly hooks in particular?


Albert Partridge (who the company is named after) was originally involved in the needle making trade. The first hooks, which were hooks for flies(!), were produced by Partridge in the very early part of the century. The current premises were taken in use in 1927. In the mid seventies Alan Bramley bought the firm and really started pushing the Partridge brand on an international scale.

What were the first hooks like/for?


They were trout hooks made for a Captain Hamilton in 1903.

Who do you consider to be your major competitors?


Mustad (of course) And from Japan Tiemco and Daiichi.

You produce both fly and non fly hooks. In production percentages, how do they compare?


Originally the majority of hooks produced by Partridge were fly hooks. This has shifted slightly to the current 50/50 split between fly and non fly hooks.

What has been the major change in your production methods since Mustad took over the company?


Actually not very many. But the few changes made should result in improved hooks for the angler. One significant change in the production process has been a decision to gradually change over to the use of Norwegian steel wire. This wire is more consistent in composition and structure than the UK produced wire Partridge has been using.
The second change in the production process involves extending quality control steps. Next to the final quality control step which was already in place, several more were introduced much earlier in the production process, trapping 'flaws' at earlier stages where possible.

What other changes have you implemented to improve the overall quality of the Partridge product and how will this be visible for the consumer.


Without going into too much detail, they can be summarized in improvements in stock&order control, speeding up order processing and restructuring our distribution channels in our various markets, such as Europe, North America, Asia, etc. Next to that, we are now in a position to implement an investment plan to upgrade some of our equipment, the most important being improvements to the core of making a really good hook with optimal consistency - the hardening process of the hook.

Partridge traditionally produced a large (some would say too large) variety of hook models. What are your views on this issue and will such a large variety be maintained?


We intend to continue producing a large variety of hooks and will continue to introduce new styles of hooks where we are convinced there is a market for it. We intend to continue be the innovator and the specialist among the (fly) hook manufacturers. I do accept your implied criticism that producing such a variety of models/sizes

and
maintaining a reliable and timely supply to our distribution channels are not trivial issues. But we are working hard at doing a better job combining both areas.

Is there future for Handmade Hooks into the next century?


Most certainly. There are a number of reasons why we are convinced that we can make the superior hook. Certain things just cannot be done by machine: at all or in other cases only with great difficulty. For example: produce special shapes easily and in relative small quantities, responding swiftly to changing market demands, make salmon hooks with tapered loop eyes, etc.
We feel very strongly that a high level of pride, no, make that

passion
here at Partridge helps to produce the best hooks available. And we strive to build on the very personal and direct relationship we have with our customers!

I see you have an Internet address. What are the possibilities of customers who have questions or comments regarding Partridge hooks to contact the Partridge via email?


We welcome customer feedback, be it questions or comments. This takes already place at shows, via letters, phone calls or fax. We have now set up an email address for customers to contact us at hooks@partridge-of-redditch.com

What is your most successful model of hooks in the current range?


Sorry, but cannot tell you this. This is also what our competitors would like to hear from us. I'm sure you understand ;-)

How do new models get added to your range?


Some we develop ourselves, others ideas come in from our customers. We look at each suggestion and discuss viability/merit. This is also where our consultants play a vital role, both as originators of potential new models and as field testers.

I understand you also make hooks to order if somebody wants their 'own' hook?


Correct. A recent example would be the hooks we make for the Waterwisp series of flies.

So what would be the minimum quantity if I wanted my personal hook? My own shape and color?


This would require a minimum of 20,000 hooks for each particular size.

Can you give me an outline of what we can expect on the distribution side of Partridge in the near future?


Well, the first twelve months have been devoted to internal tuning. Now the external bit will commence. The 're-birth' of Partridge will be at the Denver Fly Tackle Dealer Show this September, but some of the highlights will be: no more direct sales, well defined distribution channels and consistent pricing. For example prices will be on exactly the same level in the USA and Canada.

Partridge is primarily a hook manufacturer, but what other products do you carry?


We produce/sell bamboo rods and blanks, distribute Davy Wotton's SLF material, leaders and gut (to complement our blind eye salmon hooks) But we are and shall remain first and foremost a manufacturer of fishing hooks.

And finally, what is it like to have Mustad 'hanging over your shoulder' as Big Brother?


The relationship with Mustad has been very clearly defined. We are an autonomous entity within the Mustad concern. And will continue the Partridge philosophy of producing our hooks our way, with the absolute minimum of Mustad involvement where we do not require it. Yet on the other hand Mustad is a fabulous resource of research and development which we can draw upon when we need to.
Still, at the end of the day we have to balance our own books. In a certain way Partridge and Mustad have come full circle. When Mustad started to produce hooks for flyfishing, Partridge staff/expertise was employed to improve their new product. And now, like with the use of the Norwegian steel wire in Partridge hooks this exchange of expertise has become a two way process...

Thank you very much, Ole and Terry, for all the time and hospitality. I am certain the people on the Internet will enjoy this insight into Partridge as it has been and as it is now.
The result
So what has been the result of my visit to Partridge in the context of my 'unease' after the Mustad takeover? Well, I am reassured by what I have heard (but even more so by what I saw for myself while walking around the plant and feeling the mood
of the place) that Partridge is still very much Partridge and that Mustad have indeed decided to allow Partridge to forge their own way ahead.
And this is a conclusion I believe all flyfishermen can be happy about.
More content from the front page